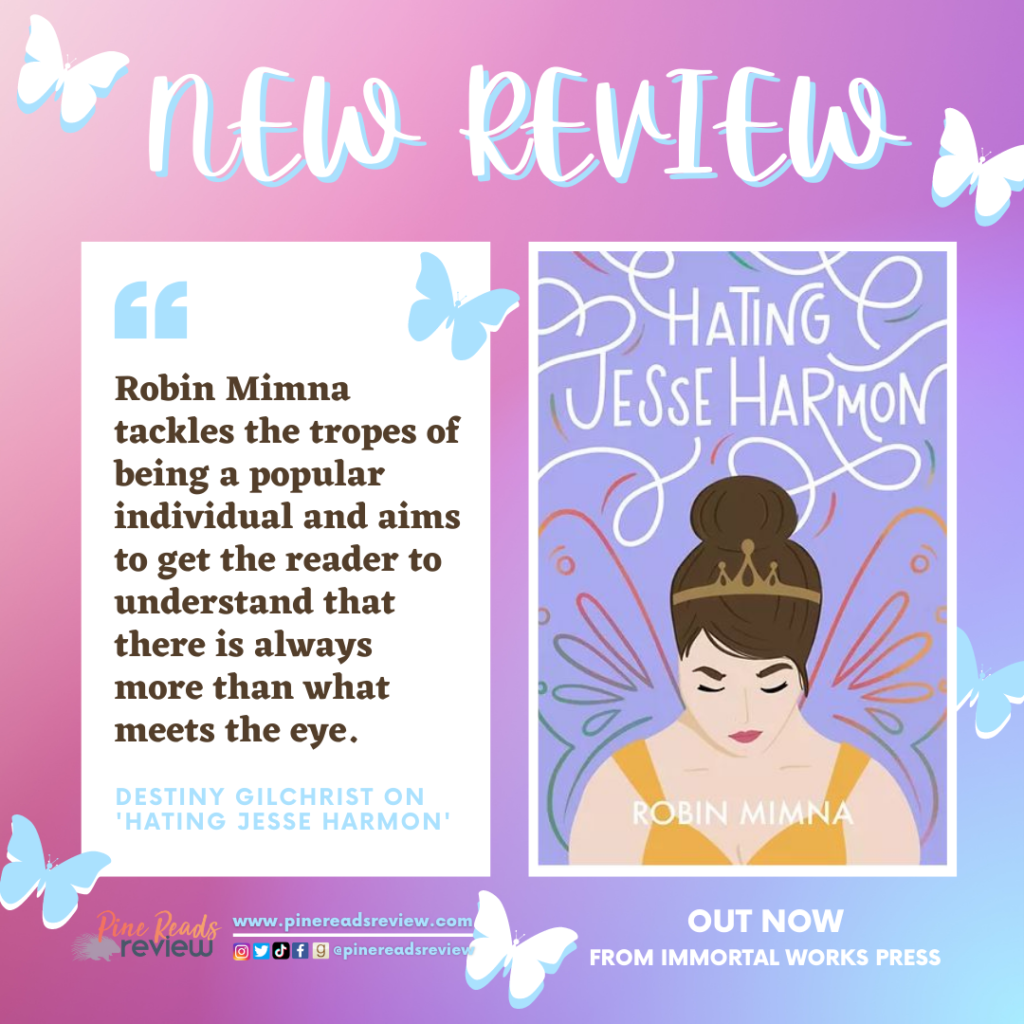 Hating Jesse Harmon written by Robin Mimna
Out Now from Immortal Works Press; 268 pages
About the Author: "I live in the historic city of Lake Helen, Florida with my dog Harley and two lazy cats. I love history and telling other people about it, especially if they don't ask. I work as a service coordinator and am finishing my English degree at the University of Central Florida.
I have served on the board of Autism Society of Greater Orlando, volunteered for the Enterprise Museum and currently serve on the board for the West Volusia Historical Society, the Lake Helen League for Better Living and Lake Helen Pride. (Because I have no time management skills)" (Bio taken from author's About Me website)
Find Robin Mimna on the following platforms:
---
"I see a woman may be made a fool, if she had not a spirit to resist."
Sometimes the most unlikely people are the ones who inspire us the most. A pair such as this can be found in the novel "Hating Jesse Harmon" by Robin Mimna. The story follows a girl named Frances and a boy named Jesse. Frances is on her own mission to prove that she can be prom queen without popularity on her side. This journey causes her to really get to know Jesse for who he is and not who he pretends to be. What starts off as a story about a popular boy and a nerdy girl quickly turns into a lesson about friendship, understanding, and learning to love.
Trying to navigate high school proves to be a difficult task for most and these two are no exception. Within the novel there are many themes that anyone can relate to in their own respective ways. Robin Mimna tackles the tropes of being a popular individual and aims to get the reader to understand that there is always more than what meets the eye. To put it simply, Jesse goes from appearing arrogant and selfish to an endearing and funny character. It teaches the reader to not categorize a person based on superficial interpretation without creating a space for understanding.
Frances may not have been the star of the show at the beginning, but she wins the crown and our hearts by the end. The topic of learning to love one's self no matter what other people think is something that Frances has to learn. Mimna does a wonderful job at portraying a teenage girl with ambition and yet, who is a bit awkward in competition with herself. It takes great courage for Frances to recognize that with or without a crown she needs to like the person staring back at her in the mirror every morning. This realization over time is also what allows her to open her heart to Jesse who learns how important it is to have an authentic friendship.
As mentioned before, friendship is the sole foundation of this story. This contribution prevents the story from being rushed and unrealistic. What started out as an unfitting pair blossomed into friendship and later love. Jesse and Frances learn that love is not set in the looks, popularity, and titles. It is rather in the actions, determination, and effort of a person. Both characters go through a variety of changes as they grow together. This was a wonderful read that many readers would benefit from engaging with.
PRR Writer/Editor, Destiny Gilchrist
---