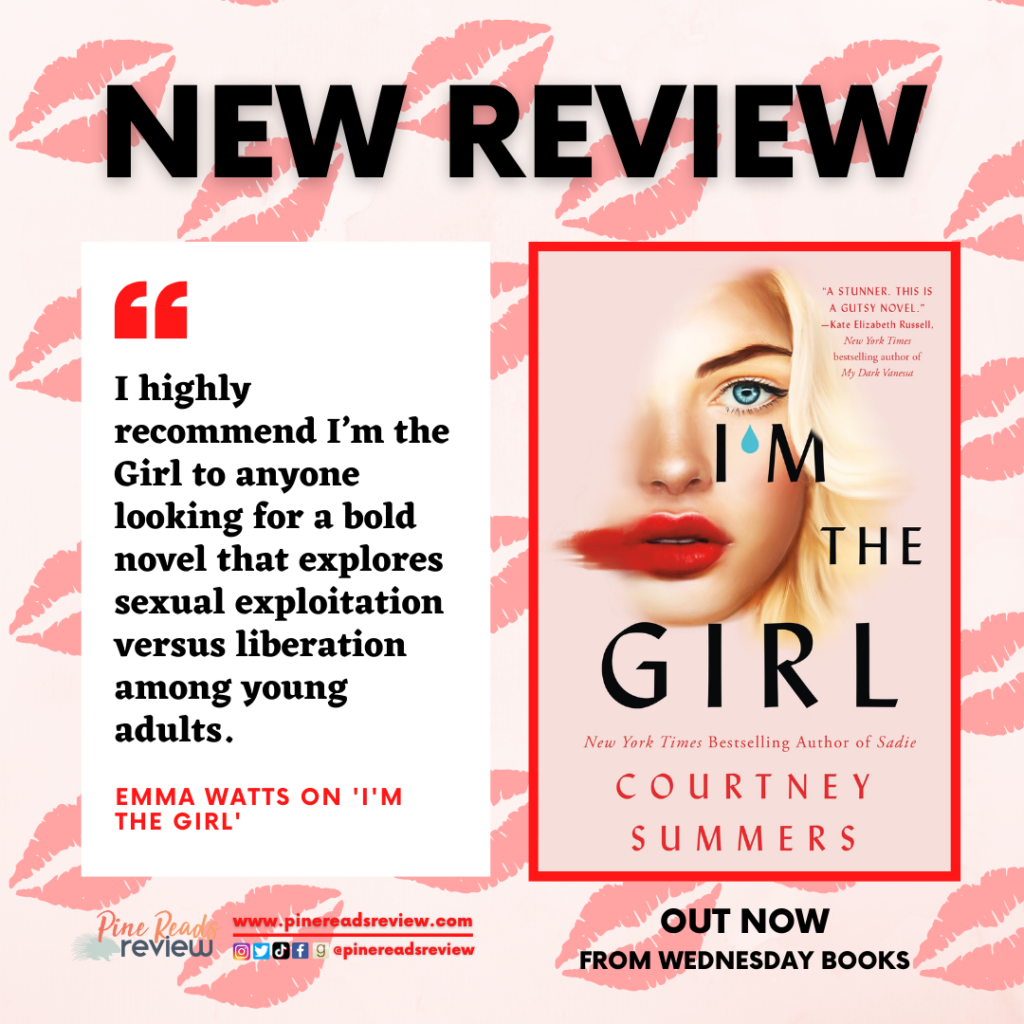 I'm the Girl by Courtney Summers
Out now from Wednesday Books; 352 pages
Content Warnings: death, sexual assault, statutory rape
About the author: "COURTNEY SUMMERS is an uncompromising writer (Quill and Quire) whose history of risky artistic choices (Kirkus) has earned her a reputation for pushing boundaries (Shelf Awareness) with books that are not for the faint of heart (The New York Times). Hailed as both a master of the bitch (Electric Literature) and the culturally necessary life-ruiner (Buzzfeed), Summers lives in Canada, where she is hard at work on her next novel" (bio taken from author's website).
Find Courtney Summers on the following platforms:
---
"I was angry with my mother, the kind of anger that changes the way you look at the world and makes you understand, for better and worse, the way the world's looking at you."
Sixteen-year-old Georgia Avis dreams of working at Aspera, the fancy resort her mother worked at before she died. The same resort her mother got fired from. The same resort her mother always told her she was never good enough for. After a series of unfortunate events, Georgia is left being $4,000 in debt to her brother, so she gets a summer job in the heart of Aspera—and discovers it might not be all that she dreamed of. To make matters worse, Georgia stumbles across the body of thirteen-year-old Ashley James. Georgia teams up with Ashley's sister, Nora, to help find the killer and the investigation leads them deeper and deeper into the gates of Aspera.
I'm the Girl is a novel that is emotionally difficult to read. Summers does an excellent job of portraying what it feels like to be a young woman in a world that overly sexualizes teenage girls. Readers watch as Georgia grapples with her beauty and how she can use it to her advantage to get what she wants. These brilliantly written scenes leave the readers asking: is Georgia actually taking advantage of her good looks, or are the people around her taking advantage of her?
I highly recommend I'm the Girl to anyone looking for a bold novel that explores sexual exploitation versus liberation among young adults. Georgia is a courageous character with a lot of depth. She's confident, passionate, naive, and stubborn—and the mix of these traits gets her into a lot of difficult situations. Many young women will be able to relate to her struggles throughout the novel. However, the story is upsetting and graphic, so please proceed with caution.
(Pine Reads Review would like to thank NetGalley and the publisher for sending us an ARC in exchange for an honest review. Any quotes are taken from an advanced copy and may be subject to change upon final publication.)
PRR writer and editor, Emma Watts
---