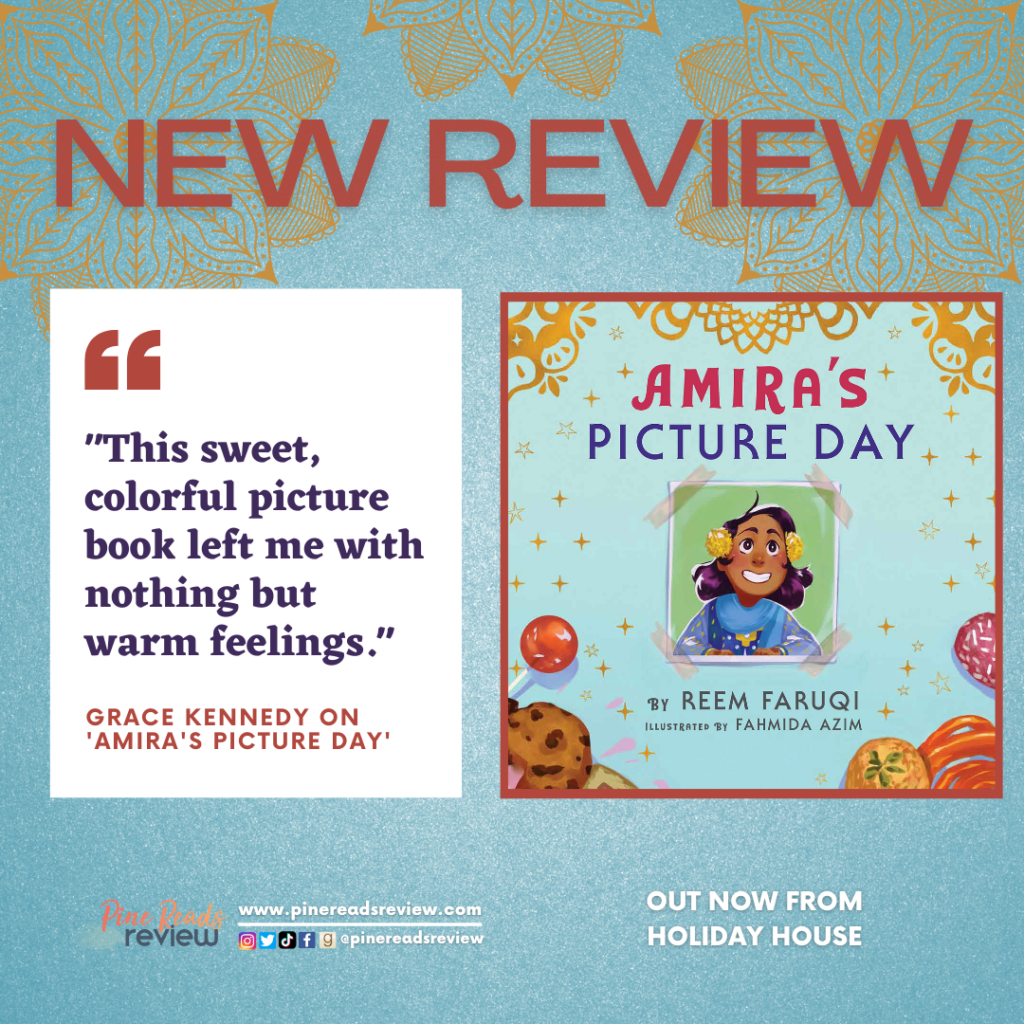 Amira's Picture Day written by Reem Faruqi and illustrated by Fahmida Azim
Out Now from Holiday House; 32 pages
About the Author: "When Reem Faruqi taught second grade, her favorite time was "Read Aloud" time. Now, her favorite time at home is reading with her daughters. Of Pakistani origin, she moved to Peachtree City, Georgia, from Abu Dhabi, the United Arab Emirates, when she was 13 years old. Reem based her first award-winning children's book "Lailah's Lunchbox" on her own experiences as a young Muslim girl immigrating to the United States. She has three new books projected for 2021, her debut middle grade book "Unsettled" (HarperCollins 2021), and two picture books: "Amira's Picture Day"(Holiday House 2021) and "I Can Help." (Eerdmans 2021). She also has a new non-fiction picture book based on her grandmother Milloo's Mind (HarperCollins 2023). Reem seasonally works as a photographer at ReemFaruqi Photography and currently works as a Scheduler for the Islamic Speakers Bureau of Atlanta. She loves to doodle, write, and take photos at http://www.ReemFaruqi.com. Currently, she lives with her husband and three daughters in Atlanta." (Bio taken from author's website)
Find Reem Faruqi on the following platforms:
About the Illustrator: "Fahmida Azim is an illustrator and storyteller. Her work centers on themes of identity, culture, and autonomy. She and her art have been seen in The New York Times, NPR, Glamour, Scientific American, The Intercept, Vice, and more. Fahmida has illustrated a number of books including her own stereotype-shattering project Muslim Women Are Everything (HarperDesign, 2020). She enjoys drawing real people living extraordinary lives, fictional people living beautifully ordinary lives, and food. Originally from Bangladesh, Fahmida now lives and creates in Seattle, Washington." (Bio taken from illustrator's website)
Find Fahmida Azim on the following platforms:
---
"Her new Eid shalwar kameez hung nearby. Suddenly, she spotted the pink-striped Picture Day dress. The more Amira thought of Picture Day, the longer she took to get dressed."
Eid has arrived and Amira is ecstatic for a day off from school to celebrate with her family. Amira, her parents, and her little brother will spend the morning meeting with other Muslims in their community at the masjid, or mosque, for a special Eid prayer. Amira is thrilled at the thought of a fancy new outfit, delicious treats, and the many festivities she has to look forward to tomorrow. But suddenly, that excitement turns to panic when Amira realizes that she will be missing school Picture Day! Fearful that her classmates won't remember her if she's missing from the class photo, Amira must use her cleverness to come up with a way to both celebrate with her community and participate in Picture Day.
This sweet, colorful picture book left me with nothing but warm feelings. Amira was put in a difficult position at the beginning of the book, caught between two events that were important to her, and I was relieved to see her resolution at the end. Amira solved her dilemma with kindness and even additional thoughtfulness for her classmates while also still being able to enjoy an important cultural event with her family. Besides just being a candid story, this is a wonderful book to introduce Eid to non-Muslim readers of any age. Reem Faruqi has managed to smoothly interweave facts about the holiday with Amira's story while Fahmida Azim's vibrant art style kept the whole book feeling exciting and upbeat. Azim's illustrations were warm and incredibly detailed, making me spend twice as long as usual studying each page! For a vivid, heartfelt story about making a tough choice, pick up a copy of Amira's Picture Day.
PRR Assistant Director, Grace Kennedy