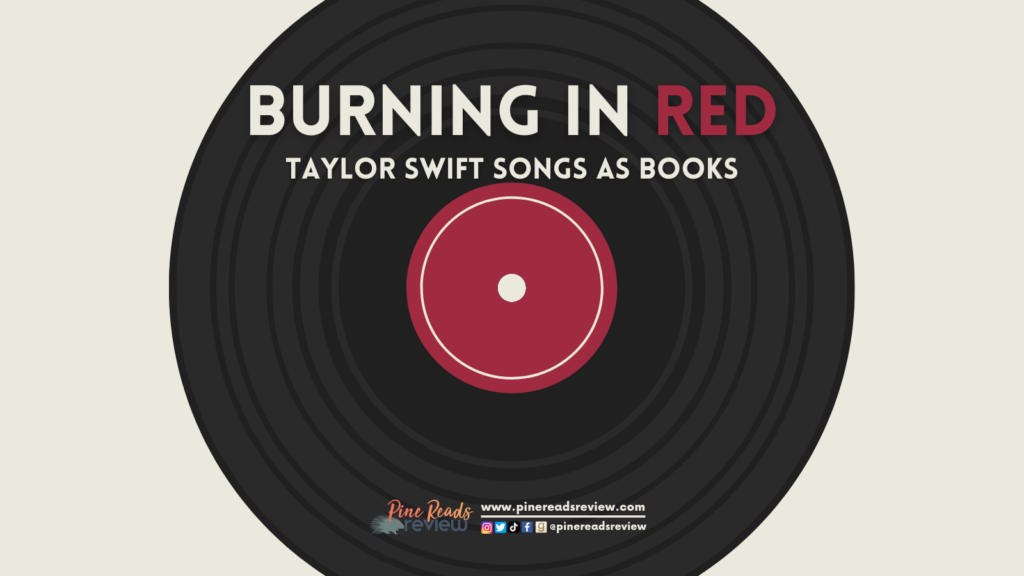 With Taylor Swift's re-recording of RED coming out last Friday, we are "happy, free, confused, and lonely," but it's "miserable and magical." The album is a mosaic of the many beautiful, confusing, passionate, wild, and heartbreaking emotions that define love. And for Swift, all of these emotions are seen in red.
Whether you've been crying to the 10-minute version of "All Too Well" or screaming the lyrics of "I Knew You Were Trouble," we have 13 worthwhile books that we think capture all of these emotions and memories that come back to us…in burning red.
---
1. Red:

Lady Midnight by Cassandra Clare
"Loving him is like driving a new Maserati down a dead-end street / Faster than the wind, passionate as sin"
When a demon plot looms, Emma knows that one person will always be by her side: her parabatai Julian. They took the parabatai oath to ensure that they would always be together, but now that five years have passed since they made that promise to each other, it becomes the one thing that keeps them apart.
Falling in love with your parabatai is against the Clave's law, but for Emma and Julian, there is no one else. The consequences are unclear, but no pair of parabatai have survived the fate of falling in love. Even though they know that it can not end well, as the song suggests, their relationship is so captivating that it's practically painted in red.
"Put your lips close to mine / As long as they don't touch"
Becca Hart doesn't believe in true love. Sure, it might exist, but she doesn't think it's worth the risk. She prefers romance novels, where love and heartbreak remain within the pages. But when her ex-best friend publicly mocks her for never having a boyfriend, she lies and claims to have one. And for some reason, popular jock Brett Wells decides to join her ruse—kissing her in front of everyone. Similar to "Treacherous," the two characters are hesitant to get close to one another, but in the end, is getting swept away really a choice you make?
3. I Knew You Were Trouble: Throne of Glass by Sarah J. Maas
"I knew you were trouble when you walked in / so shame on me now"
Eighteen-year-old assassin, Celaena Sardothien was granted her freedom from her sentence in the slave mines on one condition: she must win the competition to determine Adarlan's royal assassin. The Crown Prince is betting on her to win, and Celaena is determined to win her freedom despite her larger competition. She holds her own in the competition, but then Crown Prince's interest in her deepens, and Captain Westfall, her trainer, begins to catch Celaena's attention. In the midst of their own romantic dilemmas, other champions in the competition begin to turn up dead, and Celaena must ensure she is not next. She should've guessed that walking into the glass castle was going to be trouble, and when her deepest fears come creeping in, Celaena must choose who and what's worth losing.
"Everything will be alright if / You keep me next to you"
June and her friends have excitedly been waiting and preparing for one event: ZombieCon, where fans come to celebrate anything and everything zombies. It feels like a perfect night when they arrive, but they quickly start to notice that the other fans are playing their part as zombies all too well. Soon, June and her friends find themselves defending themselves against a zombie outbreak. Reminiscent of the music video for "22," Girls Save the World in This One has fierce female friendships where everything will be alright as long as they are next to one another.
5. We Are Never Ever Getting Back Together:

Audrey, Wait! by Robin Benway
"You go talk to your friends, talk to my friends, talk to me / But we are never ever, ever, ever getting back together"
Audrey is ready to say "this is it, I've had enough."
When your boyfriend is only self-centered and superficial behind the pretty face, you dump him. And never ever, ever, ever get back together with him. Except that he might write a song about you that sweeps the whole country.
Ever since her ex-boyfriend's song about their breakup was released, everyone is watching her every move, from the paparazzi and tabloids to the internet. Audrey may never have a normal life again. Still, despite her ex creating a record that might be much cooler than one she'll ever be able to write, she's determined to tell her side of the story.
6. Sad Beautiful Tragic: Why We Broke Up by Daniel Handler
"Long handwritten note / Deep in your pocket / Words, how little they mean / When you're a little too late"
After the course of a sad beautiful tragic relationship, Min decides to make a breakup box for Ed. In it is a collection of items: a toy truck, a protractor, some books, a movie ticket, and other things that she collected over their love affair. Along with it is a long handwritten note that explains the items and why they broke up. Like "Sad Beautiful Tragic," it's a life the two can't get back, a train of a relationship running off its tracks.
"And your secrets end up splashed on the news' front page / And they tell you that you're lucky / But you're so confused, 'Cause you don't feel pretty, you just feel used"
Emilia seems to be the lucky one. She's a field hockey star with stellar grades, perfect for getting into the school of her dreams: UPenn. But instead of feeling lucky, she just feels used—it's actually the school of her parent's dreams, and she feels trapped by the lack of choices in her life.
Secretly at night, she lives a double life as a member of a highly ranked competitive eSports team. However, when she's given the chance to participate in an eSports competition, an old childhood friend recognizes her from the past, potentially unraveling the two lives she's worked so hard to separate. Will Emilia be able to keep her secret from being splashed on the news' front page?

Check out PRR's review of Don't Hate the Player here!
"And all my walls / Stood tall painted blue / But I'll take 'em down, take 'em down / And open up the door for you"
Dante and Ari couldn't be any more different, but when they meet, their bond is instant and undeniable. Dante is everything that Ari is not, yet Ari cannot help but let this charismatic boy walk into his life. And to Ari's surprise, he opens his world and lets his walls down for Dante.
As recounted in "Everything Has Changed," sometimes the right people walk into your life at the most unexpected times, and things can't help but make sense. Ari's not quite sure what it is about Dante, but all he knows is a newfound grace—and everything has changed.
9. Starlight: Prom and Prejudice by Elizabeth Eulberg
"Oh my, what a marvelous tune / It was the best night, never would forget how we moved / The whole place / Was dressed to the nines / And we were dancing"
With a modern high school twist on the classic by Jane Austen, Lizzie Bennett couldn't care less about buying a dress for the prom or about the boy going to the nearby prestigious all-boys school. However, her best friend Jane can't help but get swept up in the whirlwind, especially once Charles Bingley returns from his semester abroad.
Lizzie's opinions soon change once William Darcy repeatedly shows up at the coffee shop where she works and offers to walk her home. After several silent walks home together, Lizzie begins to realize that perhaps her first feelings about Prom and Will were wrong. "Seventeen and crazy running wild," Lizzie plans to enjoy a marvelous night with the prince of her dreams.
"But on a Wednesday in a cafe / I watched it begin again"
Luisa Patterson and Sam Alvarez used to spend every moment together. They were inseparable—until middle school happened and four years flew by. Now, the summer before their senior year of high school, Sam is a popular golden boy at school while Lou is an introverted girl content with writing fan fiction and playing video games.
Then, Lou discovers an old bucket list they made together and is shocked to find she hasn't accomplished any of them. And in a twist of fate, Sam comes along to check it off with her. Like Taylor Swift's song, this coming-of-age contemporary romance brings us to new beginnings, watching an old friendship begin again.

Check out PRR's review of Our Way Back to Always here!
11. Message In A Bottle: The Selection by Kiera Cass
"'Cause you could be the one that I love / I could be that you dream of"
America Singer wants nothing to do with the competition for Prince Maxon's heart. She doesn't want to leave Aspen, despite the fact that their love must remain a secret. She doesn't want to leave her home. She doesn't want to live in a castle that is constantly under the threat of an attack. Despite the opportunity to escape the unfortunate life laid before her at birth, America couldn't be more hesitant.
That is until she actually meets Prince Maxon. She's hypnotized by him and everything that a life with him promises her. Suddenly being Selected doesn't seem like such a bad thing to America, and she is left standing there, hoping that Prince Maxon sees her and feels the same.
"He spends most of his nights / Wishing it was how it used to be"
Ollie thought that he was the summer sun for Will forever when they met during vacation on the beach. After the summer ends, Ollie calls just checkin' up on him, but doesn't hear back from him: no returned calls or texts to be seen. As if it couldn't get any worse, Ollie is uprooted from his home and moves across the country only to find Will at the same school—except Will is closeted and not the affectionate and kind person he remembers him to be.
Now, Ollie spends most of his nights wishing it was how it used to be, but he has no intention of pursuing a relationship with someone who clearly doesn't want one. Still, Will begins to "coincidentally" pop up in every aspect of his life anyways.

Check out PRR's review of Only Mostly Devastated here!
"There's been this hole in my heart / This thing was a shot in the dark / Say you'll never let 'em tear us apart / And I'll hold onto you while we run"
After Anna's sister passes away in a tragic car accident, her family falls apart. Not sure what to do next or how to move forward, Anna suddenly finds her sister's summer bucket list. Deciding to let her sister's dreams live on, Anna sets out on an epic road trip adventure with her sister's best friend Cameron.
Leaving their shared pain in the rearview mirror, Anna and Cameron realize that the road trip may be the freedom they need to find who they are. With their hearts on their sleeves and not a reason not to go, Anna and Cameron run.
---
From sweet accidental romances to emotional confessions to healing and self-discovery, we've tried to capture the emotion of one of Swift's best albums. So regardless of your relationship status, you should check out these burning reads and stream RED (Taylor's Version).
PRR Writer, Sohi Kang & PRR Writer and Editor, Taylor Quinn