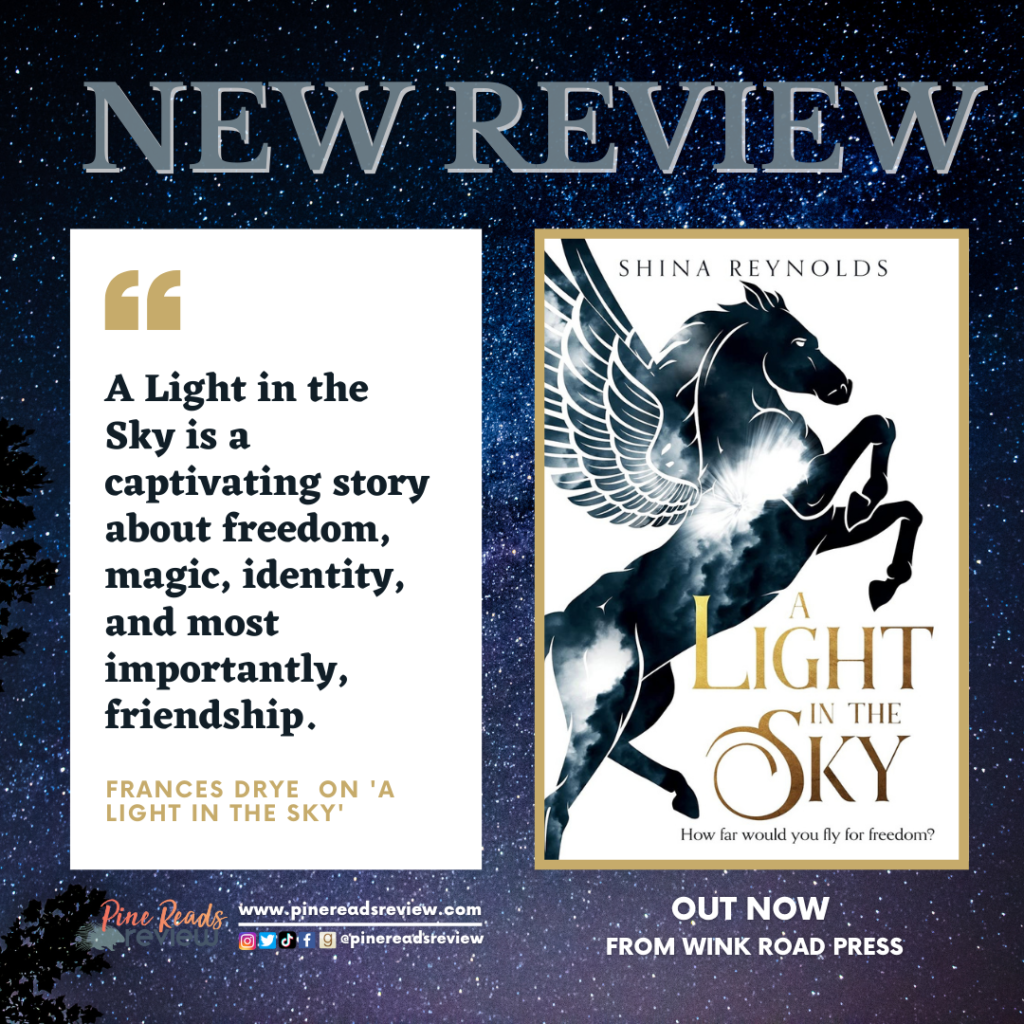 A Light in the Sky by Shina Reynolds
Out Now from Wink Road Press; 420 pages
Content Warnings: Strong language, death, kidnapping, fighting, violence
About the Author: "When Shina Reynolds was young, she relished riding a horse through a wide-open Nebraskan field, her imagination leading the way. Now that she doesn't have a horse and lives in a city, she creates flying horses in her mind and writes about them.
Shina currently resides in Texas, where she spends the majority of the year trying to stay cool and imagining she lives in Ireland. Although she graduated with a degree in Art History and a minor in Anthropology, she couldn't fight the urge to create art herself. Before writing her first novel, she worked in: acting, filmmaking, singing and songwriting, modeling, and photography. Her love for film continues to inspire her writing." (Bio taken from author's website.)
Find Shina Reynolds on the following platforms:
---
"Up here in the sky, I am free. There are no watchful eyes — no constraints."
Aluma Banks dreams of nothing more than to be on the back of a Pegasus and up in the sky. Sadly, she lives in Eirelannia where only Riders of the king's Empyrean Cavalry can have a winged steed. The Riders are aerial warriors whose job is to defend the borders of their land from the corrupted Kingdom of Laithlann. Every year at the Autumn Tournament, young men and women compete to be in the Empyrean Calvary. Aluma's father is a famous retired member of the Calvary who refuses to allow Aluma to compete in the trials. However, after her father and his Pegasi fall out of the sky, Aluma is forced to compete in the trials she had previously longed to be a part of. Though she is finally allowed to follow her dreams, Aluma learns the truth about her kingdom, the people of Liathlann, and the power she has inside herself. Aluma must fight to save her family, her friends, and her kingdom.
Shina Reynolds' debut novel is a throwback to classic YA tropes with Pegasi, love triangles, and a band of misfits. The Pegasi are a major aspect of this novel, and I loved it. Reynolds' wrote the horses so vividly, I felt as though I could reach out and touch Darwith and Cashel. She captured their thoughts, sounds, and habits so well that I could picture them in such rich detail.
I also really loved the relationship between Aluma and her father; they love each other so fiercely and fight to protect one another. Aluma is so loyal to her father in a way readers rarely get to see, and she trusts him implicitly. She even completes the tasks that he asks of her when the reason behind them is unclear; however, the purpose is eventually revealed. A Light in the Sky is a captivating story about freedom, magic, identity, and most importantly, friendship.
(Pine Reads Review would like to thank NetGalley and the publisher for providing us with an ARC in exchange for an honest review. Any quotes are taken from an advanced copy and may be subject to change upon final publication.)
PRR Editor and Writer, Frances Drye