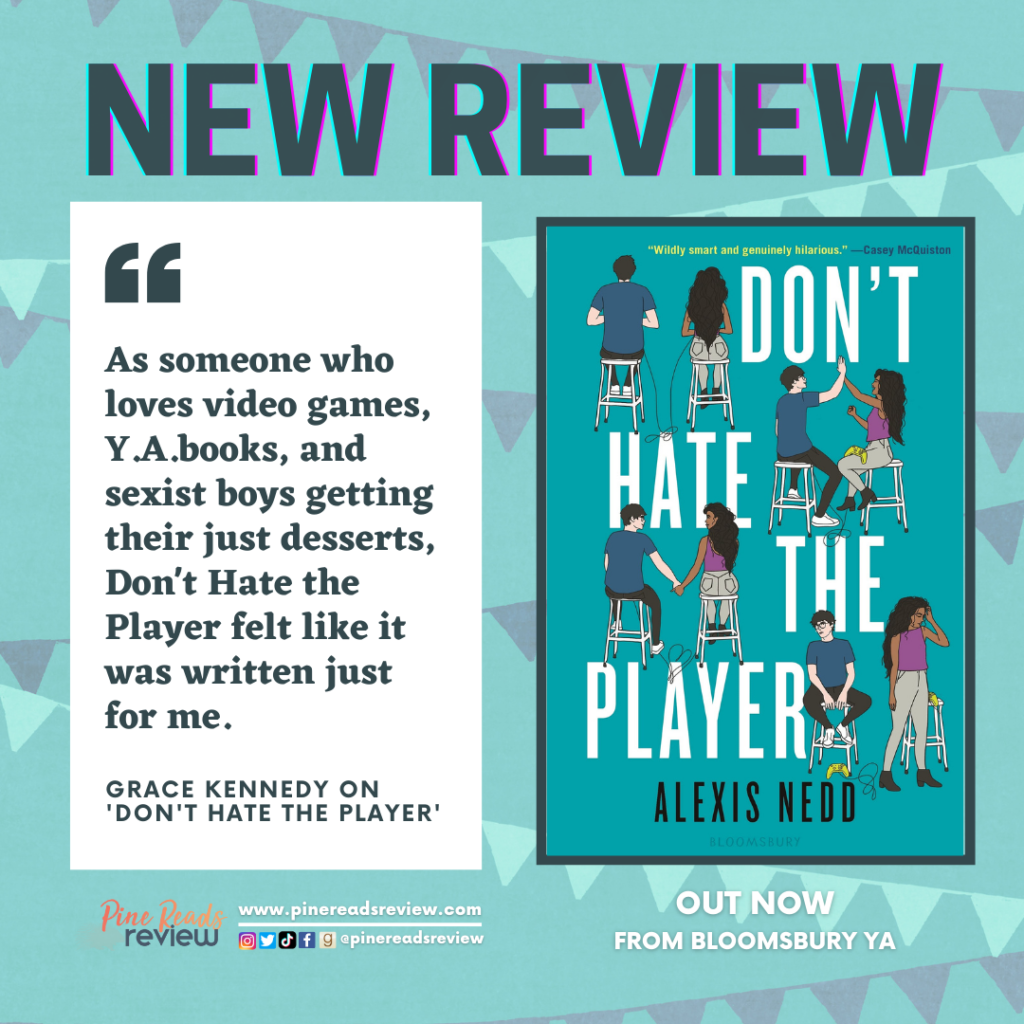 Don't Hate the Player by Alexis Nedd
Out Now from Bloomsbury YA; 378 pages
Content Warnings: racism, sexism, sexual harrassment, cyberbullying, threats of sexual assault, strong language
About the Author: "Alexis Nedd is a Brooklyn-based pop culture "fanthropologist" who has only ever loved things in a big, obsessive way. As the Senior Entertainment Reporter at Mashable.com, she covers television, movies, and video games with a focus on sci-fi and fantasy universes like Game of Thrones and the Marvel Cinematic Universe. When she's not writing for money, she's writing for no money on Twitter, where her feed consists of deep dives on weird history (Hamilton and messed-up royal lineages are favorites) and analyzing pop culture as an artifact of society. Her writing has also appeared in Elle, Cosmopolitan, Marie Claire, and Buzzfeed. This is her debut novel." (Author bio taken from book)
Find Alexis Nedd on the following platforms:
---
"Every one of the dozens of gigantic screens is alternating between showing Fury's logo and the three coolest words I've ever read in my life. TANK KILL:KNOX."
Emilia Romero is a lot of things—a prominent field hockey player, an Ivy-League shoe-in, and the proud daughter of hardworking Puerto Rican parents, to name a few—but being a top-tier competitive video game player is something no one expects. Between sexist online harassment and college-focused parents, Emilia decides that the safest option is to keep her hobby a secret from everyone she knows. But when her elite online team qualifies for a massive Esports competition, Emilia finds herself vulnerable to discovery. Jake Hooper has had heart-eyes for Emilia since he saw her bashing his high score in an arcade at age 10, but they lost contact for several years. When Jake finds out that Emilia is playing in the same competition on a rival team, he's elated to recognize her. Caught up in Emilia's big secret, the two find themselves in a romance that may have just been meant to be.
As someone who loves video games, Y.A. books, and sexist boys getting their just desserts, Don't Hate the Player felt like it was written just for me. I already loved the idea of a teen girl facing the toxic, male-dominated atmosphere of competitive gaming head-on, but I was impressed with the complexity and humanity that Emilia's character was written with. Alexis Nedd illustrates the experience of being a female-presenting gamer online very well—I have had firsthand experience of how utterly unpleasant it can be. I was glad that Emilia isn't just some too-tough-to-cry protagonist, but someone who feels the deep hurt and fear that comes with being harassed and ostracized just for being a girl online. Not that she's a wimp, however, because I loved Emilia's funny and acerbic wit. Jake is a wonderfully sweet romantic interest, and the dual-POV of the novel effectively shows how the two fit together. Plus, I couldn't possibly put down any book that astutely jokes about my favorite story-based game series, Mass Effect. All in all, this fast-paced, nerdy romance is as exciting as it is heart-wrenching, and it's earned a special place in this reviewer's (and gamer's) heart.
PRR Assistant Director, Grace Kennedy