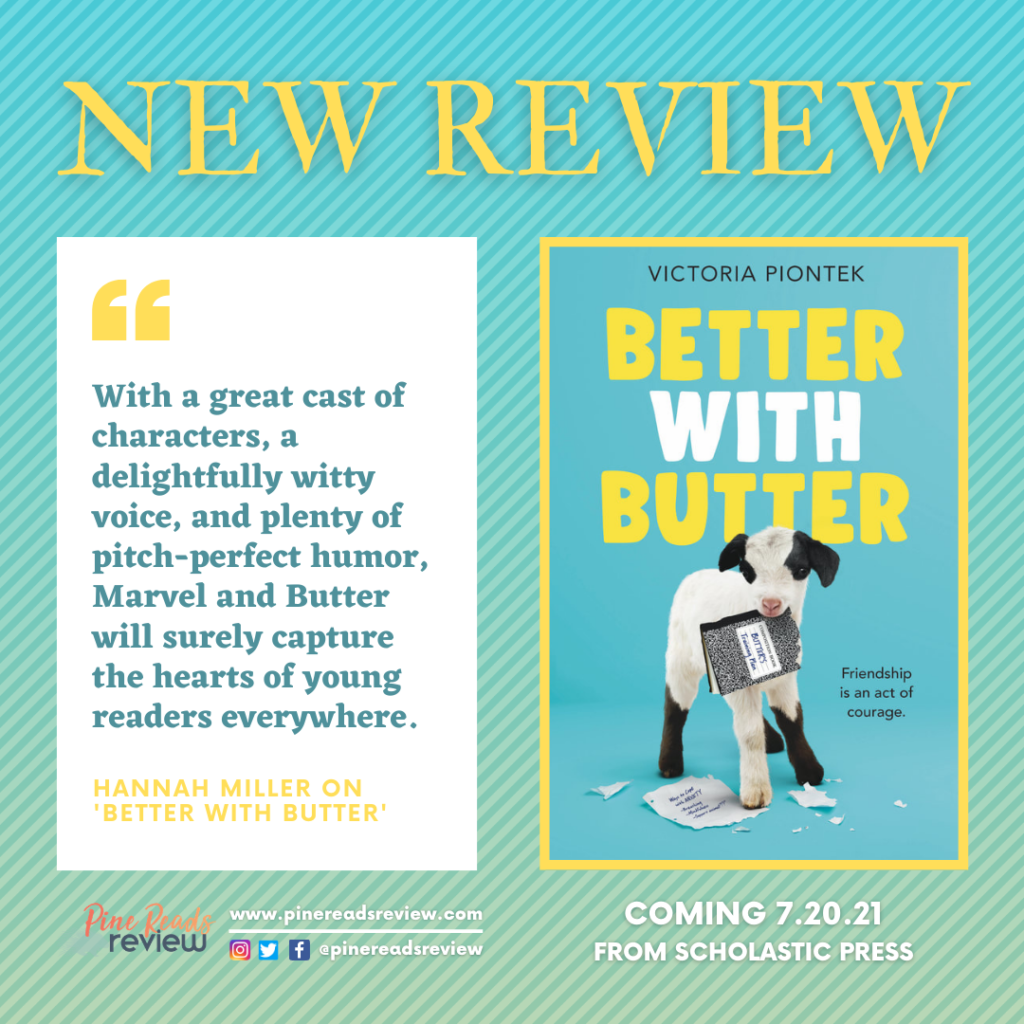 Better With Butter by Victoria Piontek
Coming July 20, 2021 from Scholastic Press; 320 pages
Content Warnings: main character with an anxiety disorder, bullying, mention of divorce, animal is temporarily sick
About the Author: "Victoria Piontek is the author of The Spirit of Cattail County (Scholastic Press, 2018), a ghostly story of magic and friendship set in the Everglades. The Spirit of Cattail County was a Bank Street College Best Book of the Year (2019) and selected for the Sequoyah Children's Masterlist (2019-2020). She is also a Literary Associate for Executive Agent Laura Rennert at the Andrea Brown Literary Agency. Prior to her current roles, Victoria had a myriad of other jobs, from waitressing to sales, but her favorite occupation was teaching middle school children in New York City as a Teach for America Corps Member. She holds an MFA in Creative Writing for Children and Young Adults from Hollins University, and an MST in Education from Pace University. Her forthcoming novel, Better with Butter, is about a twelve-year-old girl struggling with anxiety and the fainting goat that changes her life. When she's not writing, you can find her hiking in the Bay Area, where she lives with her husband, three children, and gigantic fluffy dog." (Bio from the author's website.)
Find Victoria Piontek on the following platforms:
---
"Not only does Butter need me specifically—the only person in the world who can truly understand what myotonia congenita must be like for her—but I need Butter. I already love her. She's the puzzle piece I didn't know I was missing, and now that I've found her, I can't let her go."
From earthquakes and amusement park rides to food poisoning and global warming, it's no secret that the world is full of scary things. This is something twelve-year-old Marvel knows for a fact, since her anxiety disorder pretty much makes "impending doom" her default setting. On her way home from a particularly disastrous public speaking presentation, Marvel stumbles upon Butter, an adorable fainting goat in need of saving, and for once doesn't hesitate to help the startled animal. It's love at first sight because, just like Marvel has trouble with her anxiety, Butter also freezes up and topples over when she's scared. The longer they spend together, the closer these two kindred spirits grow and the better Marvel starts to feel. But when her time with Butter may come to an end, will Marvel find strength in friendship and inner courage? Or lose her newfound friend forever?
From the author of The Spirit of Cattail County, Victoria Piontek's sophomore middle-grade novel is a must-read for anyone who wants the ride-or-die friendship of Because of Winn-Dixie—but with fainting goats. (And I mean, who wouldn't?) In all seriousness, I don't think an ending has made me cry so much in a while. (They were happy tears, don't worry.) I loved seeing Marvel struggle, grow, and find her courage with the help of the adorable fainting goat, Butter. Their friendship is truly one-of-kind and sure to pull at the heartstrings of anyone who picks up this tender story. 
The anxiety representation is nuanced and honest—I love seeing therapy normalized in children's books!—and in no way treats mental health as something that can/must be "fixed." Rather, Better With Butter is about a young girl finding the right tools, support system, and confidence in herself to not only succeed in, but enjoy all the things life has to offer. All in all, I (somewhat) selfishly wish this book had existed when I was a kid, but am nevertheless happy that it's coming to shelves today. With a great cast of characters, a delightfully witty voice, and plenty of pitch-perfect humor, Marvel and Butter will surely capture the hearts of young readers everywhere. 
Better With Butter releases July 20, 2021.
(Pine Reads Review would like to thank the publisher and author for sending us an ARC in exchange for an honest review. Any quotes are taken from an advanced copy and may be subject to change upon final publication.)
PRR Assistant Director, Hannah Miller