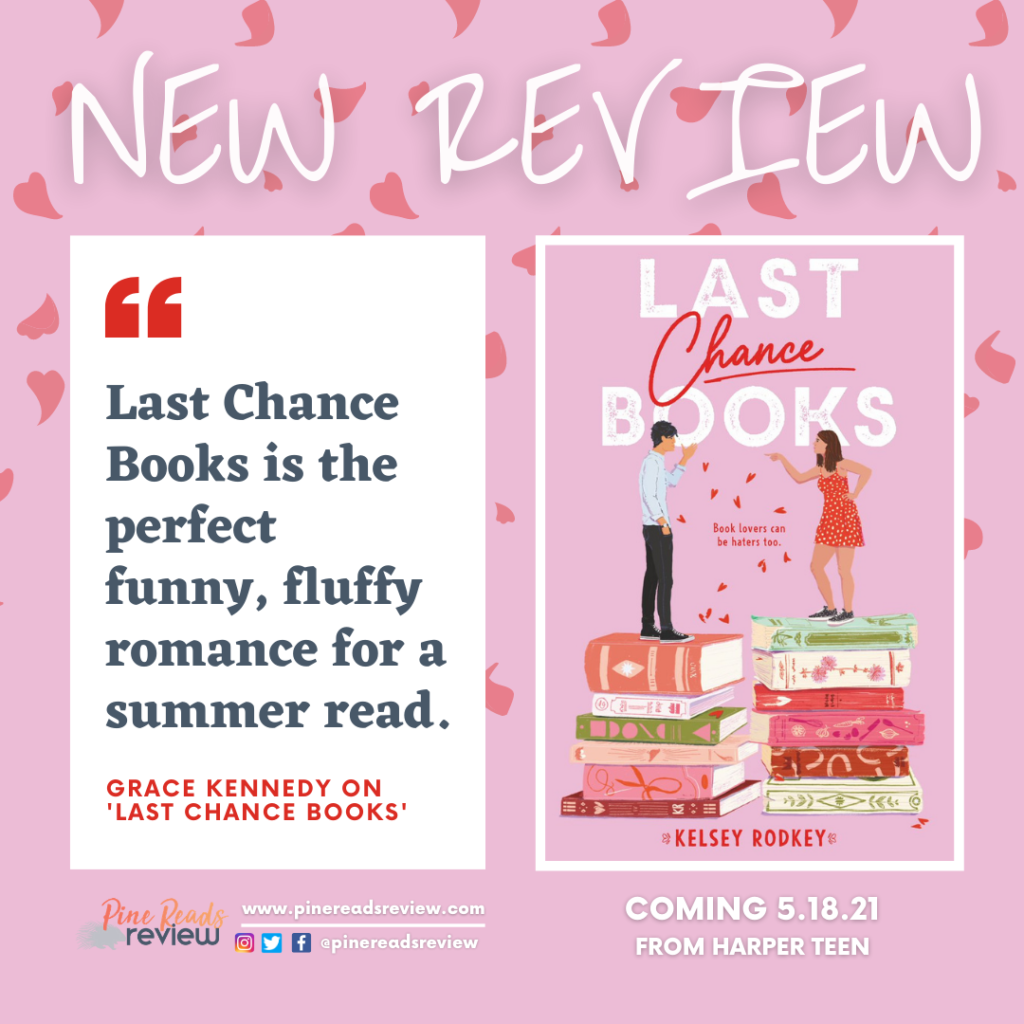 Last Chance Books by Kelsey Rodkey
Coming May 18th, 2021 from HarperTeen; 368 pages
Content Warnings: Underage drinking, mentions of drug use, foul language, sexual content, absent parents, comments on negative body image, blood/injuries related to a car accident
About the Author: "Kelsey Rodkey is a burrito lover, banter enthusiast, and young adult author, who strives to create the stories she lacked as a teenager. Before starting her job as a communications coordinator, she helped a British film crew make a documentary about a dog grooming expo and was an extra in a music video as a girl who couldn't stop playing with her hair. These days, between both of her jobs, she co-hosts a podcast called "Older & Wiser," where she discusses the mayhem that is the publishing industry in Younger. She lives near the capital of Pennsylvania, which a lot of people think is Philadelphia, with her significant other and their cats, Cheese and Tux. She is represented by Bridget Smith of JABberwocky Literary Agency. Last Chance Books is her first novel." (Bio taken from author website)
Find Kelsey Rodkey on the following platforms:
---
"There are more important things than a summer fling."
Now that bookworm Madeline Moore has graduated high school, she's on track with her plan to begrudgingly go to college for four years and return to run her aunt's bookstore: Books & Moore. Unfortunately, this simple dream comes crashing down when Madeline finds that Prologue, a chain bookstore run by another family, has moved in across the street and drawn many of B&M's customers away. She soon clashes with Jasper Hamada, a customer-turned-traitor, Prologue employee, and a tragically cute boy. Caught in a prank war to thwart her competition, Madeline has to figure out how to save her future without letting Jasper get in her way.
Last Chance Books is the perfect funny, fluffy romance for a summer read. Kelsey Rodkey's debut novel takes the enemies-to-lovers trope for a new spin in this bookstore versus bookstore saga where the tension between our two leads never falters. Madeline Moore is a dynamic protagonist whose passion for her family's store (and for destroying Jasper) had me unable to put the book down. I loved reading through each of her ideas for bringing in money to the store, and the event she puts together at the end of the book beautifully ties all her previous successes and losses together. The romance that develops between Madeline and Jasper is at times awkward and tumultuous, yet simultaneously has the giddy, youthful feeling of a teen's summer fling. If you're looking for something warm, light, and all about books, read Last Chance Books this coming summer.
Last Chance Books releases on May 18th, 2021.
(Pine Reads Review would like to thank NetGalley and the publisher for sending us an ARC in exchange for an honest review. Any quotes are taken from an advanced copy and may be subject to change upon final publication.)
PRR Writer and Editor, Grace Kennedy