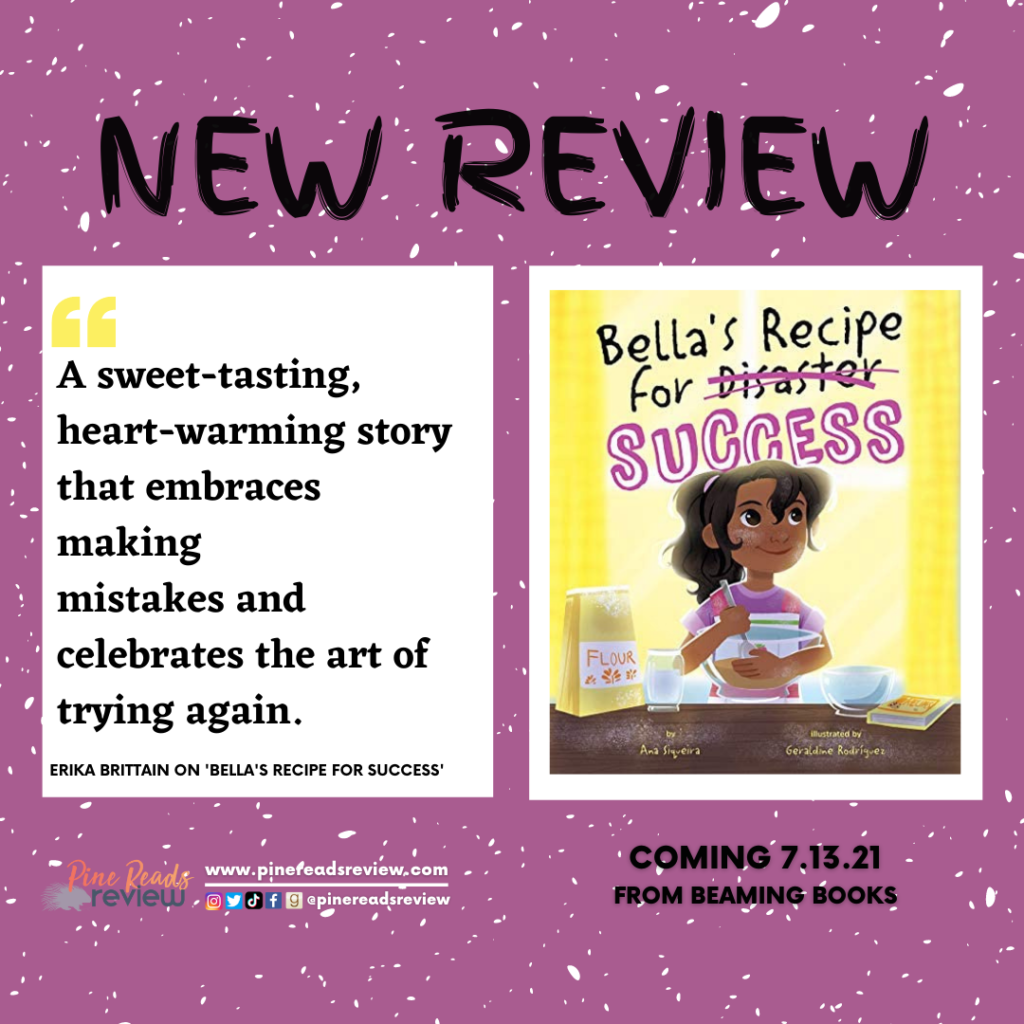 Bella's Recipe for Success written by Ana Siqueira and illustrated by Geraldine Rodríguez
Coming July 13, 2021 from Beaming Books; 32 pages
About the Author: "Ana Siqueira is a Spanish-language elementary teacher, an award-winning Brazilian children's author, and is published in the Foreign Language educational market – EL PATO QUIERE UVAS. Her forthcoming picture books include BELLA'S RECIPE FOR DISASTER/SUCCESS (Beaming Books, 2021) and IF YOUR BABYSITTER IS A BRUJA/CUANDO TU NIÑERA ES UNA BRUJA (SimonKids, 2022), ABUELA'S SUPER CAPA/ LA SUPER CAPA DE ABUELA (HarperCollins, 2023) and one more book to be announced. Besides writing, Ana loves to read, teach, and play with her Cuban-Brazilian-American grandchildren." (Bio taken from the author's website)
Find Ana Siqueira on the following platforms:
About the Illustrator: "Geraldine Rodríguez is a Mexican illustrator and digital artist who enjoys telling stories through colors and lines. In addition to Bella's Recipe for Success, Geraldine is the illustrator of Cinco de Mayo and the Adventures of Samuel Oliver series." (Bio taken from the Beaming Books website)
Find Geraldine Rodríguez on the following platforms:
---
"Abuela says, 'Sometimes that happens, Bella. We can always try again.'"
Bella's brother can play the piano with his eyes closed, and her sister can do fourteen cartwheels in a row. But what can Bella do? When gymnastics and music don't work in Bella's favor, she turns to baking— Abuela's area of expertise. As Bella tries to make one of Abuela's recipes, she quickly learns that sometimes you just don't get it right… And that's okay!
Bella's Recipe for Success is a sweet-tasting, heart-warming story that embraces making mistakes and celebrates the art of trying again. Bella not only deals with trial and error in baking, but also with the reality that everyone needs a little practice now and then— something I think is incredibly important to remind readers of all ages. Another thing that I enjoy about this picture book is the organic and seamless Latinx representation. Featuring a multigenerational Latinx family, and a delicious Mexican dessert, adds a lot of heart to the story, and Ana Siqueira even includes a fun bonus at the end of the story: a recipe for polvorones con dulce de leche (the cookies that Bella makes in the story). I personally love when authors add interactive elements, especially ones you can eat! Geraldine Rodríguez's lively illustrations beautifully add to Siqueira's wonderful story, resulting in a book that's sure to make special connections with readers young and old, Spanish speakers and not.
Bella's Recipe for Success releases July 13, 2021. 
(Pine Reads Review would like to thank Beaming Books for sending us an ARC in exchange for an honest review. Any quotes are taken from  an advanced copy and may be subject to change up final publication.)  
PRR Writer, Erika Brittain