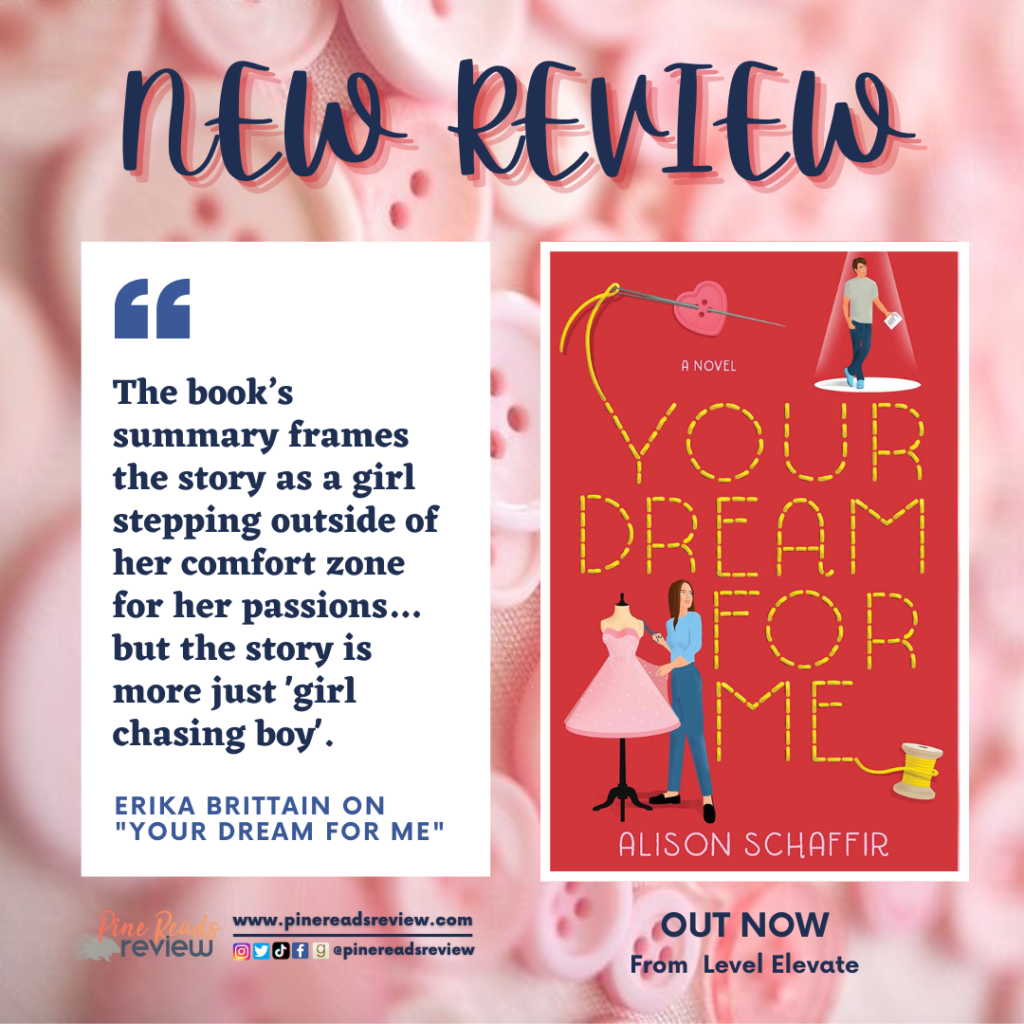 Your Dream For Me by Alison Schaffir
Out now from Level Elevate; 244 pages
Content Warning: Attempted sexual assault, underage drinking, mild language
About the Author: "Alison Schaffir is a social media strategist and young adult author living in New York City. A lover of contemporary fiction, Alison developed her debut novel, Your Dream for Me, fusing two of her favorite interests, fashion and theater, together. She graduated from University of Richmond with a major in business marketing and a minor in psychology. When she's not making up stories in her head, she loves indulging in Trader Joe's lava cakes, belting early 2000s pop hits, and spending time with her friends and family" (Bio from author's website).
Find Alison Schaffir on the following platforms:
---
"I just hope that there's no more drama this week, besides the kind happening on stage."
Scarlett has two problems: one, she dreams of being a fashion designer despite zero experience using a sewing machine; and two, she's developed a massive crush on the star theater student, Nathaniel. The fates seemingly align, and soon Scarlett and Nathaniel have a blossoming romance. Scarlett also begins working in the costume department for the spring play, where she's swept up in a whirlwind of fabric and teen drama. Faced with an incident that drives away her best friend Macie, navigating first love with Nathaniel, and pursuing her clothing designer dreams, Scarlett unravels life's challenges one thread at a time.
I was eager to read Your Dream For Me, and unfortunately, I was very quickly disappointed. The book's summary frames the story as a girl stepping outside of her comfort zone for her passions… but the story is more just "girl chasing boy." There isn't necessarily anything wrong with that, but it was disheartening since I expected to read a book primarily about fashion and costume design. Scarlett does end up making a supposedly show-stopping prom dress for Macie, but the moment is hastily described and underwhelming. This is actually an issue I encountered a lot while reading—most of the action feels like a rushed summary from Scarlett rather than us joining her lived experiences. There are also a lot of nondescript time jumps, so the pacing is jarring at times. The lackluster action was even more apparent due to the characters missing individual voices and depth. Slowing down the story to develop the characters and plot would have helped me care more about Scarlett's relationships (especially between her and Nathaniel) and her artistic journey. I'd also like more nuance in the story's conflicts, particularly with Scarlett's friendship with Macie. Their main conflict comes from a boy attempting to sexually assault Macie at a dance. While I appreciate that this book didn't fixate on the attempted assault, I wish the aftermath was handled more thoughtfully, given how prominent this plotline is in the book. The neat and tidy resolution to their conflict felt like a disservice to Macie and Scarlett. I imagine I could have enjoyed this book to an extent in early high school, but the story was frustrating for me now. Even so, I am optimistic that Alison Schaffir's next book might be a better fit.
(Pine Reads Review would like to thank SparkPoint Studio for sending us an ARC in exchange for an honest review. Any quotes are taken from an advanced copy and may be subject to change upon final publication.)
PRR Assistant Director, Erika Brittain
---