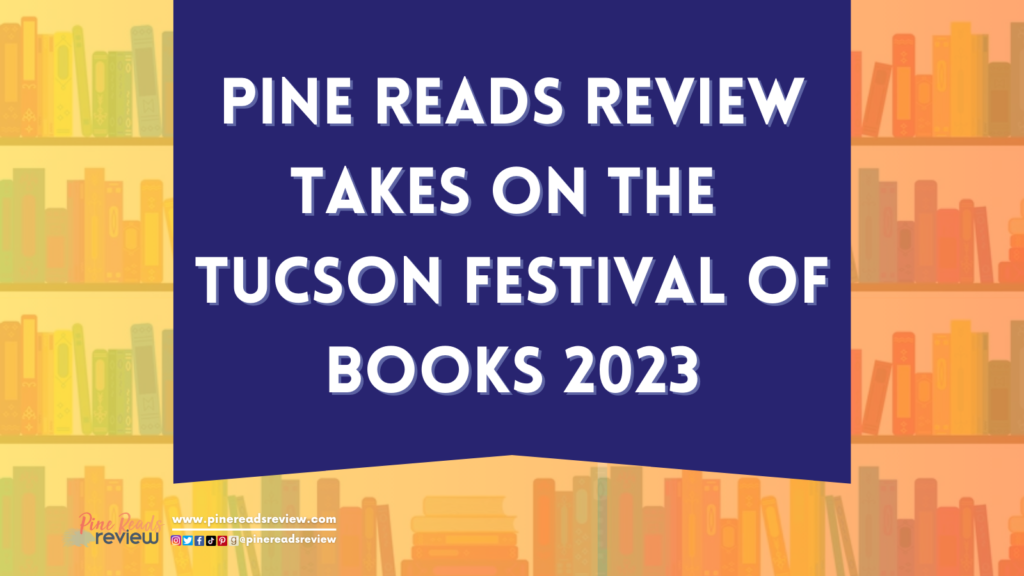 The 2023 Tucson Festival of Books was hosted at the University of Arizona on March 4th and 5th. As a major event for local and national book-lovers, our PRR staff naturally had to attend. We had over half our team at TFOB, with some staff volunteering and hosting guest authors and illustrators. Our team had a blast and wanted to give Pine Reads Review's review of the festival. Keep reading to hear from our admin team on their TFOB weekends!
---
Ashley Amacher, PRR Lead Editor
My Tucson Festival of Books experience began at the Teen & Author Stage with the "Warrior Girls Who Make Their Mark: National Book Award" panel. It was amazing to hear from Ibi Zoboi, author of American Street, a book I read for a course during my freshman year of college. I was also introduced to Sonora Reyes and Sabaa Tahir, who shared their insights about writing fierce female characters that teens could simultaneously relate to and be inspired by. After listening to the panel and exploring the tents of vendors, publishers, and booksellers, I headed to Worlds of Words to meet Sunya Mara, author of The Darkening. As an author host, I guided Sunya around campus for the duration of the Tucson Festival of Books. Soon after being introduced to Sunya, I had the opportunity to meet Sabaa Tahir (author of All My Rage) and learn about life as a bestselling writer. Next, I headed off to Sunya's first panel, "Fantasy Worlds of Danger, Action, and Romance," where she and Sabaa Tahir were joined by Scottish author Clare McFall. I loved hearing the authors discuss the inspiration behind their books and how they developed the fantasy worlds in which their characters live. Sunya Mara described how a metaphor in Haruki Marakami's Kafka on the Shore influenced her own book, commenting, "In fantasy, that metaphor becomes a world." After accompanying Sunya to her book signing and an interview with local teens, I met up with Pine Reads peers Aruna and Erika to discuss all the new books we discovered throughout the day.
The second day of the festival started off with a bang. I attended "Teen Worlds: A Carousel of Young Adult Authors," where young adult authors moved from table to table in eight-minute increments, pitching their books and discussing their writing and publishing process with small groups. This event was a great opportunity to talk face-to-face with established and debut young adult authors. Highlights of the speed-dating event included conversations with Sofía Lapuente and Jarrod Shusterman (co-authors of Retro), Nick Brooks (author of Promise Boys), and Alexene Farol Follmuth (author of My Mechanical Romance). My last panel of the weekend was "Dark Fantasy: Grief, Love, and the Unknown," featuring YA authors Sunya Mara, Guadalupe Garcia McCall, and Joanna Ruth Meyer. Sunya discussed the interconnectivity of the panel's themes, asserting, "Greif can't exist without the undertone of love." Guadalupe spoke about writing intense emotions, as her book Echoes of Grace contains a story of severe family trauma. Though it can be difficult to write about such powerful topics, she remarked that "finding the heart" of the story was her favorite part of the writing process. She also spoke very highly of her editor and related the value of editorial notes, which spoke to my soul as the lead editor for Pine Reads Review. I loved how much she respected her editor and valued constructive criticism. Toward the end of the panel, Joanna revealed that her book Wind Daughter was dedicated to "anyone who has ever been told they are too sensitive—the world needs your great hearts." The authors' beautiful insights were the cherry on top of a world-class weekend filled with wonderful words.
---
Aruna Sreenivasan, PRR Community Outreach Lead
This was the second time I've been to the Tucson Festival of Books, and, honestly, I think this year's festival was more fun than the last! I volunteered as part of the Line Management crew during the first day, and even though it was hectic, it wasn't overtly so—I had just enough work that I never felt bored, but I wasn't overwhelmed either. There's no experience quite like frantically scanning tickets and shepherding people into single-file lines, and even though I may never see my fellow volunteers again, we are forever bonded through those four hours of frenzy. I definitely recommend volunteering at TFOB if you can—everyone's so nice (as expected from the bookworm crowd), and it feels rewarding to help out at the festival before you go out and enjoy it.
Besides my volunteering gig, I went to a couple of panels, talked with a few authors, and got my books signed. I had the chance to speak with the wonderful Alexene Farol Follmuth (aka Olivie Blake), which was undoubtedly the highlight of the festival for me, as I've been a fan of hers for years. Fellow Pine Reads intern Erika and I will read her newest book My Mechanical Romance (which she signed!), and interview her, so keep an eye out for that! Additionally, I heard another favorite author of mine, Nghi Vo, and her co-panelists Sadeqa Johnson and Laurie Albanese discuss the female defiance and persistence that is a trademark of their stories, as well as Sabaa Tahir, Sunya Mara, and Clare McFall talk about their thrilling fantasy worlds. All of these authors must have been stand-up comedians in a previous lifetime, because not only were their talks incredibly insightful and inspiring, but they were also hilariously entertaining. You might think that sitting through an hour-long panel wouldn't be too exciting, but I promise you, these authors know how to charm an audience. I also acquired signed copies of Promise Boys by Nick Brooks and Retro by Sofía Lapuente and Jarrod Shusterman, both of which I cannot wait to read!
TFOB weekend was such a lovely, fun-filled experience that was the perfect start to my spring break. I will definitely be back again next year to splurge on even more books and meet more authors!
---
Emma Watts, PRR Assistant Director
This was my first time at the Tucson Festival of Books, and I enjoyed every minute of it. On the Friday before the official festival began, I volunteered to host an author at the Creative Arts Teen Summit on campus. The author I was paired with was Sonora Reyes, and I was able to hear them speak about their debut novel, The Lesbiana's Guide to Catholic School, and give a presentation to high school students about how to draft a book in 30 days. It was so exciting to hear them speak about their writing process—it's clear how much they truly care about the books they're writing, and it's always nice to see that much passion.
On the first day of the festival, I attended Sonora's panel with Ibi Zoboi and Sabaa Tahir called "Warrior Girls Who Make Their Mark: National Book Award." I love reading books about strong female protagonists, so I had a lot of fun at this panel because I got to hear from the perspective of the authors who write them. The other young adult panel I attended was "Lies, Secrets, and Deception" with E. Lockhart, Tami Charles, and Cat Winters. As a person who loves mystery and intrigue, I couldn't pass on seeing these authors speak. I wasn't disappointed. These three authors had such a compelling discussion about the way lies and secrets can move a story forward and keep a reader's attention.
Overall, I had such a great experience at TFOB, and, hopefully, I'll be able to come back again next year!
---
Erika Brittain, PRR Assistant Director
This year was my first time attending the Tucson Festival of Books (I knew I had to go before I graduated!). I was immediately drawn into the energy of the festival. There were people of all ages; all kinds of businesses, vendors, and media outlets set up; and so many smiling faces. On the first day, I decided to familiarize myself with everything. I walked through the book-selling tents, visited the children's village, and watched some of the family activities. I made my way over to the Teen and YA Stage to meet up with other PRR interns and caught the end of Sonora Reyes, Sabaa Tahir, and Ibi Zoboi's "Warrior Girls Who Make Their Mark: National Book Award" panel. I also sat in on the "Murder, Mystery and Dark Secrets" panel with author duos Kathleen Glasgow and Liz Lawson and Sofía Lapuente and Jarrod Shusterman, as well as the "Fantasy Worlds of Danger, Action, and Romance" panel with Claire McFall, Sunya Mara, and Sabaa Tahir. All three of these panels were incredibly enjoyable. I was enthralled with each author as they shared about their book, writing process, and told hilarious anecdotes. A few notable quotes I have to share from day one are:
"Men, usually white men, have always been the center of our stories…If we have a period of time where men are not the center of the story, that's okay."
– Sabaa Tahir, when asked about young adult books and male representation. (Sabaa also posted a Reel on her Instagram about this moment, iconic really.)
"I have been asked, 'Why would you put trauma in fantasy?' The fantasy isn't not having the trauma, but the ways characters go through and win."
– Sonora Reyes, on dealing with heavy topics in YA.
"Don't underestimate your characters if they're teens. Respect them, like how you wanted to be respected."
– Kathleen Glasgow, discussing writing from a teenager's point of view.
My second day at TFOB was just as fun but about twenty times busier. Pine Reads peer Aruna and I created a battle strategy to attend all of the panels we wanted and get some books signed. I started the day with "author speed dating" (their words, not mine) at the "Teen Worlds: A Carousel of Young Adult Authors" event. I got to sit at a table with so many awesome authors, including E. Lockhart, Kathleen Glasgow and Liz Lawson, Ibi Zoboi, Alexene Farol Follmuth, Nick Brooks, Sunya Mara, and Sofía Lapuente and Jarrod Shusterman. Following that event, I chatted with Alexene Farol Follmuth as she signed a copy of My Mechanical Romance, and I also got Sunya Mara's book, The Darkening, signed (Sunya is so kind and very fashionable, in case you were wondering). I then attended the "Social Thrillers: Confronting Influence and Power" panel with Ari Tison, Brittney Morris, and Nick Brooks. This panel was exceptional; each author had thoughtful and engaging responses about writing underrepresented stories and uplifting readers who share these identities. After the panel, Nick Brooks signed my copy of The Promise Boys, and Pine Reads was given a signed advanced reader copy of Ari Tison's Saints of the Household (publishing March 28th from Farrar, Straus and Giroux BYR).
To wrap up my day two events, Aruna and I attended Sofía Lapuente and Jarrod Shusterman's workshop, "Writing and Producing Films." Sofía and Jarrod essentially held a crash course for adapting books into film and television, and ways to write a book to translate well to film/TV. Following the workshop, they signed copies of their book Retro. Sofía also shared some life/career encouragement that genuinely made me feel like I could take on the world— much needed words as graduation gets closer and closer! Before I left the festival, I made a quick stop at Andrea Wang's signing booth to get my copy of The Many Meanings of Meilan signed. I reviewed the book in 2021, and it became one of my absolute favorite middle grade reads. Meeting Andrea, a wonderful Asian-American writer who celebrates her identity and experiences, was the perfect ending to my weekend.
I cannot stress enough how glad I am to have attended the Tucson Festival of Books. If you've ever considered going to the festival, you absolutely should!