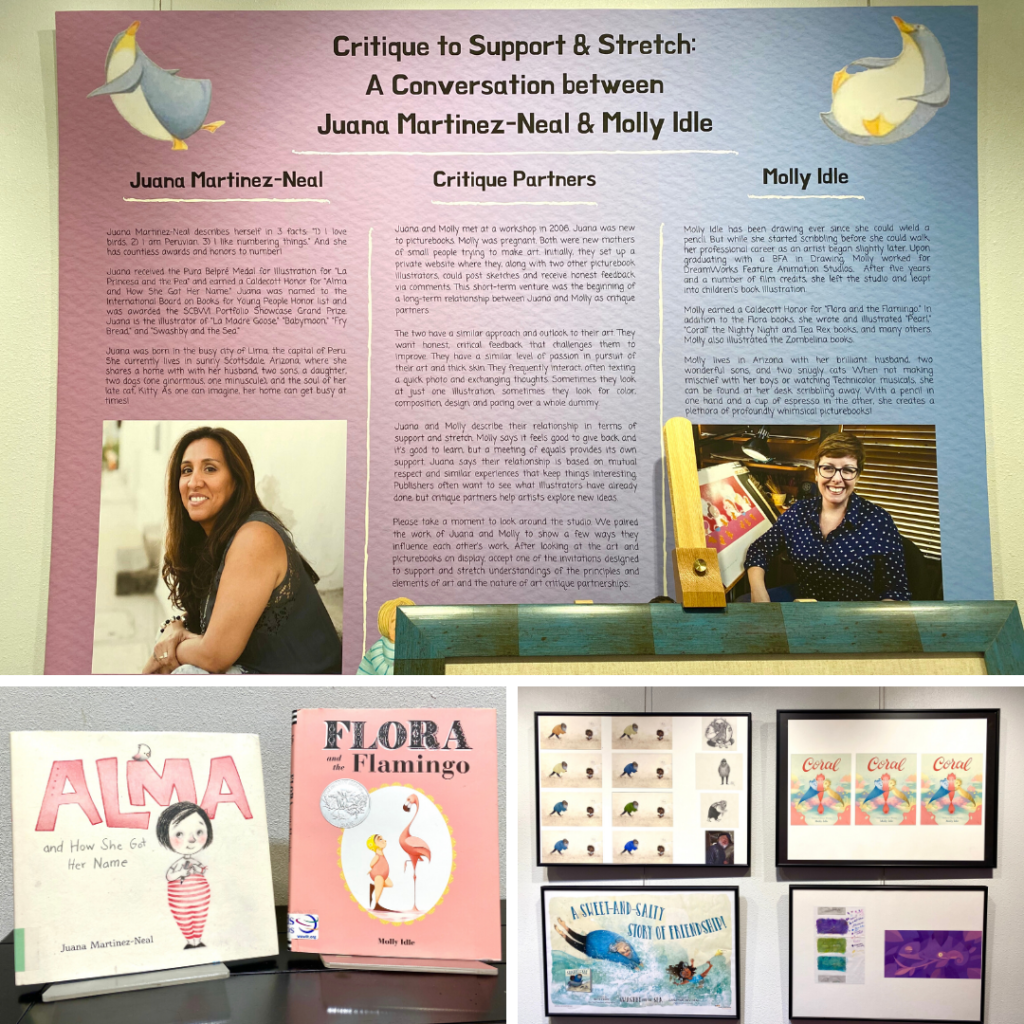 How is art influenced by other people? The current exhibition at Worlds of Words, a curation of global children's literature located at the University of Arizona, tries to answer this question. Housed in the Kathy G. Short studio, the professional relationship between two award-winning and Arizona-based author-illustrators, Juana Martinez-Neal and Molly Idle, is highlighted in a showcase of their original art and published works.
While different in several capacities, with Martinez-Neal as a Peruvian artist who loves birds and Idle who first got her start working for DreamWorks Animation, they share more than just a career and home base. Both are author-illustrators of Caldecott Honor books; Idle for Flora and the Flamingo (Chronicle Books) in 2014 and Martinez-Neal for Alma and How She Got Her Name (Candlewick Press) in 2019. They also serve as each other's critique partners, offering support and feedback on their respective projects.
When they met at a workshop in 2006, Idle and Martinez-Neal were both artists raising small children. After realizing their similar approaches to illustration, they set up a private website to post their work and receive comments from one another. Thus began their relationship as critique partners.
The exhibit itself focuses on the core of this professional partnership, with the title: "Critique to Support & Stretch: A Conversation between Juana Martinez-Neal and Molly Idle." Their relationship is self-described as one of equals, built on mutual respect and encouragement to explore new ideas. To this effect, the walls of the studio display an intermingling of framed original art from a variety of their projects, highlighting the influence of one artist on the other. The soft, comforting colored-pencil illustrations of Martinez-Neal's work sits side-by-side with the bright hues and fairytale aesthetic of Idle's portfolio.
One of the most illuminating sections focuses on the creation of their respective upcoming picture books, which features storyboards, concept art, and final illustrations done by both artists. Two picture frames feature early drafts of Swashby and the Sea (Houghton Mifflin Harcourt), written by Beth Ferry and illustrated by Juana Martinez-Neal. Set for release on May 5, 2020, the story follows the unlikely friendship between a grumpy sea captain and his young neighbor. Positioned in direct conversation with these pieces is the cover design and color tests from Molly Idle's Coral (Little Brown Books for Young Readers), which chronicles the blossoming friendship between three very different mermaids and will be released on May 19, 2020.
Through this carefully designed exhibit, the creative journeys of two author-illustrators are visually paralleled and interwoven, revealing the effects of their long-term professional partnership. Most notably is the notion that Juana Martinez-Neal and Molly Idle continue to support and stretch not only their own imagination, but each other's.
You can learn more about Juana Martinez-Neal at her website, or by following her on Twitter (@juanamartinez) or Instagram (@juanamartinezn).
You can learn more about Molly Idle at her website, or by following her on Twitter (@MollyIdle) or Facebook (Idle Illustration).
Be sure to check out our previous interview with Molly Idle here!
PRR Writer, Hannah Miller
Pick up your own copy of their many picture books today!