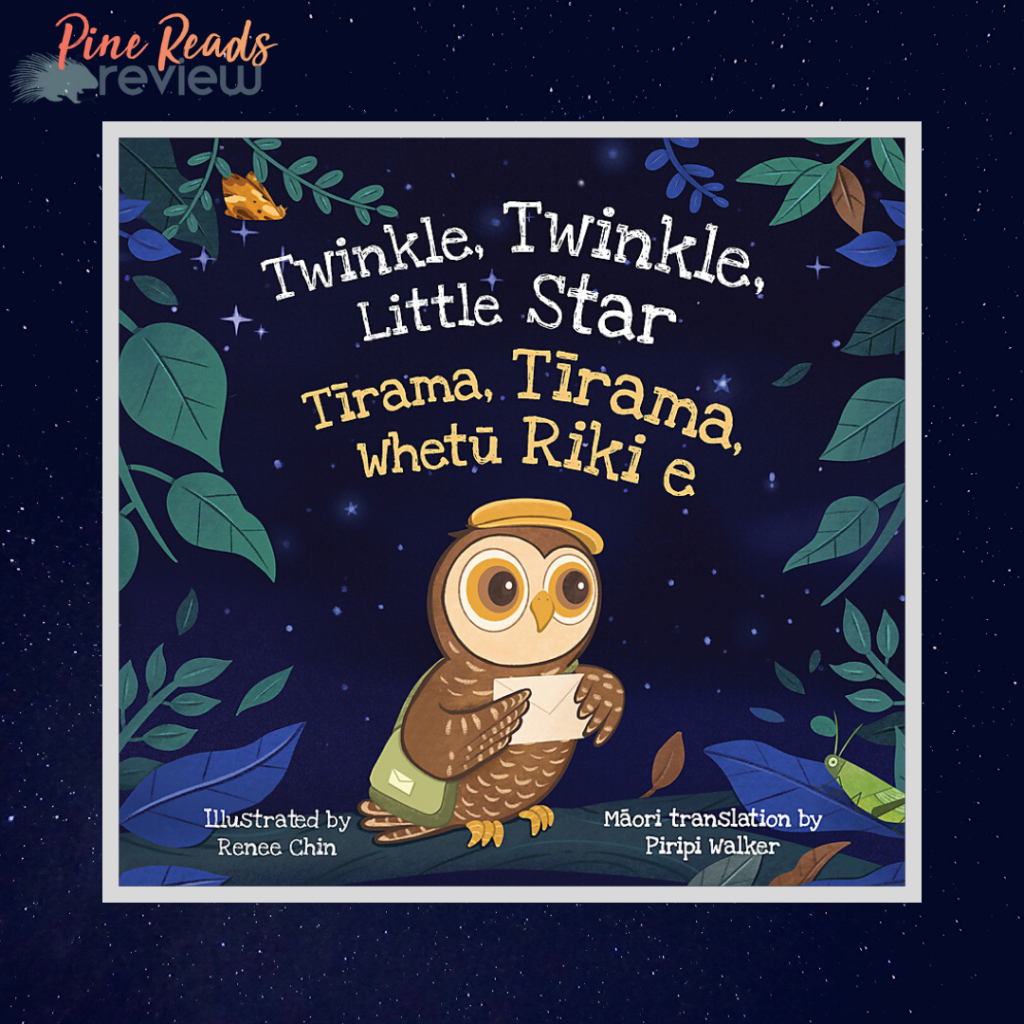 Twinkle, Twinkle, Little Star: Tirama, Tirama, Whetū Riki e
Illustrated by Renee Chin
Māori translation by Piripi Walker
Hachette New Zealand, 2019, 24 pages
About the Illustrator: Renee Chin is a graduate of the Wanganui School of Design. Since 2009 she has been working as an illustrator in the advertising field during the day and creating hand-drawn art in her spare time. Her illustration is inspired by exploration, travel, animals and nature, places and things. Her work includes the 2017 picture book This Little Kiwi Went to Market, also published by Hachette New Zealand.

About the Translator: Piripi Walker is a translator whose work includes several bilingual children's books featuring both English and te reo Māori, such as the graphic novel, Te Tiriti o Waitangi: The Treaty of Waitangi (Lift Education, 2019), as well as Konei te Whare nā Haki i Hanga: The House That Jack Built (Gecko Press, 2012).
"Up above the world so high, Kei runga rawa i te ao."
This bilingual reimagining of Twinkle, Twinkle, Little Star follows young owl, Ruru, as he delivers mail to his nocturnal bird friends in New Zealand. English and te reo Māori translations of the classic lyrics glide across the night sky, pulling the reader through glittering constellations alongside Ruru.
As Ruru delivers each parcel, Chin's adorable illustrations introduce several bird species native to New Zealand, such as the kea with its gorgeous lime-green plumes and the red-beaked South Island takahē. Her palette of dark purples and greens transforms the New Zealand landscape into a vibrant community of friendly nighttime critters and lush foliage.
Interweaving dual languages with New Zealand wildlife, Ruru's story is the perfect bedtime tale for readers around the world.
PRR Writer, Hannah Miller
Pick up your copy today!