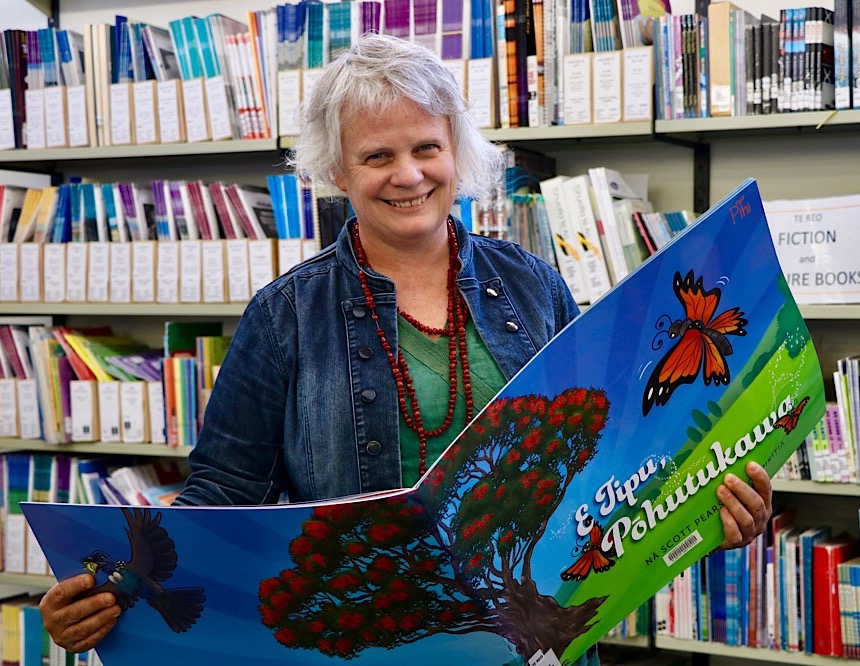 Nicola Daly is a Senior Lecturer in the Division of Education at the University of Waikato, Hamilton, New Zealand where she teaches courses in children's literature and language learning and pedagogy. Her research focus is multilingual picturebooks and her recent publications can be found in The Linguistics Landscapes International Journal, the Journal of Multilingualism and Multiculturalism, and the New Review of Children's Literature and Librarianship. She has been a recipient of several fellowships related to her research in children's literature including a Fulbright New Zealand Fellowship in 2019/20, the Internationale Jugendbibliothek Fellowship (2017); Marantz Picturebook Collection Fellowship (2016); Dorothy Neal White Collection Fellowship recipient (2014). She has also coedited several books including most recently Daly, N., Limbrick, L. & Dix, P. (Eds.) (2018). Understanding ourselves and others in a multiliterate world. London: Trentham Press.
Recently, I had the pleasure of interviewing Dr. Nicola Daly during her visit to the University of Arizona as a Fulbright New Zealand Scholar, hosted by Professor Kathy Short, Director of the Worlds of Words Collection in the College of Education. Her research stems from her background in linguistics which led her to study New Zealand English language picturebooks that borrow words from Te Reo Māori—an official and indigenous language of New Zealand. Māori has gained more status in recent decades, becoming an official language in 1987 after being endangered for many years. In tandem with this revitalization, Dr. Daly had noticed more Māori words in predominantly English language picturebooks. Additionally, with an entire New Zealand school system taught solely in the Māori-medium in addition to the established English-medium school system, there is a growing number of picturebooks with separate Māori and English versions, as well as those published with the dual texts side-by-side. Commenting on those stories with two separate versions, Daly said, "Many New Zealand books have been published like that to cater to the Māori-medium school system and the English-medium school system."
I also spoke with her about how the status of language is reflected in the layout of picturebooks. "It's about which language comes first," Daly said, speaking to those stories featuring English and Māori texts in the same version. "Quite often English comes first, and English is the dominant language in New Zealand, so maybe you would expect that it would come first. But in some texts the Māori text comes first. And in some of the books where I've seen that, it seems those are the books that kind of have a purpose for teaching Māori. In the back of those books you might see an explanation on how to pronounce words. So there is sort of this pedagogical purpose if you like."
One example of bilingual books with a pedagogical purpose is the board books made for very young children learning common household phrases, colors, counting, and so on made by the New Zealand publisher, Reo Pēpi, Daly discussed how the layout in these books reflects their educational purpose: "Interestingly, for them, they put both English and Māori on the page, but Māori comes first and they made it bigger. So the English is smaller and below. To me that communicates that their main purpose is for teaching Māori. English is there as a kind of support."
Finally, I asked Dr. Daly how multilingual books are important for both children who come from multilingual homes and those who do not: "For children who come from bilingual homes, if they see their language in a book, that immediately tells them something about the importance of their language," Daly said. "If a child from a monolingual life gets to hear and see other languages, they get to see that there's more than one way of doing things. It's exposure to the fact that there's linguistic diversity."
Check out our review of the English-Māori picturebook, Twinkle, Twinkle, Little Star: Tirama, Tirama, Whetū Riki e, illustrated by Renee Chin, here!
PRR Writer, Hannah Miller