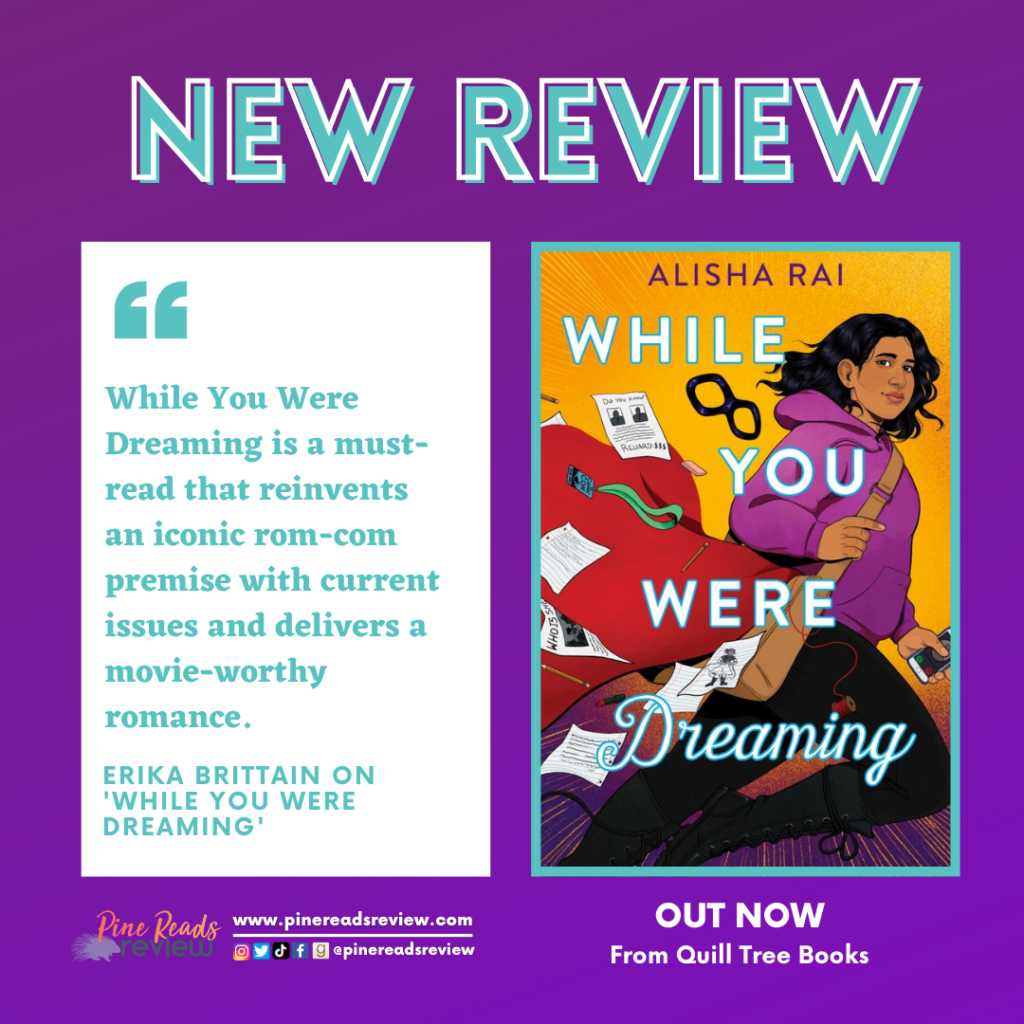 While You Were Dreaming by Alisha Rai
Out now from Quill Tree Books; 432 pages
Content Warning: Strong language, undocumented family members, deported family members, discussion of deportation, deceased parent, character with anxiety, panic attacks, mild sexual content, slut-shaming, underage drinking, character with divorced parents, mentions of parental infidelity
About the Author: "Alisha Rai pens award-winning contemporary romances. Her novels have been featured on the IndieNext and the LibraryReads lists, and been named Best Books of the Year by Washington Post, NPR, New York Public Library, Amazon, Entertainment Weekly, Reader's Digest, Kirkus, "O" the Oprah Magazine, and Cosmopolitan Magazine. When she's not writing, Alisha is traveling or tweeting. To find out more about her books or to sign up for her newsletter, visit www.alisharai.com" (Bio from author's website).
Find Alisha Rai on the following platforms:
---
"Everyone has a voice, even if they don't have superpowers, so anyone can be a hero. When we can speak up for ourselves, we can speak up for others."
Sonia has been hopelessly crushing on James Cooper forever and, after a freak accident, has now saved his life while in a superhero cosplay (it's a long story). Sonia fled after rescuing James, in order to avoid talking to authorities and risking her undocumented sister's deportation. Keeping a low profile gets a bit complicated after her actions make national news and Sonia unintentionally meets James' family. Now, his parents think Sonia is James' new girlfriend, his protective and intriguing older brother Niam is asking a lot of questions, and his micro-influencer-ex-girlfriend is crazy jealous. Sonia is just trying to keep her identity a secret—to protect herself but also the only family she has left.
Alisha Rai's young adult debut was advertised to me as a twist on the movie While You Were Sleeping, featuring a Indian-American main character and issues of deportation. This summary definitely fits the plot of the book, but this story has so much more in its pages. The rom-com banter and butterflies are front and center—Sonia truly speaks for nerdy, hopeless romantics everywhere, and I could see my teenage romance angst in her—but so are the very real anxieties and barriers that Sonia faces as a young person with a deported mother and undocumented sibling/unofficial guardian. Throughout the book, we see Sonia slowly learns to balance what she can and can't control and to accept support from those who care for her. Sonia's relationship with her sister, Kareena, is at the forefront of this healing journey. Sonia and Kareena have a strained relationship due to Kareena's status, and so it was incredibly gratifying to see the two reconcile and relearn how to love each other as young adults. I also enjoyed the casual representation of finding community with those who share your ethnicity and life experiences. A final thing I really liked is how the Sonia/James/Niam dynamic was written. Their relationships have way more vulnerability and growth than their movie inspirations. Sonia and James become co-conspirators amidst the drama, and Sonia and Niam act as each other's greatest encouragement in their respective personal growth. Their relationships gave me exactly what I want from a new work inspired by a classic. While You Were Dreaming is a must-read that reinvents an iconic rom-com premise with current issues and delivers a movie-worthy romance. I cannot stress enough how you need to get your own copy and fall in love with Sonia's story!
(Pine Reads Review would like to thank SparkPoint Studio for sending us a copy of the book in exchange for an honest review. Any quotes are taken from an advanced copy and may be subject to change upon final publication.)
PRR Assistant Director, Erika Brittain
---