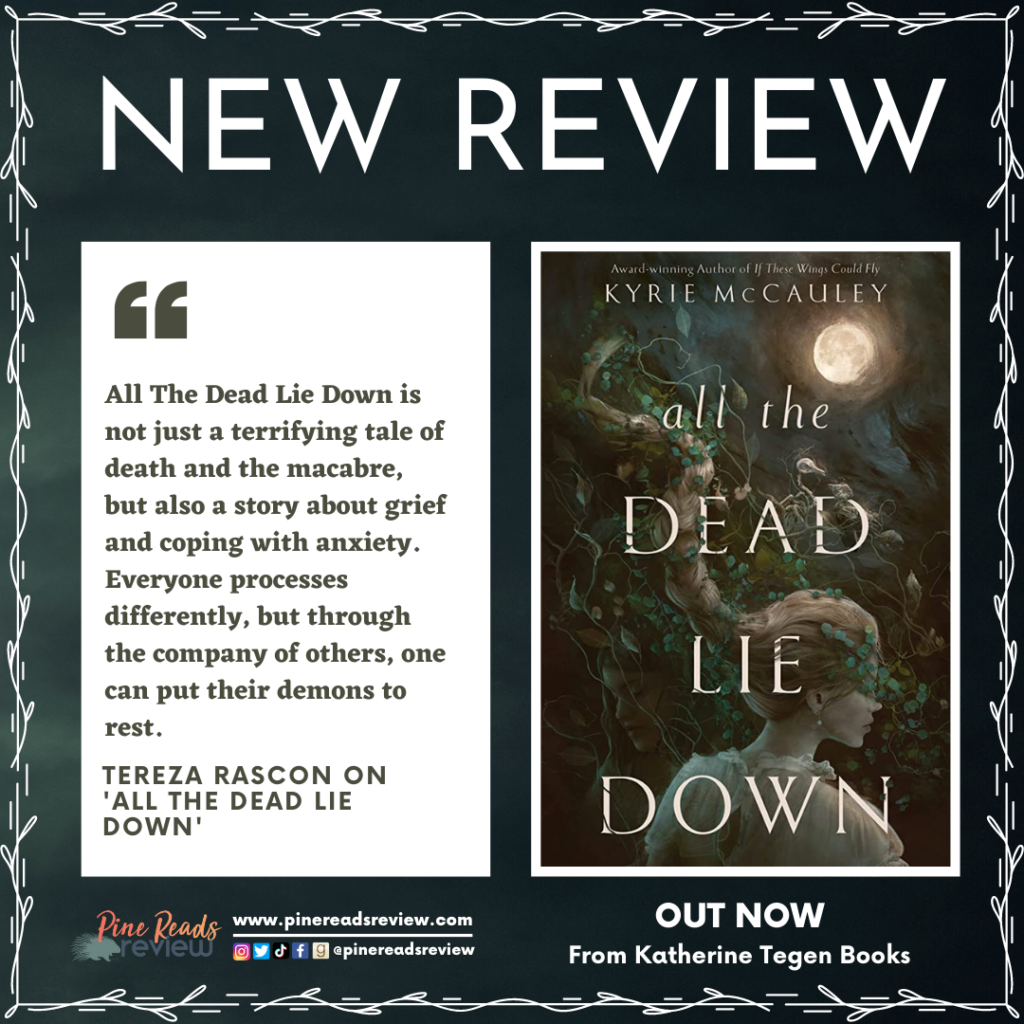 All The Dead Lie Down by Kyrie McCauley
Out Now from Katherine Tegen Books; 368 pages
Content Warnings: Death of a parent, animal brutality, gore, violence
About the Author: "Kyrie McCauley spent her childhood climbing trees in dresses and reading books during class. She is the author of If These Wings Could Fly, recipient of the 2021 William C. Morris Award.
Kyrie holds a Master of Science in Social Policy from the University of Pennsylvania, and has worked in advocacy and development for non-profit organizations. She lives near Philadelphia, Pennsylvania with her family, three cats, and a dog that eats books and is never sorry" (Bio from author's website).
Find Kyrie McCauley on the following platforms:
---
"I can confess it here, though I'd never tell a soul: Sometimes I want to run from Alice too."
Marin Blythe loves horror novelist Alice Lovelace. Alice's books, along with the horror genre, help Marin put her intense anxieties at ease by channeling that energy into irrational fears. When she loses her mother due to a tragic accident, she is contacted by Alice—an apparent old friend of her mother's–and offered a nanny position at Lovelace House. Stepping onto the Lovelace estate, Marin feels like she's been thrown into a Gothic horror, further supported when she meets Alice's children Wren and Thea, who are a strange pair. With the arrival of Alice's eldest daughter, Evie, Marin finds herself enthralled. However, Marin will come to learn that Lovelace House comes with its secrets. Between the trail of dead mourning doves, the intense pranks by the little ones, and Alice's strange behavior, Marin finds herself unsure of how much her anxiety can rationalize the irrational.
Kyrie McCauley's All The Dead Lie Down is a blood-curdling young adult sapphic horror that can get readers reeling in their seats from the creepy nature of the Lovelace family while also feeling giddy over the budding romance between Marin and Evie. McCauley's novel is definitely a slow-burn horror as the author takes a lot of time to build up the absurdity of the Gothic setting and the tension of Marin's relationships with the Lovelace residents. Halfway through the book, however, shocking twists and terrifying reveals are thrown the reader's way, the momentum of these frights amplifying as the story progresses. Plus, the romance in this novel, in my opinion, was swoon-worthy. The way Marin described her affection and unconditional love for Evie was the epitome of romance.

All The Dead Lie Down is not just a terrifying tale of death and the macabre, but also a story about grief and coping with anxiety. Everyone processes differently, but through the company of others, one can put their demons to rest.
(Pine Reads Review would like to thank SparkPoint Studio for sending us a copy of the book in exchange for an honest review. Any quotes are taken from an advanced copy and may be subject to change before final publication.)
PRR Writer, Tereza Rascon
---