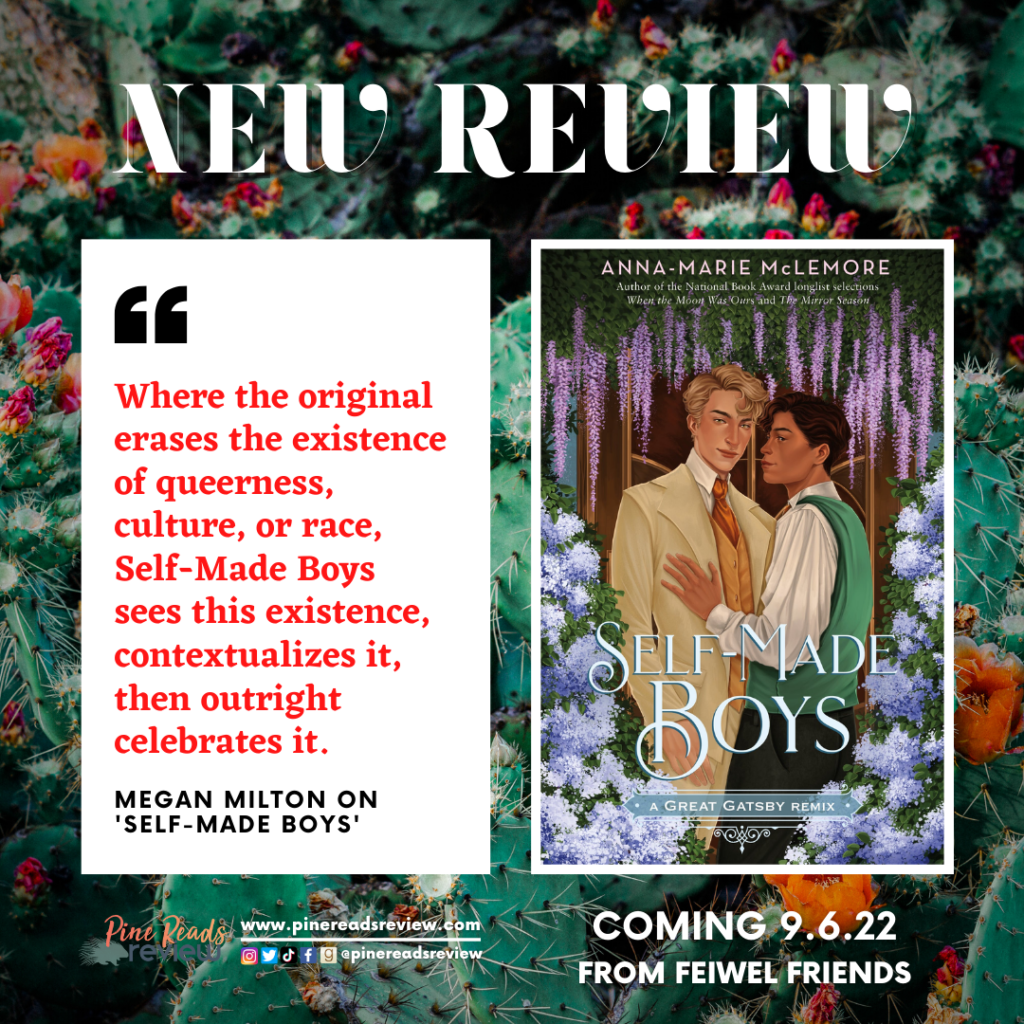 Self-Made Boys: A Great Gatsby Remix by Anna-Marie McLemore

Coming September 6th, 2022 from Feiwel Friends; 336 pages
About the author: "Anna-Marie McLemore (they/them) writes magical realism and fairy tales
that are as queer, Latine, and nonbinary as they are. Their books include The Weight Of Feathers, a 2016 William C. Morris YA Debut Award Finalist; 2017 Stonewall Honor Book When The Moon Was Ours, which was longlisted for the National Book Award in Young People's Literature and was the winner of the James Tiptree Jr. Award; Wild Beauty, a Kirkus, School
Library Journal, and Booklist best book of 2017; Blanca & Roja, a New York Times Book Review Editors' Choice; Miss Meteor, co-authored with Tehlor Kay Mejia; Dark And Deepest Red, a Winter 2020 Indie Next List selection; The Mirror Season, which was also longlisted for the National Book Award in Young People's Literature; the recently released Lakelore and Self-Made Boys: A Great Gatsby Remix " (Bio taken from author's website).
Find Anna-Marie McLemore on the following platforms:
---
"We were boys who had created ourselves. We had formed our own bodies, our own lives, from the ribs of the girls we were once assumed to be."
Nicolás Caraveo's comfortable now that he's out as trans in his small Minnesota town, but when
it's time to make a career for himself, he decides he must put his mathematician brain to use
and set off for New York City. He's glad he has his cousin Daisy to help steer him in the right
direction, but when he arrives he immediately notices she's not the same Daisy – at least, not
the Latina Daisy he's always known. Now, as a dawning white-passing socialite, Daisy exposes
him to the glitz and glam of 1920's New York, encroaching on his, once simple, professional
plans. With new acquaintances comes excess, and the excess of his neighbor, Jay Gatsby,
threatens to undo Nicolás' plans in more ways than one. He quickly discovers Gatsby's
extravagance is all an elaborate bid for Daisy's attention, but even more shockingly he learns
his neighbor is also a self-made boy… just like him.
In stunning sensory prose, author Anna-Marie McLemore breathes new life into the infamously
familiar F. Scott Fitzgerald masterpiece in her latest novel Self-Made Boys: A Great Gatsby
Remix. My expectations for this novel couldn't have been higher – after all, remixing one of
America's most classic, and beloved works of fiction is a daring endeavor. Yet, I was thrilled that
McLemore didn't stop at a simple remix of characters. Instead, through the influence of Nella
Larsen's novel Passing, they push the commentary further, honing in on the race and class
disparities of the roaring twenties, and how they came to be. I'd dare to say that the way
McLemore intricately weaves canonical plot elements with the experiences of marginalized folks
acts as an improvement upon the original. Where the original erases the existence of
queerness, culture, or race, Self-Made Boys sees this existence, contextualizes it, then outright
celebrates it. The careful homage to the history of underground queer spaces creates a safe
haven for readers and denies the violent myth that queerness is simply a current fad or
"perversion." Self-Made Boys honors our existence, and fortifies that it cannot be condensed –
we are not new, we have always been here, and we always will be.
There're a million things that this book does so, so right (I mean, I could write a dissertation on
its trans or Latine representation alone!), that you'll honestly just have to go out and pick up a
copy for yourself to witness and savor all of its glamor, and gilded glory.
Self-Made Boys: A Great Gatsby Remix releases September 6th, 2022.

(Pine Reads Review would like to thank NetGalley for sending us an ARC in exchange for an
honest review. Any quotes are taken from an advanced copy and may be subject to change
upon final publication.)

PRR Writer & Editor, Megan Milton
---