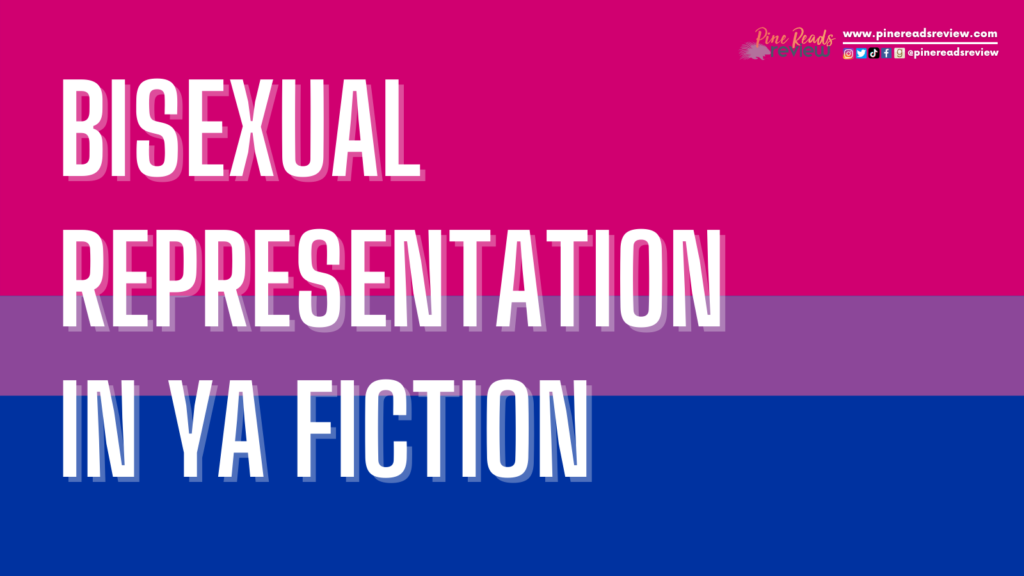 Spoilers ahead for: Hani and Ishu's Guide to Fake Dating by Adiba Jaigirdar, Iron Widow by Xiran Jay Zhao, Some Girls Do by Jennifer Dugan, and The Rise of Kyoshi by F.C. Yee
---
Happy Bisexuality Visibility Day to all our wonderful readers!
In case you weren't quite sure, someone who identifies as bisexual is someone with sexual and/or romantic attraction to two or more genders (men, women, and nonbinary people being some examples). Why is bi visibility important? Truth be told, though our society has been moving towards LGBTQIAP+ acceptance in general, many identities are misunderstood or misrepresented. From what I've seen, bisexuality is often one of them. Not just half-gay and half-straight, bisexuality is its own complex identity that can be defined individually for bisexual people. So to celebrate, I wanted to talk a little bit about how we are represented in young adult fiction by listing some recent titles with excellent representation.
It's easy to see how queer representation in YA fiction has greatly increased over the past five to ten years, but what's particularly interesting is how that representation is diversifying. Queer rep in many media platforms is expanding to include BIPOC, transgender and gender-nonconforming people, and identities beyond being gay or lesbian. The more unique ways we can see what it means to be LGBTQIAP+, the better! And though I've loved getting to read many more queer books, representation still has quite a bit of room to grow in the YA world.
One particular issue with bisexual representation in all forms of media is the lack of recognition of bisexual men and boys. Overwhelmingly, the books which acknowledge bi characters are usually female—though the electrifying Magnus Bane of The Mortal Instruments series is one of the most famous exceptions. In my opinion, this is because many people have an especially difficult time grasping that bi men aren't just secretly gay and trying to hide it—the equally toxic inverse of the idea that bi women are secretly straight. This lack of representation is consistent in YA books, as I've had a difficult time finding as many bi male protagonists as female ones.
To start off, I want to give a shout-out to my favorite book of the summer: Hani and Ishu's Guide to Fake Dating by Adiba Jaigirdar. This novel is a sweet, slow-building romance between a bi girl and a lesbian, with great rep for Bengali and Muslim characters. The pairing starts off as unlikely friends brought together by a mutually beneficial agreement to pretend they're dating. Unsurprisingly, these feelings don't stay fake for long. Like Adiba Jaigirdar's first sapphic novel, The Henna Wars, this book had me gushing over the dynamic and adorable relationship between the two love interests. Side note: if you're like me and you love romances where one character is a ray of sunshine and the other one is a bit of a grump, Hani and Ishu are going to be all the more swoon-worthy to read about.
Iron Widow by Xiran Jay Zhao is a futuristic dystopian novel with the cultural elements of ancient China. Though the novel is dark and bloody, the development of the romances is a surprisingly sweet arc. I say romances, plural, because this book uniquely features a polyamorous relationship between the three protagonists. The bisexual protagonist Zetian is placed in the typical YA trope of trying to choose between two different men she has feelings for, but the trope is disrupted when it's revealed that her love interests are not only interested in her but also each other. The gradual meshing of these three characters' feelings for each other, as well as the bisexual male representation, made for a deeply tender romance within a brutal dystopian world.
Some Girls Do by Jennifer Dugan addresses a less dystopian but similarly difficult topic: coming out. The book begins with a look at high school track star, Morgan, an out lesbian who's in the middle of a painful lawsuit against her former Catholic private school for kicking her out when they discovered she was gay. Ruby is a beauty pageant queen whose true passion lies in restoring antique cars. Unlike proud Morgan, Ruby struggles to acknowledge that she's bisexual and tries to keep it a secret—until her feelings for Morgan make things complicated. Jennifer Dugan does an excellent job demonstrating that not all queer people have the support system to safely come out, nor do they all come to terms with who they are at the same time. The heartfelt romance between Morgan and Ruby is filled with a lot of mistakes, but the tenderness they have for each other is tangible on every page.
And last but not least, I wanted to mention a not-so-new release, F.C. Yee's The Rise of Kyoshi, which I have only recently read and ADORED. Kyoshi and her long-time friend and recent bodyguard, Rangi, have a sweet friends-to-lovers arc that really touched me. They are both stubborn, proud, and dealing with a lot of trauma throughout the novel. After it is revealed that Kyoshi is the true Avatar, they never fail to have each other's backs and treasure each other above all else.
For a more in-depth look at these books, you can check out our reviews for all of these reads as well as last year's recommendations for bi YA reads on our site.
Happy reading for all of our bi readers, and anyone who loves queer YA!
PRR Assistant Director, Grace Kennedy