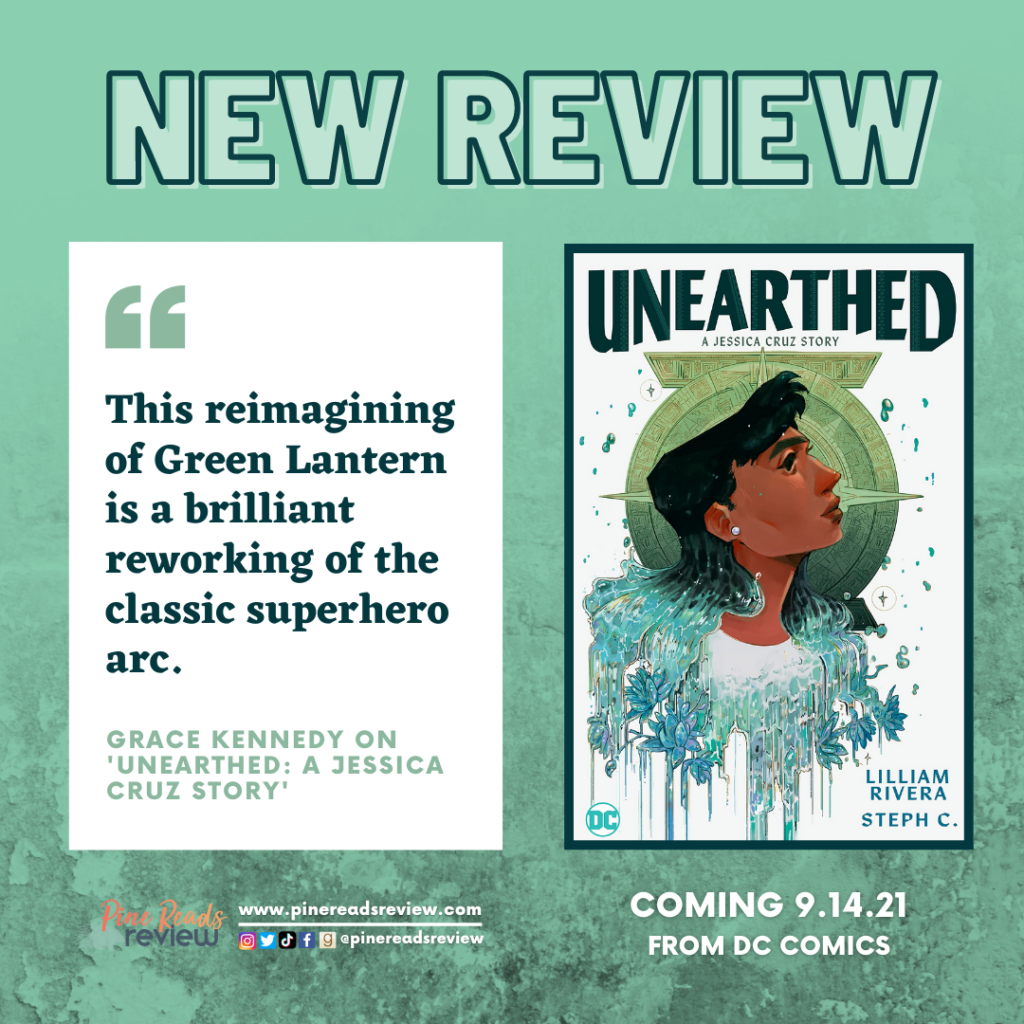 Unearthed: A Jessica Cruz Story written by Lilliam Rivera and illustrated by Steph C.
Coming September 14, 2021 from DC Comics; 208 pages
Content Warnings: Racism, police violence, detainment of a family member, ICE presence in a Latinx community
About the Author: "Lilliam Rivera is an award-winning author of the young adult novels Never Look Back, a Pura Belpré Honor winner, Dealing In Dreams, The Education of Margot Sanchez, as well as the Goldie Vance series for middle grade readers, and the stand-alone middle grade novel Barely Floating. Her forthcoming works include a young adult science fiction novel, We Light Up the Sky, for Bloomsbury (Oct 5, 2021) and a graphic novel for DC Comics, Unearthed: A Jessica Cruz Story (September 14, 2021). Her work has appeared in The Washington Post, the New York Times, and Elle, to name a few. Lilliam lives in Los Angeles." (Bio taken from author's website.)
Find Lilliam Rivera on the following platforms:
About the Illustrator: "Steph C. is a Mexican artist and illustrator mainly know (sic) for her stylish characters that evoque a vibrant sensation within story and design whit (sic) a sense of geometry and sharp compositions. My goal is to inspire others through the power of creation!" (Bio taken from illustrator's website.)
Find Steph C. on the following platforms:
---
"Only through conflict will there be change."
Jessica Cruz seems like she has it all together on the surface—she's a good student, well-liked, has a loving family, and is even starting a promising internship at the city museum. But beneath it all, Jessica is plagued with fear for her undocumented family as political unrest and anti-immigrant sentiments build in Coast City. On the edge of renewing her status as part of the Deferred Action for Childhood Arrivals (DACA) program, Jessica wonders if her family would just be better off in Mexico after all. Torn between hope and anger in the form of two Aztec gods, Jessica's mind is plagued with visions about her future. Faced with the nightmare of her father being imprisoned by ICE officers, Jessica must find a way to rise above her circumstances and become a part of something bigger.
This reimagining of Green Lantern is a brilliant reworking of the classic superhero arc. Jessica is not only faced with all the normal challenges of teen life, but also with the struggle of being undocumented in a hostile environment. Though she might have been protected through her DACA status, Jessica had to constantly fear for her family and her community from the book's beginning. Her internal struggle with these fears was beautifully illustrated in her dreams where she was tempted with opposite advice from two Aztec gods. I loved the way that these vibrantly illustrated figures drew upon her culture and were written to appeal to her varied emotions in a realistic and complex way. The way Jessica organized her community in the face of a particularly xenophobic political candidate was an inspiring mixture of superhero prowess and the fierceness of a determined teenage girl. In short, Unearthed: A Jessica Cruz Story is a stunningly illustrated, fast-paced read that left me desperately wanting to know what Jessica Cruz will do next. 
Unearthed: A Jessica Cruz Story releases September 14, 2021.
(Pine Reads Review would like to thank NetGalley and the publisher for providing us with an ARC in exchange for an honest review. Any quotes are taken from an advanced copy and may be subject to change upon final publication.)
PRR Assistant Director, Grace Kennedy