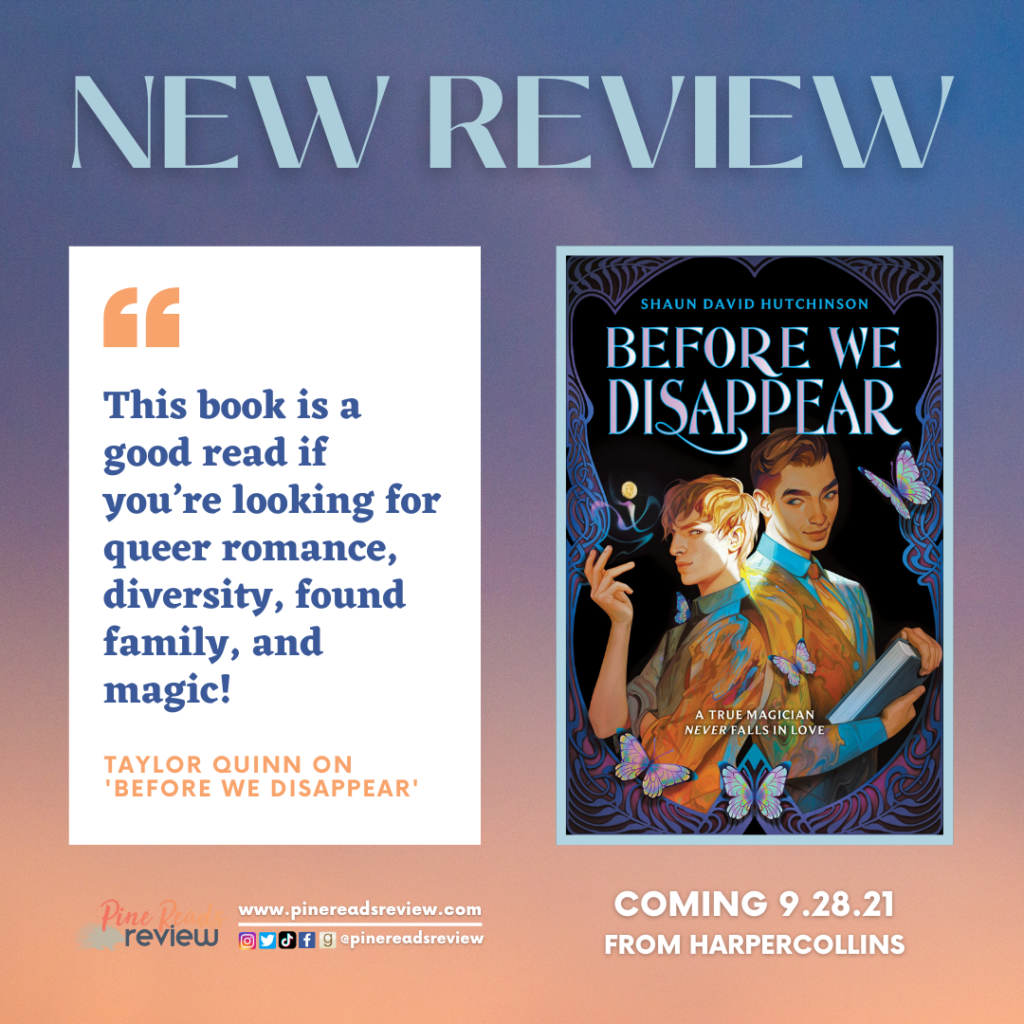 Before We Disappear by Shaun David Hutchinson
Coming September 28, 2021 from HarperCollins; 512 pages
Content Warnings: Historic racism and misogyny, gaslighting, physical abuse, verbal abuse, injuries, kidnapping, reference to dead parents
About the Author: "Shaun attended Jupiter High School before going on to Florida Atlantic University, where he studied medieval and renaissance literature. Shaun has also studied emergency medicine, gaining his EMT certification, and firefighting. Ultimately, he ended up working with computers designing databases, building apps, and coding websites before publishing his first book, The Deathday Letter. Shaun currently lives in Seattle, WA and works full time as an author. In his free time, he enjoys baking, running, designing 3D environments for virtual reality, and reading." (Bio taken from author's website.)
Find Shaun David Hutchinson on the following platforms:
---
"The universe rarely gives us what we want. Sometimes we must content ourselves with what we are given."
Jack has been the assistant of Enchantress—a respected magician of Europe—since his parents died. Learning thieving and magical trickery, Jack has aided in the Enchantress' success that leads them to the 1909 Seattle Alaska-Yukon-exposition. But upon arrival, new competition is revealed, and Jack and the Enchantress find themselves in the shadow of Laszlo's science-defying magic show. As the competition rises between the Enchantress and Laszlo, Jack meets Wilhelm—the boy behind Laszlo's incredible shows, who has real magical powers. Despite his loyalties to the woman who has given him this magical life, the chemistry between Jack and Wilhelm is growing like the tension is between their magical masters. Jack is left to decide if his loyalties of the past mean more to him than the boy offering to disappear together.
I immediately fell for Jack and Wilhelm. Their troubled pasts made me sympathetic to their cause and adore their relationship. They both have strong personalities that seem antithetical but naturally balance each other out, leading them to find the sense of belonging they have yearned for their whole lives. Their relationship embodies forbidden love and rivals-to-lovers tropes, but it doesn't feel rushed or cliché. The amazing characterization of Jack and Wilhelm, and the love-to-hate villains of the Enchantress and Laszlo, kept me reading this story. I was eager to see how their character and relationship dynamics would shift as the story continued. However, the plot lacked luster for me. With fast-paced situations like heists, forbidden romances, rivalry, and magic shows, I was expecting to never put this book down, but at times I felt it was difficult to pick up. I enjoyed the characters so much that I was determined to finish and look past these plot issues. Overall, this book is a good read if you're looking for queer romance, diversity, found family, and magic!
Before We Disappear releases September 28, 2021.
(Pine Reads review would like to thank NetGalley and the publisher for sending us an ARC in exchange for an honest review. Any quotes are taken from an advanced copy and may be subject to change upon final publication.)
PRR Writer and Editor, Taylor Quinn