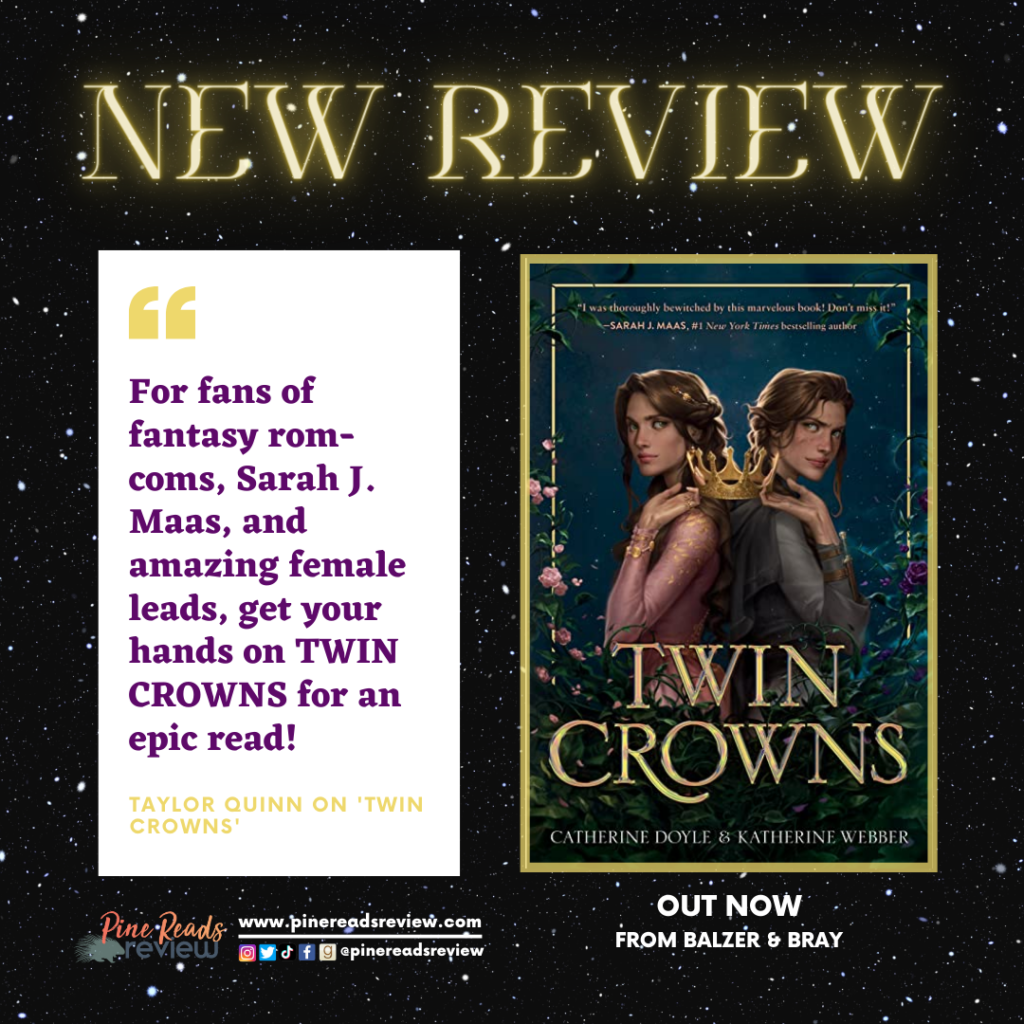 Twin Crowns by Catherine Doyle and Katherine Webber
Out Now from Balzer & Bray; 480 pages
About the Author: "Catherine Doyle grew up in the West of Ireland. She holds a first-class BA in Psychology and a first-class MA in Publishing. She is the author of the Young Adult Blood for Blood trilogy (Vendetta, Inferno and Mafiosa), which is often described as Romeo and Juliet meets the Godfather. It was inspired by her love of modern cinema. Her debut Middle Grade novel, The Storm Keeper's Island (Bloomsbury, 2018), is an adventure story about family, bravery and self-discovery. It is set on the magical island of Arranmore, where her grandparents grew up, and is inspired by her ancestors' real life daring sea rescues." (Bio taken from author's Goodreads profile)
Find Catherine Doyle on the following platforms:
About the Author: "Katherine Webber was born in Southern California in 1987. She has lived in Hong Kong, Hawaii, and Atlanta. She currently lives in London with her husband, Kevin, and their young daughter. In addition to her YA, Katherine also co-writes young fiction, as Katie Tsang, with Kevin. Katherine studied Comparative Literature at the University of California, Davis and Chinese literature and language at the Chinese University of Hong Kong. She has worked at an international translation company, a technology startup, and a reading charity. She now writes full time. She loves an adventure, whether it is found in a book or in real life and has travelled to over 45 countries. Travel, books, and eating out are her favourite indulgences." (Bio taken from author's Groodreads profile)
Find Katherine Webber on the following platforms:
---
"'You must be alert at all times. Danger is lurking—''
'Everywhere, and nobody can be trusted.'''
Rose Valhart is the crowned princess to the throne of Eana. Wren Greenrock is an enchanted witch. Though they are twin sisters, Rose and Wren were separated at birth and have never met until now. Wren has trained for the day when she would switch places with her royal sister and steal her crown to avenge their parents' deaths. Living like her royal sister seems like a dream, but Wren quickly learns that palace life is harder than she ever expected, especially with her reckless magic and a distractingly handsome guard. And Rose, though she was raised to fear the world outside of her palace's walls, begins to question everything as she tastes freedom and befriends witches she was told to fear. Both girls must navigate their unfamiliar worlds, but there is a bigger danger than just unfamiliarity lurking as coronation day looms near.
I could not stop reading this book! From page one, I was hooked. One of my favorite aspects about this book is that we switch between Rose and Wren's POV every chapter. This not only kept the momentum of the story going (and left you with cliffhangers that you just needed answers to), but it really highlighted their differences and similarities. Rose was raised prim and proper and has never had to rough it, but her determination and strength from having to be the perfect princess, helps her survive in Wren's wild world. Wren wasn't raised with such grace, but her wits prove useful in the games of palace life and her powers keep her safe when danger threatens her life. I really enjoyed that both girls seemed to have the same strength and sharpness at the core of their characters. It highlighted the bond between them. And though they developed these characteristics in different ways, they are still able to bend into each other's roles (especially, when it comes to the love interests!). For fans of fantasy, rom-coms, Sarah J. Maas, and amazing female leads, get your hands on Twin Crowns for an epic read!
(Pine Reads review would like to thank NetGalley and HarperCollins Children's Books (Balzer + Bray) publishing for sending us an ARC in exchange for an honest review. Any quotes are taken from an advanced copy and may be subject to change upon final publication.)
PRR Writer Taylor Quinn
---