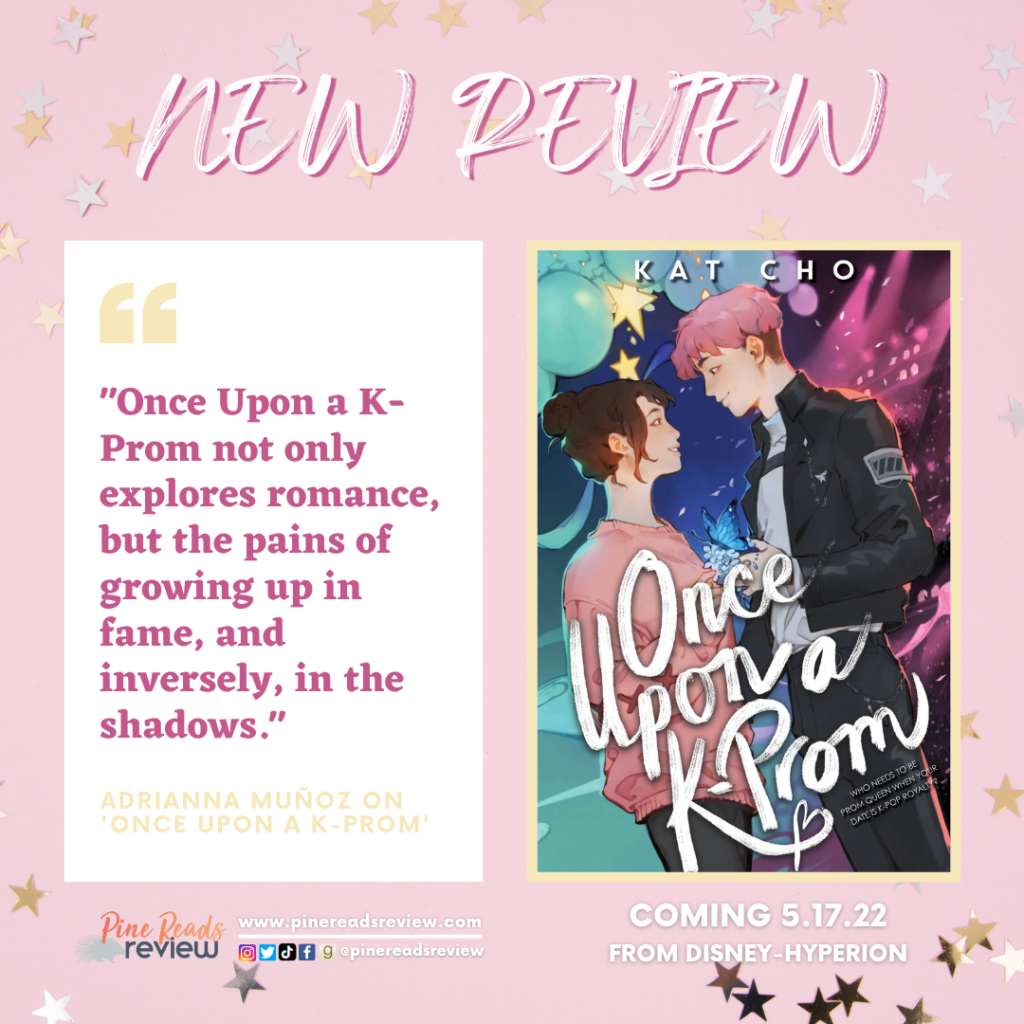 Once Upon a K-Prom By Kat Cho
Coming May 17, 2022 from Disney-Hyperion; 338 pages
Content Warnings:
About the Author: "Kat Cho (she/her) used to hide books under the bathroom sink and then sneak in there to read after bedtime. Her parents pretended not to know. This helped when she decided to write a dinosaur time-travel novel at the tender age of nine. Sadly, that book was not published. She currently lives and works in NYC and spends her free time trying to figure out what kind of puppy to adopt. Kat is the international bestselling author of Wicked Fox and Vicious Spirits (Putnam/Penguin). As well as the webcomic, Free Hexel, and the YA romcom, Once Upon a K-Prom (Disney)." (Bio taken from Goodreads.) 
Find Kat Cho on the following platforms: 
---
"It's easier to take chances when someone believes in you."
Elena Soo and Robbie Choi are childhood best friends. Well, they were until Robbie and his family moved back to Korea seven years ago. Elena has grown into a different person than he last knew, she has new passions, like saving the community center, and she is known around school as her twin Ethan Soo's Sister. But with prom right around the corner, Elena can't stop herself from thinking about Robbie and the promise that he made to take her. Robbie hasn't contacted her since he became a trainee, and now that he is a member of one of the most popular K-pop groups, Elena has no hope that he will fulfill his promise. Except, he shows up at her door one day after school and pops the question. When she sees the camera that records their interaction, she says no. But Robbie won't take no for an answer. He keeps showing up and making a big deal of his promposal. Can Robbie persuade her to say yes? Can Elena raise enough money to save the community center? Can the two save their friendship, or will it fade away for the second time?
Kat Cho writes realistically—well, as realistically as one can write about K-pop stars and high school—and lets us glimpse into the world of K-pop. With discussions of family expectations, being overshadowed by other siblings, and the struggle to find oneself, Cho gives us plenty to think about with this book. We get a  unique perspective of the overlooked and underestimated sister, but what we also get to see is how her brother interprets her self preservation as her pushing him away. Once Upon a K-Prom gives us the under-appreciated childhood friends to lovers trope. We get a behind-the-scenes look into the illustrious world of K-pop. Additionally, we look into the harsh realities of life as a K-pop star, such as no dating, strict diets, and other contracted rules. Once Upon a K-Prom not only explores romance, but the pains of growing up in fame, and inversely, in the shadows. 
(Pine Reads Review would like to thank NetGalley and the publisher for providing us with an ARC in exchange for an honest review. Any quotes are taken from an advanced copy and may be subject to change upon final publication.)
PRR Writer, Adrianna Muñoz   
---