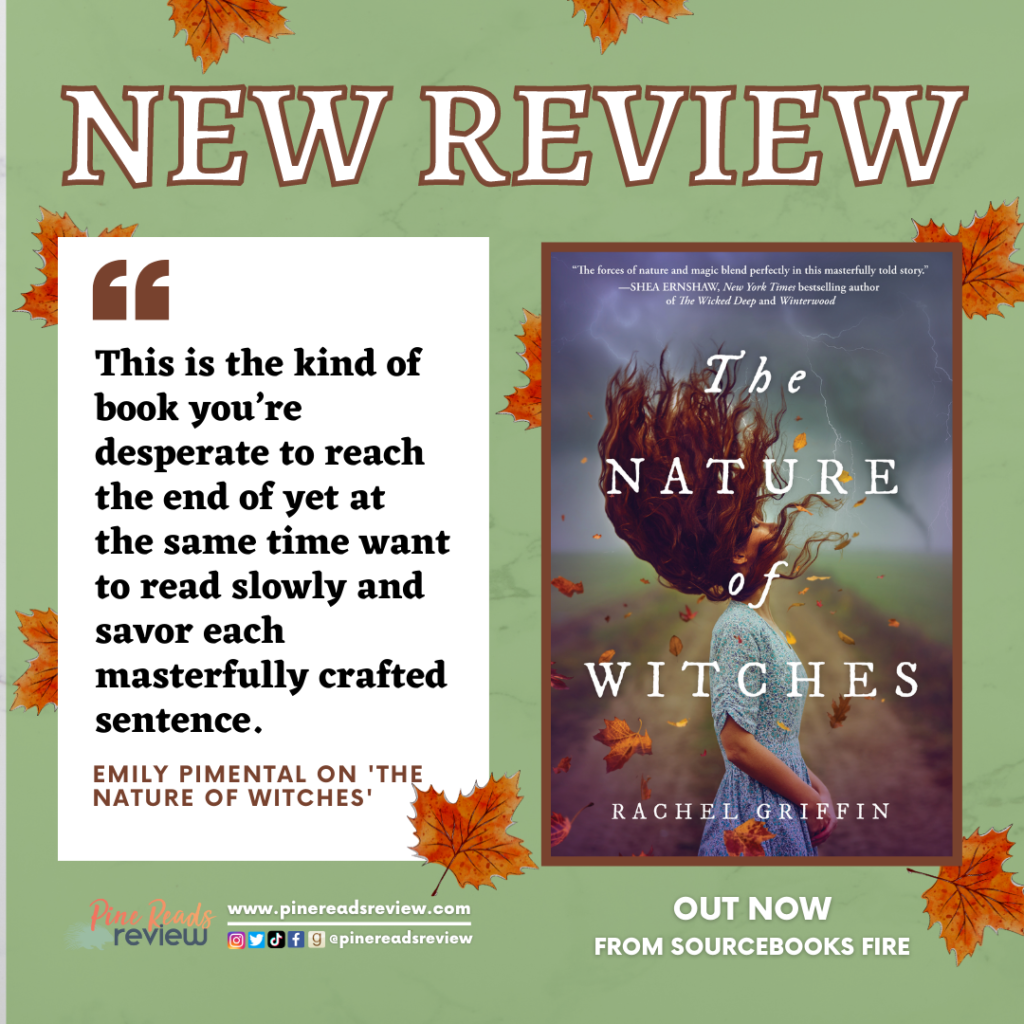 The Nature of Witches by Rachel Griffin
Out Now from Sourcebooks Fire; 384 pages
Content Warnings: Death, blood, depictions of extreme weather.
About the Author: "Rachel Griffin was born on the vernal equinox and is a proud spring witch. She has a deep love of nature, and when she isn't writing, you can find her wandering the Pacific Northwest, reading by the fire, or drinking copious amounts of coffee and tea. Rachel has mentored in Pitch Wars since 2017 and became a certified weather spotter for the National Weather Service while doing research for this book. She lives in the Seattle area with her husband, her small dog named Doppler, and a growing collection of houseplants. The Nature of Witches is her debut novel." (Bio taken from the book.)
Find Rachel Griffin on the following platforms:
---
"Being an Everwitch means two things: you are powerful, and you are dangerous."
For hundreds of years, witches have kept the Earth's climate under control. Each witch's powers are connected to the season during which they're born. Every year during their season, a witch is at their most powerful. The only exception to this rule are Everwitches, who are born with the ability to harness the magic of every season. Clara is the first Everwitch in over a hundred years. She's the most powerful witch alive, and that power has come at a heavy cost. After losing her parents and best friend to magic-related accidents, Clara refuses to let herself unleash the full potential of her powers for fear that she'll hurt someone she cares about again. But as weather patterns become increasingly erratic, the witches struggle to keep disaster at bay. Can Clara let go of her fears in order to reach the full potential of her powers before it's too late?
Rachel Griffin's debut novel left me breathless and awestruck. This is the kind of book you're desperate to reach the end of yet at the same time want to read slowly and savor each masterfully crafted sentence. My favorite type of stories are atmospheric and richly detailed ones, and Griffin delivered on both fronts. I especially loved this novel's descriptive writing style. When Griffin described the autumnal beauty of the Harvest Ball Clara attended, I felt like I had walked into the event myself. The vivid depictions of weather and nature sprinkled throughout the story were hauntingly beautiful. One of my favorite aspects of this book is its unique structure. Each section of the story is tied to a season, which not only adds to the nature theme but also works well to showcase Clara's powers and how they shift with each new phase of the year. I highly recommend this book to fans of witchy stories, weather nerds, and anyone looking for a gorgeously atmospheric read!
PRR Writer, Emily Pimental
---