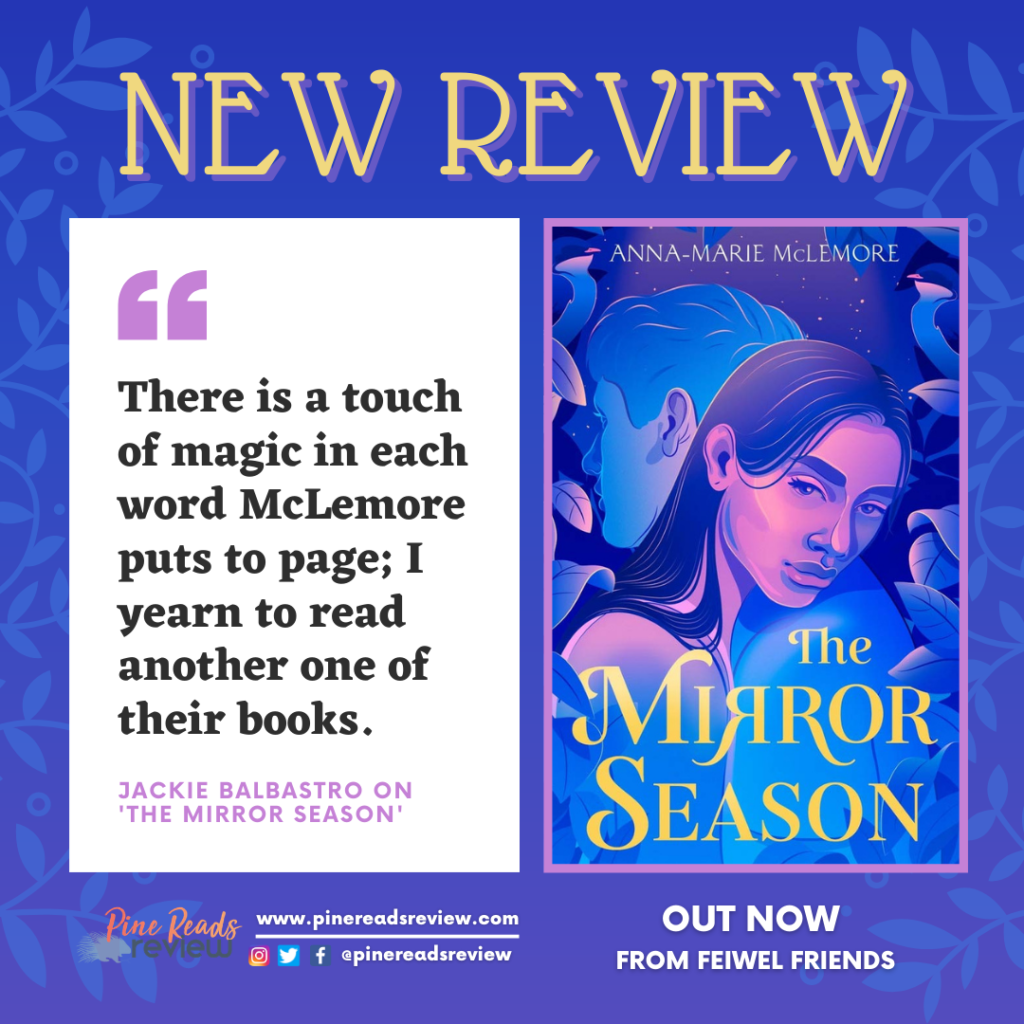 The Mirror Season by Anna-Marie McLemore
Feiwel Friends, 2021, 320 pages
Content Warnings: Sexual Assault, PTSD, bullying, racism/micro-aggressions
About the Author: "Anna-Marie McLemore (they/them) writes magical realism and fairy tales that are as queer, Latinx, and nonbinary as they are. Their books include THE WEIGHT OF FEATHERS, a 2016 William C. Morris YA Debut Award Finalist; 2017 Stonewall Honor Book WHEN THE MOON WAS OURS, which was longlisted for the National Book Award in Young People's Literature and was the winner of the James Tiptree Jr. Award; WILD BEAUTY, a Kirkus, School Library Journal, and Booklist best book of 2017; BLANCA & ROJA, a New York Times Book Review Editors' Choice; MISS METEOR (co-authored with Tehlor Kay Mejia); DARK AND DEEPEST RED, a Winter 2020 Indie Next List selection; and the forthcoming THE MIRROR SEASON." (Bio taken from the author's website.)
Find Anna-Marie McLemore on these platforms:
---
"I want to stand for what I am, how I love, how my broken heart still works. Even if there are cracks in me. Even if my heart is scar tissue around a sliver of glass."
One summer night, Graciela "Ciela" Cristales and Lock Thomas attend a party where they are both sexually assaulted. When they return to school, they are pulled back to the night that only one of them remembers. Ciela feels her bisabuela's gift slip away, as does her desire to put time into her physical appearance. Through the pasteleria that Ciela works at, she and Lock become friends—but the knowledge of that night still looms over Ciela, taking the form of strange mirrored glass that grows more and more as the days pass. Ciela decides that if either of them is going to survive the aftermath, it is up to her to make sure no one finds out what really happened that night.
After I read Miss Meteor from McLemore and Tehlor Kay Mejia last year, The Mirror Season became one of my most anticipated books of 202, and it literally left me feeling so cared for and heartbroken at the same time. This novel shines light on rape culture, guilt, silence, and being silenced, as well as the complexities of sexuality, consent, gender, and power dynamics. Ciela is a brown pansexual, Latinx girl and I adore her. I also admire the way that McLemore highlights how her body is hypersexualized and seen as a thing belonging to others. As a Latinx woman who dreams of creating works that speak to the needs of people, Ciela inspired me. In her space within the pasteleria, she manifests these delectable treats that left me with a laundry list of items to try. Each pan dulce creates this invisible tie between her and her customers and I really just love that concept of being so passionate that a slice of yourself is put into each thing you do. I hope to wield my own gift as she does in The Mirror Season. This story is so many things; one of survival, compassion, reclamation, identity and solidarity.
The way that McLemore writes is so light and refreshing. Their writing, in my opinion, rivals the greatest of the romanticism writers. I genuinely love the atmosphere McLemore creates, as well as the way they pulled me in right away to feel for the characters and care deeply for each of them. Ciela and Lock's relationship was so raw and important. This is a book that moves with such gentleness and earnestness that I truly think it is one of the best books I've ever read. The connections made between Ciela's experience of the world after her assault and the story of The Snow Queen/La Reina de las Nieves was so beautifully done that it made me appreciate the original tale so much more! There is a touch of magic in each word McLemore puts to page; I yearn to read another one of their books.
The Mirror Season is masterful in the care taken—it really shows on each page how McLemore truly cares about readers and survivors. I so appreciate their author's note and the story is truly one that I will carry with me forever. As a survivor in a different way than Ciela and Lock, their respective fights, love, and healing have brought me a lot of personal hope in a time when I need it most. So many of us carry trauma and in this time when we are spliced across the world, it is so important for each of us to be kind to one another—especially ourselves.
PRR Writer, Jackie Balbastro