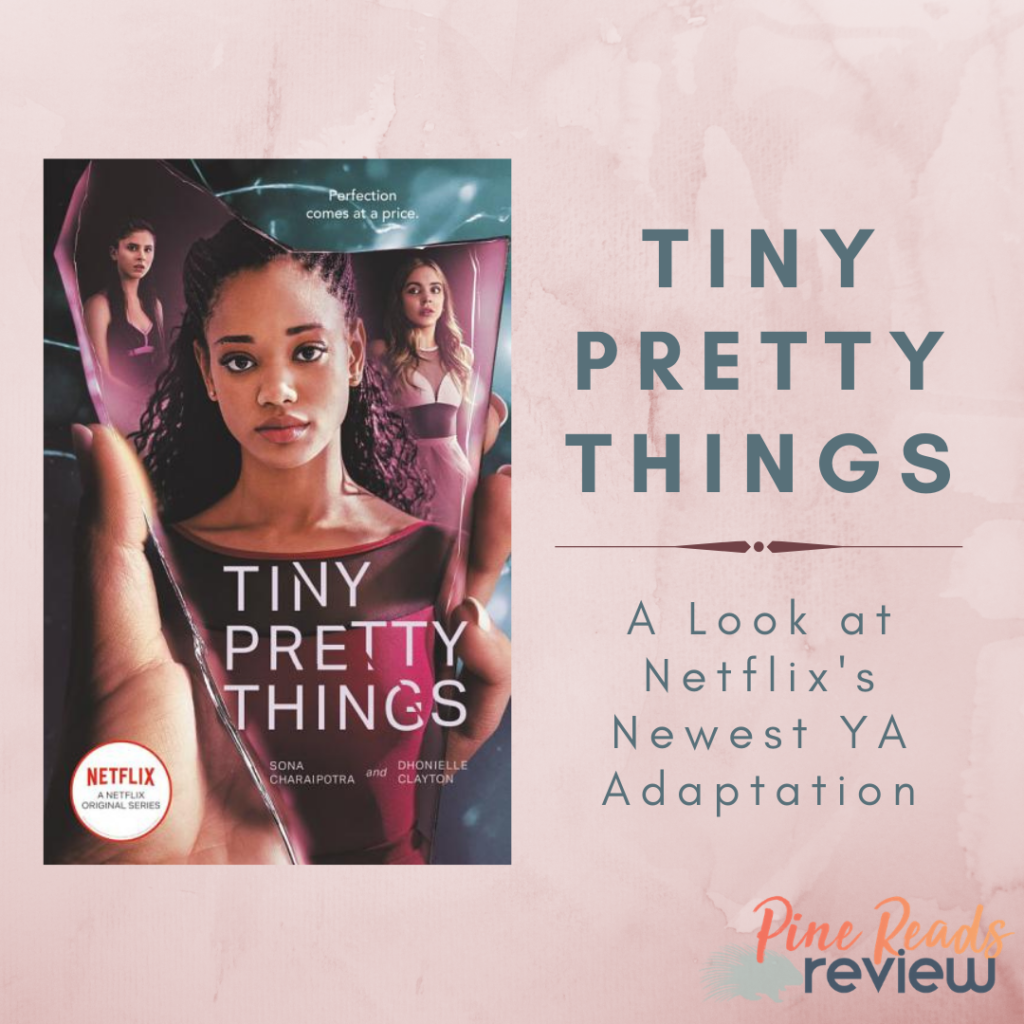 Content Warning: Tiny Pretty Things has themes of sexual assault, violence, Islamophobia, and disordered eating. This post contains spoilers for the Netflix show. 
Fans of Tiny Pretty Things have been eagerly awaiting the release of the television adaptation of this acclaimed young adult book—myself included. Created and produced by Michael MacLennan, the first season of the show dropped on Netflix on December 14, 2020. Written by Sona Charaipotra and Dhonielle Clayton, the book version of Tiny Pretty Things follows Gigi, Bette and June who dance at a prestigious ballet school in New York. Gigi quickly rises through the ranks of the academy when she lands the lead role in their fall number and finds herself the target of other jealous dancers.
This story isn't just your normal YA ballet novel; think Black Swan meets Pretty Little Liars. It centers around a group of complex and interesting characters whom readers can relate to and sympathize with. But it also tells the story of what jealousy and ambition can do to a person, and the lengths someone will go to achieve what they want. While fans of the book will see a lot of new plot lines and character names in the recent series, the heart and themes of the story remain the same.
Set in Chicago rather than New York, the television adaptation follows the dancers of the Archer School of Ballet as they compete in the cutthroat world of dance. After an accident leaves star student Cassie Shore (Anna Maiche) in a coma, the school quickly fills her spot with the talented Neveah Stroyer (Kylie Jefferson), a young Black woman from California. Once at Archer, Neveah is quickly exposed to the hidden scandals and secrets that plague the academy, as she is exploited as a "diversity emphasis" for the school to place them in a favorable view with the media.
She soon finds herself competing with other students for a role in "Ripper," a company show inspired by the notorious serial killer and choreographed by the famous Roman Costa (Bayardo De Murguia). Mirroring the violence in the characters' actual lives—namely, Cassie's fall—the dancers scheme to make lead in the show since such an achievement would surely catapult their career into the limelight. While navigating intense rehearsals, near-constant criticism from instructors, and messy relationships with peers and parents, the students of Archer also become prime suspects in a police investigation into Cassie's fall.
But just as everyone seems to have a motive to hurt Cassie, each young dancer is also burdened with their own struggle. Talented as she is, Neveah faces discrimination from jealous peers and hyper-critical instructors, forced to constantly prove that she belongs at Archer same as everyone else. Cassie's boyfriend, Nabil (Michael Hsu Rosen), is devastated over her recent "accident" and restless over the police's inability to find any substantial leads, all the while dealing with his Islamophobic roommate Caleb (Damon J. Gillespie) whose father recently died in the military. Privileged white student Bette Whitlaw (Casimere Jollette) lives in the shadow of her older sister Delia (Tory Trowbridge), a graduate of Archer who is now the star of Roman Costa's new ballet, and longs to have her own talent recognized. June Park (Daniela Norman) struggles to find her disapproving mother's love when it comes to choosing dancing as a viable career choice, and eventually emancipates herself in order to follow her dreams. Shane (Brennan Clost), one of the only out gay characters in the series, longs to be loved for who he is while secretly hooking up with his roommate, Oren Lennox (Barton Cowperthwaite). Not only is Oren dating Bette at the same time, but he also deals with disordered eating due to the immense stress and toxic standards required by a prestigious dance school.
Thus, Tiny Pretty Things doesn't just feature a thrilling look into the cutthroat politics of Archer, it also explores difficult topics such as sex trafficking, body image issues, and religious discrimination through the storylines of both old and brand new characters alike. While this adaptation is not a direct reflection of the original book, it still possesses a similar core purpose: to highlight the dark and twisted world of elite ballet. The show's constant twists and turns will certainly leave viewers at the edge of their seats, propelling them from episode to episode and making Tiny Pretty Things an immensely binge-able series to watch.
PRR Writer, Tyler Steffen
Don't miss our previous interview with co-author of Tiny Pretty Things, Dhonielle Clayton, here!