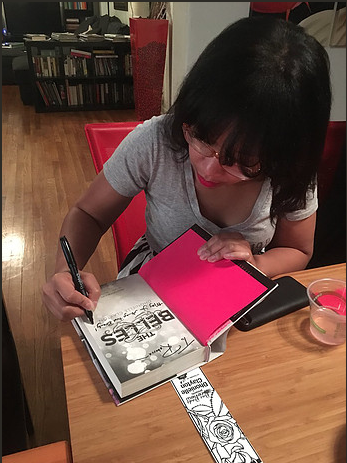 Author Bio: Dhonielle Clayton is the acclaimed author of The Belles and its forthcoming sequel, The Everlasting Rose, as well as the coauthor of Shiny Broken Pieces and Tiny Pretty Things alongside Sona Charaipotra, with whom she also heads Cake Literary. She is dedicated to diversifying literature for women, children, and teens, and also works as Chief Operating Officer for the nonprofit We Need Diverse Books.
Slow Down but Stay Mad
I met Dhonielle Clayton over dinner at my boss's house. This was, to be frank, a strange experience for me. The reality is that I'm a twenty-one-year-old college student, more likely to be found eating dinner hunched over my laptop at one o'clock in the morning than seated next to a New York Times bestselling author.

Not that Dhonielle would describe herself that way, of course. When the subject of the hallowed list—which The Belles hit its first week in print—came up at dinner, she was less than complementary: "It's a sham," she said.
Such a sham, in fact, that she hasn't even changed her Twitter bio to reflect her bestselling status. And that rather set the tone for the rest of the evening. Aside from being warm, gracious, and wickedly funny, Dhonielle Clayton is also, so far as I can tell, absolutely unwilling to take bullshit.

It's fantastic.
In an industry that frequently pays women—particularly women of color—only a fraction of what their time is worth, Dhonielle isn't scared to ask for a fair price. "I find out what the white men are getting," she says, "And then I ask for that." There's no nonsense with Dhonielle Clayton. That isn't to say that she's opposed to ornament—indeed she admits a particular softness for delicate, pretty things—but rather that, if there's something going on that she disagrees with, she'll tell you. And she'll do something about it.
That's how she wound up as the COO for the nonprofit We Need Diverse Books. After a 2014 "Children's Media Luminaries" panel at BookCon that consisted of, as Dhonielle puts it, "a bunch of old, white men and a grumpy cat," she joined Ellen Oh and a group of other children's and young adult authors to create the #weneeddiversebooks movement that would eventually grow into a nonprofit with multiple initiatives focused on increasing accessibility and representation at all levels of publishing.
She later founded her book packaging company, Cake Literary, on those same principles of diversity. Having spent many years as a librarian in East Harlem, Dhonielle has seen firsthand how the erasure of identities—particularly black and brown identities—affected children day to day. During a talk to Stephanie Pearmain's class on children's publishing, she told the story of a young girl who came into the library looking for books about witches. Dhonielle worked hard to gather together all the witch books she could, but this little girl quickly came back to her with a stymying question: "Where are the brujas? None of them look like me. None of them speak Spanish." Thus was born Love, Sugar, Magic: A Dash of Trouble, a Cake Literary title released back in January. And there were other children with similar stories. One little black boy by the name of Axel came into the library in search of Rick Riordan's Percy Jackson books one week, then the next came in and wanted to know, "Why can't I be Percy Jackson?" Dhonielle recounted the difficulty in finding answers for that middle schooler, the near-impossibility of answering the question, "Well, which god would be my father?" It's difficult, she pointed out, to explain things like diaspora and the Middle Passage and the loss of culture to an eighth grader.
Nor does she think that those stories—the ones about great inherited loss and trauma—should be the only stories accessible to young children of color. When she and her business partner, Sona Charaipotra, got started back in grad school, they noticed something troubling. "All the stories that were coming out about kids who looked like us were painful," Dhonielle explained. That didn't sit well with her. In her words, "Publishing likes pain."
Those are the books they pay money for. But those stories of pain—of pain linked not to personal experience but to inherited injustice—cannot be the only stories open to children of color. "Kids of all backgrounds deserve to walk into a bookstore and find a book about someone that looks like them that's about fun stuff." It's that last part, the fun stuff, that Cake Literary works to provide. Instead of narratives of slavery, oppression, and genocide—all worthy topics but also topics that have been done time and time again—the packaging company works to create books that are about three of Dhonielle's favorite things: "Fun and kissing and magic." And they do a darn good job, from the story of a young Mexican-American kitchen witch wreaking havoc with her Easy-Bake Oven, to the story of a genius fifteen-year-old doctor who inadvertently falls in love with a patient. "You can't be what you can't see," Dhonielle reminded us, and so she and Cake Literary work hard to make sure that children and teens see all kinds of narratives about people who look like themselves. Not just the painful ones.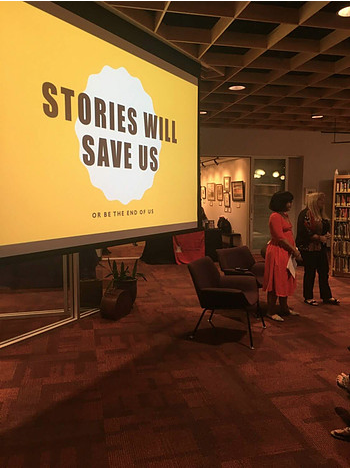 Dhonielle's own books, though, are a little different. Though it is lush and decadent on the surface, The Belles in particular is much more about pain than about fun, with its twisted society of Orleans that puts value on beauty above all things. The heroine, Camellia, discovers quickly that she has been lied to, manipulated, and betrayed. More than that, though, the book focuses on the pain of a society that dissects people—particularly women—into individual body parts.

It's clear, hearing her talk about the book, that this is an issue near and dear to Dhonielle's heart. She tells the story of being a young girl who loved books but never saw herself in the ones she liked to read—the ones about fun and kissing and magic—and so eventually stopped reading books in high school and turned instead to magazines. There, she found a world of air-brushed beauties and commodified body parts. "Perfect" body parts. "No one told me that that's not how women look," she admitted ruefully. The secret room hidden in the back of her closet, a space that had once been a sanctuary devoted to reading and building her doll houses, became instead a shrine to her new obsession. All through high school, she would paste images up on her walls of the coveted body parts, cut from magazines she borrowed from the library. The desire to possess those parts, to emulate that beauty, followed her long past the time when she finally stopped cutting the perfect eyes and lips and hair out of magazines. It followed her all the way to The Belles.

Many, many women—and indeed almost anyone who isn't a cisgender man—will recognize the parallels between how Orleans treats the bodies of its citizens and how society treats our bodies, and to the ways that it all too often puts us in competition with one another. It's this feeling that led her into The Belles. "I wanted to explore the nuances of why we feel the way we feel. Why, when other women walk into a room, we size them up from head to toe based on their looks." And why is that? "I think that there's value assigned to being a certain type of girl," Dhonielle said, "There's value assigned to having a certain type of body. When we encounter women who have those things, we automatically hate them. Because those have been given all the power—and we want power—and they've been given that power by men." This, according to her, is what all too often leads women into competition, both in her books and in life.
But Dhonielle Clayton is not all about raw honesty and female pain. She's also a delightful woman who will sit next to you at dinner and commiserate with you about the total lack of air conditioning in London or the blind terror of encountering a cockroach in the shower. She's the kind of author who, when offering advice to both aspiring writers and to regular college students, reminds us that "there are days where you just have to be disgusting and not shower and watch Netflix, and then the next day you're back on the grind." Though she extolls the virtue of spite as a motivator—"stay mad," she advised, when asked how to push through adversity—she also advocates for the virtues of slowing down and taking care of yourself.

"Stories and books will save our lives," Dhonielle told the crowd who'd come out to see her last night, "Or they'll be the end of us." After knowing her one day, it's clear that she's determined to write the sort that do the saving.

PRR Writer, Christy Duprey