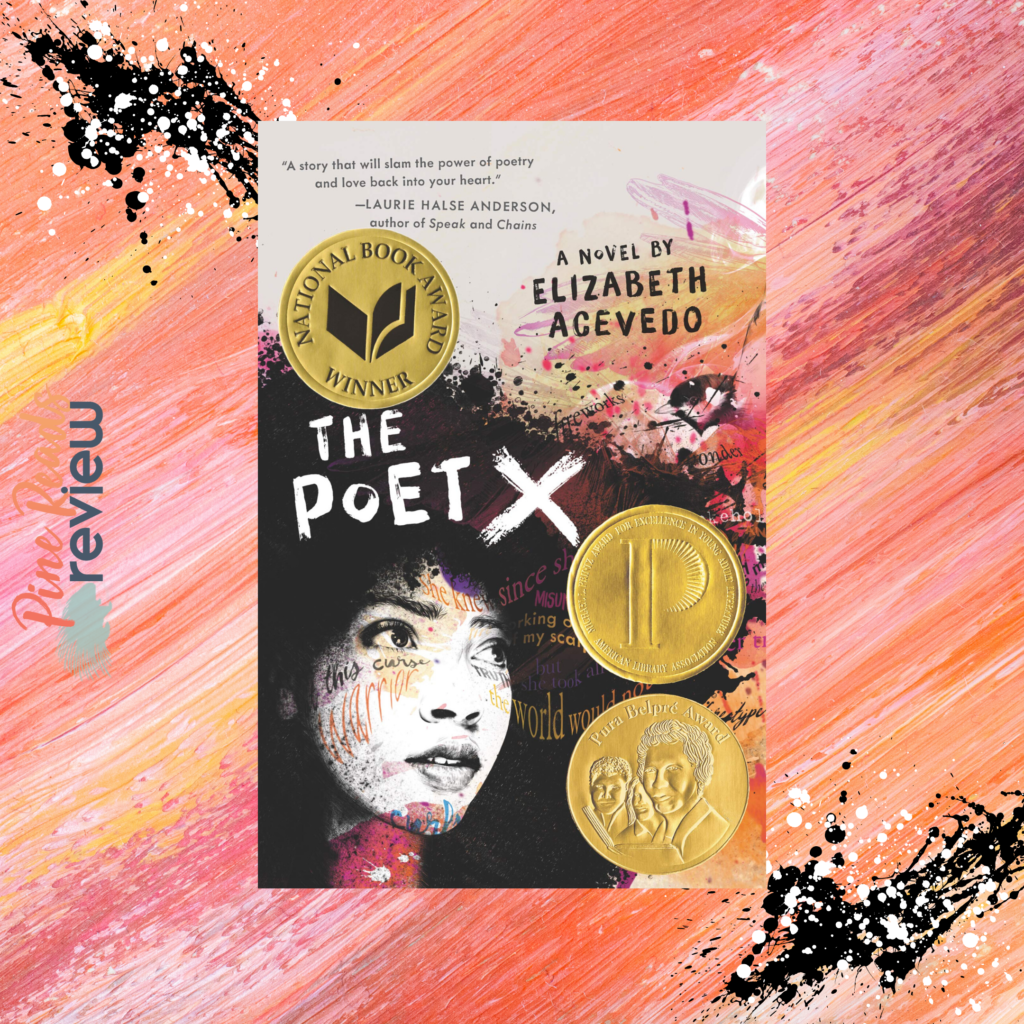 The Poet X by Elizabeth Acevedo
Quill Tree Books, 2018, 357 pages
Trigger Warnings: Sexism, sexual harassment, parental physical and emotional abuse, homophobia, sex shaming
About the Author: Elizabeth Acevedo is the author of The Poet X—which won the National Book Award for Young People's Literature, the Michael L. Printz Award, the Pura Belpré Award, the Boston Globe–Horn Book Award, and the Walter Award—as well as With the Fire on High and Clap When You Land. She is a National Poetry Slam champion and holds an MFA in creative writing from the University of Maryland. Acevedo lives with her partner in Washington, DC. You can find out more about her at www.acevedowrites.com. (Bio provided by publicist, Audra Boltion-Ortiz.)
Instagram: @acevedowrites
Twitter: @AcevedoWrites
Website: www.acevedowrites.com
"I only know that learning to believe in the power of my own words has been the most freeing experience of my life. It has brought me the most light. And isn't that what a poem is? A lantern glowing in the dark."
The Poet X released two years ago and is still capturing readers with its beautifully rendered story told entirely in verse. This format leans into the raw emotion of the main character's narration that makes the story feel like an intimate dive into her journal. The novel follows a fifteen year old Dominican teen, Xiomara Batista, who struggles with taking over agency of her life and body. The story takes place in Xiomara's Harlem neighborhood and follows her in her day-to-day life. Xiomara is loyal, resilient and altogether fearless. She is taught she has to fight, not only for her voice to be heard but to protect herself from the local boys and the control of her parents. Within Xiomara's strict, Catholic home there is much left unsaid with friction carrying into nearly every interaction this family has. As a way to escape, Xiomara secretly joins her school's slam poetry club and finds the power in her words. Acevedo examines the relationships Xiomara has with her body, her community, her family, her religion, her identity, and the new boy in her life: Aman. Acevedo portrays a story where a girl must grapple with false perception, expectations, and personal desire.
The Poet X was an intense and emotional experience, and I know I will revisit this novel again and again. There was an immediate sadness in reading this novel because of how beaten down by everyone Xiomara is. Shame is integrated throughout this novel, and it's not unfamiliar to Xiomara who is constantly shamed for the attention she gets and the curves she couldn't stop from developing. Defending herself has put her in situations where she had to use her fists, and this branded her as a troublemaker.
Xiomara has a tenuous relationship with her deeply religious mother, and her Catholic beliefs dictate the Batista home so much that it stifles the family. The Batistas' disconnect causes Xiomara to find comfort in writing in a journal gifted to her by her twin, Xavier. Acevedo also touches on the double standard between the sexes and how machismo is a poison in the Latinx community. Often, Xiomara is met with comparison with her brother, whom she calls 'Twin.' There is a sense of betrayal and isolation that Xiomara feels from everyone around her and those moments where she truly feels alone are gripping. This is tied to Xiomara's discovery of who she wants to become, and her embrace of poetry creates an inspiring tale about passion and resistance.
This story is evocative of personal struggles of mine, from the religious content to the family strain, especially regarding the intersection of personal beliefs and familial expectations. Xiomara, lovingly referred to as 'X,' is taught to silence herself; she is told how to dress, how to speak, how to hide. She's told that she has too much body, and that simply by kissing a boy she is disgusting. I cannot even begin to relay how much of this idea has been embedded in me. To read a Latinx teen, specifically a Dominicana, confront this and demolish what everyone wants her to be was amazing. Acevedo effectively teaches young people that they do not need to conform to religious ideals or parental constraints because who they are is never too much but instead powerful.
I've come to relate in some way or another to all of Acevedo's characters. Reading this novel particularly brought about a cathartic release of being seen and recognized in this difficult space of being a woman with a voice, body, and overall existence that everyone tries to box in and take advantage of. I love this novel; it speaks to the heart of all those unsure of who they are. With sharp words, Acevedo speaks through Xiomara and relays to readers the ideas of sex and body positivity and owing people nothing, which I am strongly behind. Overall, if anyone has gone without reading this novel, I highly recommend it and can assure you that it is as incredible as everyone says it is! Acevedo is deserving of every accolade she's garnered since The Poet X's initial release.
PRR Writer, Jackie Balbastro
Pick up your own copy today!