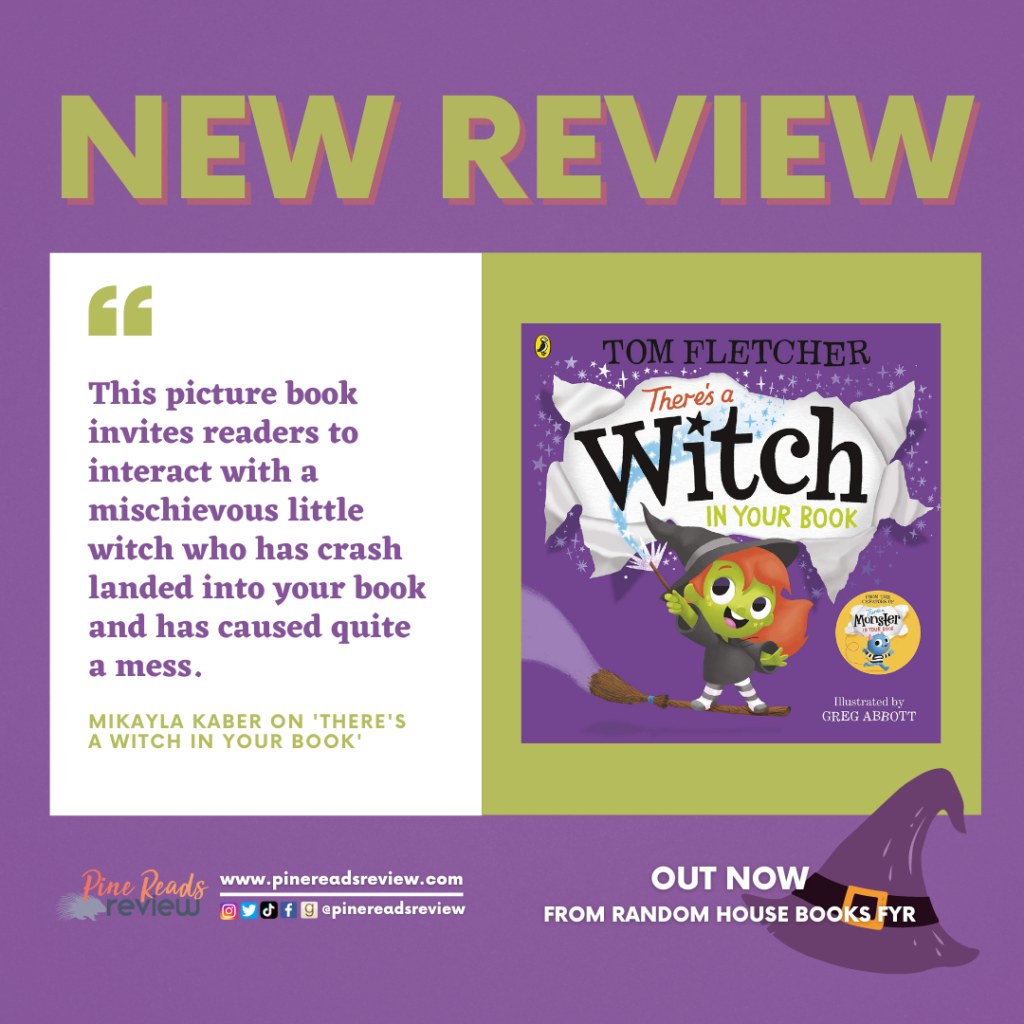 There's a Witch in Your Book by Tom Fletcher & Illustrated by Gregg Abbott
Out now from Random House Books for Young Readers
About the Author: "Tom Fletcher is one of the UK's bestselling authors for children. The Christmasaurus was the biggest debut middle-grade novel of 2016 in the UK, and The Creakers was a number one bestseller. Tom is also the bestselling author of picture books There's a Monster in Your Book, There's an Elf in Your Book, and There's a Dragon in Your Book, which received a Children's Choice Honor1. The Dinosaur That Pooped picture books, written with his bandmate Dougie Poynter, have sold over a million copies. With his wife, Giovanna Fletcher, Tom is the author of Eve of Man, the first in a YA trilogy. Tom's books have been translated into thirty-two languages and counting. He is also a songwriting, guitar-playing, Guinness World Record–holding, diaper–changing, galaxy-defending dad!"
(Bio taken from Penguin Random House website)
Find Tom Fletcher on the following platforms:
About the Illustrator: "Greg Abbott is an illustrator and graphic designer based in West Sussex, England. In addition to illustrating children's books, including There's a Monster In Your Book and Everybody's Welcome, he has created prints, apparel, toys, greeting cards, and other merchandise."
(Bio taken from Penguin Random House website)
Find Greg Abbott on the following platforms:
---
"What a cheeky witch! Let's teach her a lesson and turn her into something instead!"
A witch has landed in your book, and she needs your help to get out of the mess she's made! This picture book invites readers to interact with a mischievous little witch who has crash landed into your book and has caused quite a mess. Through second person narration, it allows for children to directly participate in the magic with the red-haired trouble maker. There are instructions throughout the book to have the children cast spells on the witch and use their hands to interact with her. With lots of action throughout the book, readers are engaged in the trouble and mess-making.
The colors and designs of the book go hand in hand with the spunky attitude of the witch. The pages include simple designs with oranges, purples, and reds that keep the reader excited and ready for the witch's magic. One of the most creative aspects of the illustrations are the holes in the pages where the witch crash landed.
Although the reader participation is fun and classic, the book's story felt flat in terms of depth. The witch didn't learn a lesson about her actions, and she didn't have an arc of growth in the book. It is a formulaic narrative that will engage young readers, but it doesn't offer anything new for them to explore or learn. Although it is a fun and spooky read, it fell short in terms of story and character.
PRR Assistant Director, Mikayla Kaber