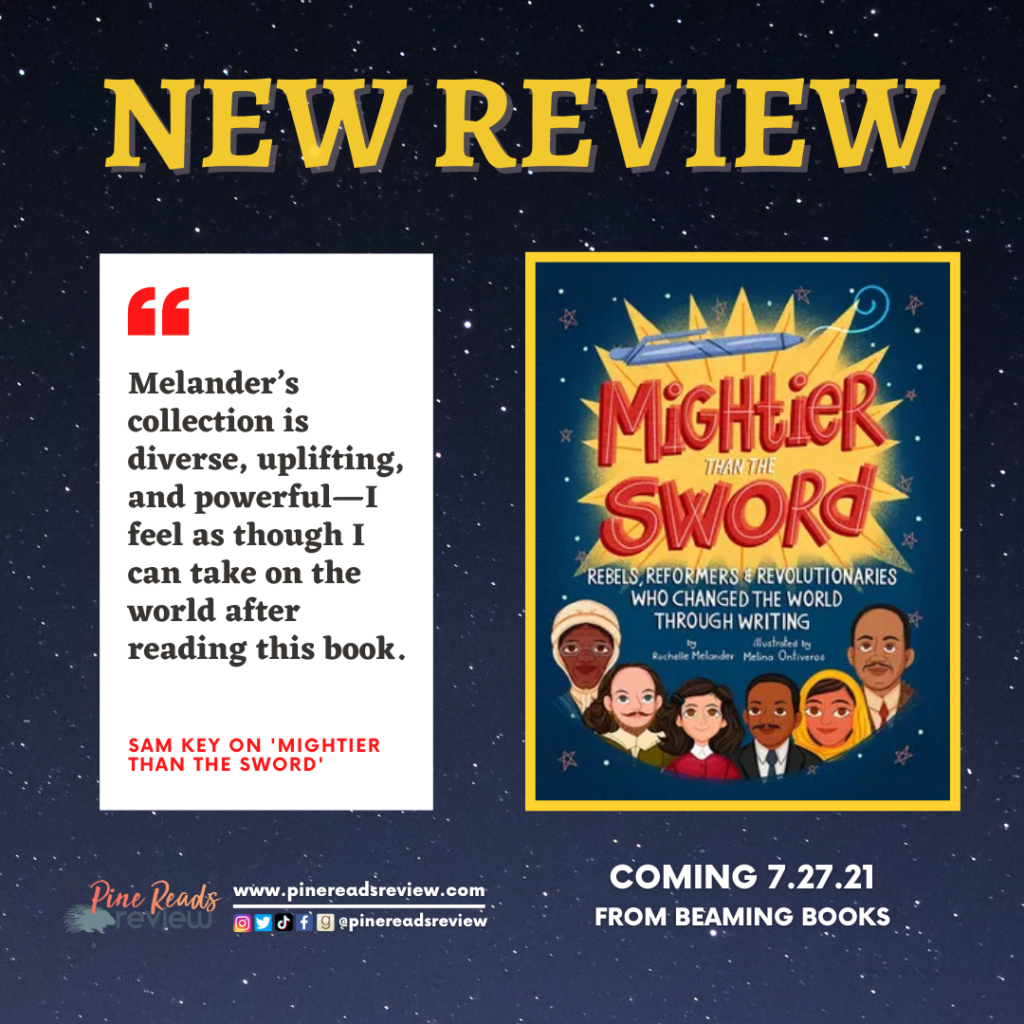 Mightier Than the Sword: Rebels, Reformers, & Revolutionaries who Changed the World Through Writing by Rochelle Melander, illustrated by Melina Ontiveros
Out July 27 by Beaming Books; 209 pages
Content Warning: Racism, violence, and death
About the Author: "Author, book coach, and teacher Rochelle Melander has helped thousands of people design a writing life, create great books, and connect with their readers. She is the author of ten books, including the National Novel Writing Month guide—Write-A-Thon: Write Your Book in 26 Days (and Live to Tell About It). Rochelle teaches entrepreneurs and professionals how to overcome writer's block, write more, turn their ideas into books, navigate the publishing world, and use speaking and social media to reach their readers. She is also the founder of Dream Keepers, a writing workshop for children and teens in Milwaukee and leads workshops for teachers who work with reluctant writers. She interviews authors and publishing professionals on her blog, at the Write Now! Mastermind class, and in her podcast, Business Boosting Books." (Bio taken from author's website.)
Find Rochelle Melander on the following platforms:
About the Illustrator: "Living in a city surrounded by hills and mountains up in the North of Mexico (but she always wanted to live in the woods) Melina always had a pencil and paper to draw on, but it wasn't until she graduated as an Industrial Designer when she realized she wanted to dedicate her life to the arts. A nature lover, she'll be the first one to notice when the sky is in pretty colors and the sight of trees always puts her in a great mood. With her illustrations, she wants to remind people how good it is to be a child, using vibrant colors and exploring with textures. She has worked on illustrations for Westbrook Entertainment collaborating with artwork based on Facebook Watch Series: Will Smith's Bucket List. When she's not drawing, you can find her watching a good movie, playfully teasing her cats or (not-so) patiently waiting for the holidays, her favorite time of the year." (Bio taken from illustrator's agency website.)
Find Melina Ontiveros on the following platforms:
---
"You write in order to change the world, knowing perfectly well that you probably can't, but also knowing that literature is indispensable to the world… The world changes according to the way people see it, and if you alter, even but a millimeter, the way people look at reality, then you can change it" -James Baldwin, Mightier Than the Sword
Mightier Than the Sword highlights a collection of stories about diverse, powerful, and inspirational figures throughout history. Each individual's story is retold in a way that is accessible for young readers and emphasizes the way in which the historical figure made an impact through their writing. Lively illustrations bring to life the individuals discussed in each retelling. Personalized writing prompts accompany each story and encourage the reader to make their own mark on the world through the power of words.
Melander's collection is diverse, uplifting, and powerful—I feel as though I can take on the world after reading this book. I really enjoyed the mix of well and lesser known historical figures. There were so many interesting people I had never heard of, and getting to read their stories was a new and pleasant experience. I also really appreciated Melander's commitment to making sure the stories focused on diverse individuals—it is refreshing to learn about new historical figures rather than the same people over and over again. The illustrations were really fun and helped me visualize the historical figures and what they did. The writing was well paced, and I found myself easily invested in the stories. Lastly, the writing prompts that accompanied each story were so cool. If I had these writing prompts to do as a child, I would probably be ruling the world by now. The prompts are relevant, thought-provoking, and introduce important topics in a fun and manageable way. Overall, I really enjoyed the collection of stories and the call-to-action this book provided. The sword yields to the pen yet again.
(Pine Reads Review would like to thank Beaming Books for sending us an ARC in exchange for an honest review. Any quotes are taken from an advanced copy and may be subject to change up final publication.)
PRR Writer, Sam Key