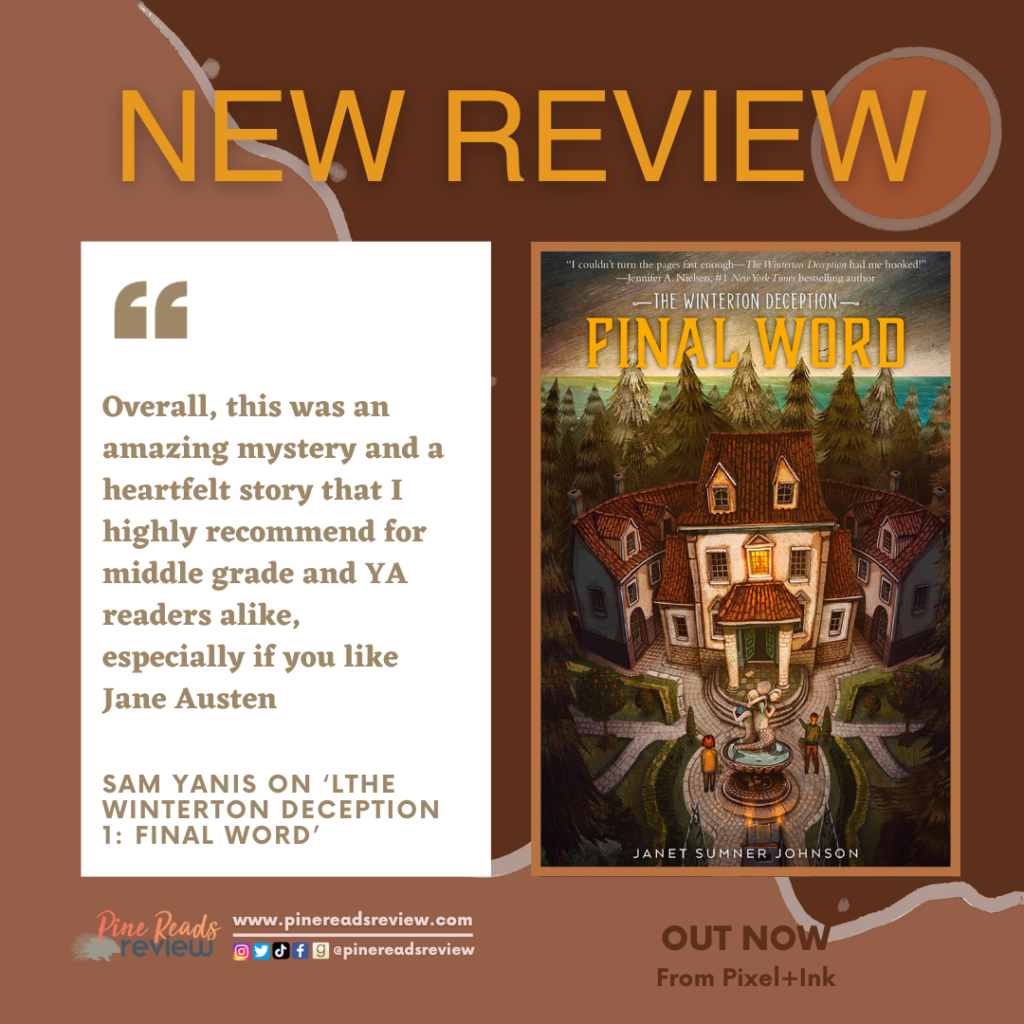 Out Now from Pixel+Ink; 384 pages
Content Warning: Minor violence
About the Author: "Janet Sumner Johnson writes both picture books and middle grade novels, including The Last Great Adventure of the PB&J Society, and The Recess Genius series. Her debut picture book, Help Wanted: Must Love Books, was the winner of the 2021 CLEL BELL Read Award and was nominated for the Children's Choice Book Awards in Colorado (2022) and Washington (2023). The first book of her middle grade mystery series, The Winterton Deception 1: Final Word has received starred trade reviews from Kirkus, Publisher's Weekly, and Booklist. When she isn't writing, she loves eating cookies, playing the piano, and singing along with the radio at the top of her lungs. She lives in Utah with her husband, three kids, and her dog" (Bio from author).
Find Janet Sumner Johnson on the following platforms:
---
"We all say and do things we wish we hadn't. That doesn't make us bad. It makes us human. What matters is what we choose to do afterward. A little determination to make things right can go a long way."
Hope and Gordon Smith live with their mom, facing eviction from the motel they live at now that she is unemployed. After Gordon finds out that their dad was a member of the Winterton family, he is determined to make a connection with them. Hope despises rich people―the Wintertons being some of the worst in her eyes―but she agrees to enter their annual spelling bee for the prize money. They go to the Winterton Chalet where they compete against their relatives in hopes of winning, but they get caught up in a mystery that puts money and secrets on the line.
The Winterton Deception, at its core, is about first impressions and second chances. As with most rich families, there is a lot of bad blood and misunderstandings that have caused everyone to become divided. When Jane Winterton, Hope's estranged grandmother, died, she knew all of her children, and grandchildren, were struggling. In an attempt to bring the family together, she created a whole plot to find a missing Jane Austen manuscript, and every family member, desperate for some of their inheritance money, went in search of it. I always love when there is one person orchestrating everything, and the fact that Jane was dead just made her mystery even more genius. It reminded me of The Inheritance Games in that way, which I loved. Johnson masterfully balanced two essential storylines: the spelling bee and the mystery of the missing manuscript. Both were equally important to the story, and they each contributed to the heartfelt resolution between the family. Hope Smith, who I honestly disliked in the beginning, learned that not all rich people are bad. She showcased so much personal growth, which I really appreciated. Each Winterton had to learn to forgive each other, and themselves, and I enjoyed how the mystery and the spelling bee played a vital role in that outcome. Not only was the mystery so exciting, with twists and turns I didn't always see coming, but it was essential to the relationships between the Wintertons, creating a beautiful ending that focused on forgiveness and fresh starts.
Overall, this was an amazing mystery and a heartfelt story that I highly recommend for middle grade and YA readers alike, especially if you like Jane Austen.
Pine Reads Review would like to thank NetGalley, Janet Sumner Johnson, and Pixel+Ink for sending us an ARC in exchange for an honest review. Any quotes are taken from an advanced copy and may be subject to change before final publication.
Sam Yanis, Pine Reads Review Writer
---