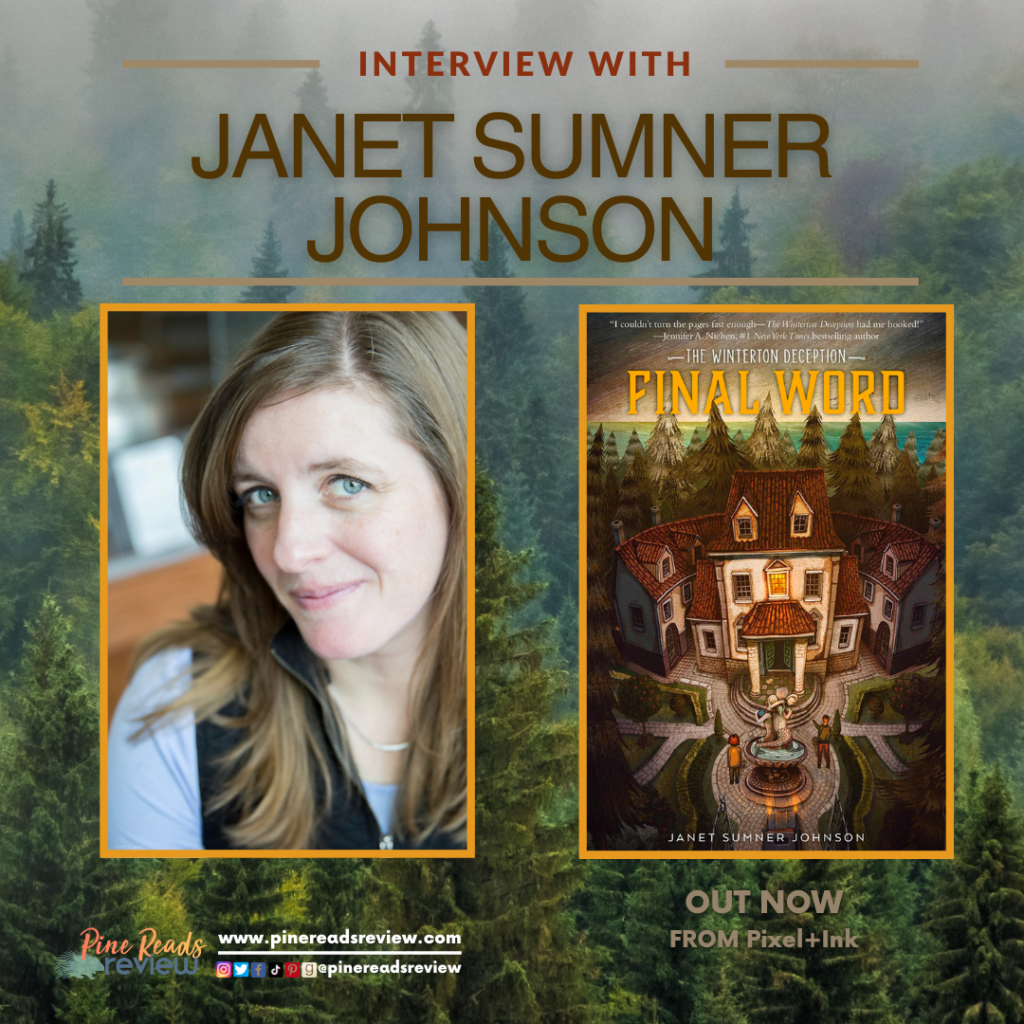 About the Interviewee: "Janet Sumner Johnson writes both picture books and middle grade novels, including The Last Great Adventure of the PB&J Society, and The Recess Genius series. Her debut picture book, Help Wanted: Must Love Books, was the winner of the 2021 CLEL BELL Read Award and was nominated for the Children's Choice Book Awards in Colorado (2022) and Washington (2023). The first book of her middle grade mystery series, The Winterton Deception 1: Final Word has received starred trade reviews from Kirkus, Publisher's Weekly, and Booklist. When she isn't writing, she loves eating cookies, playing the piano, and singing along with the radio at the top of her lungs. She lives in Utah with her husband, three kids, and her dog" (Bio from author).
Find Janet Sumner Johnson on the following platforms:
---
A huge thank you to Janet Sumner Johnson for taking the time to do an interview with us at Pine Reads Review! Her new middle grade book, The Winterton Deception 1: Final Word, will be released October 31, 2023. You can check out my review of The Winterton Deception 1: Final Word here!
---
Sam Yanis: The Winterton Deception 1: Final Word is your second middle grade novel and your first mystery. How did writing The Last Great Adventure of the PB&J Society help prepare you for this novel?
Janet Sumner Johnson: Final Word is a much more complex story than PB&J Society. It took a lot more plotting and careful planning, so you might say that writing my first book helped me develop the skills I needed to succeed. There were definitely moments when I wondered if I'd taken on more than I could handle, so knowing that I'd already written a novel-length book that sold to a publisher was like one of those motivational posters reminding me that I could do this.
In a more technical vein, even though PB&J Society is not a full-on mystery like Final Word, it has a low-key mystery as a subplot. That gave me experience with planting clues and laying groundwork for readers to solve them, not to mention sprinkling in some misdirection. That was a huge help!
SY: You've written four picture books in the past. How is writing a picture book different from writing a middle grade novel?
JSJ: Writing picture books and middle grade novels is much more similar than you'd think. For both types, I create an outline of the story arc before I begin. I develop characters and do free writing to learn more about them. In both cases, the first draft is a discovery process where I learn more about the characters and the plot. And revision is a huge part of uncovering the story I'm trying to tell.
However, I have found that middle grade writing tends to be expansive, while picture book writing tends to be diminutive. What that means is that with middle grade, I'm constantly checking that I've given enough information so that all the parts of the story are working together to make the story shine. Conversely, with picture books, I'm trying to keep things as simple as possible to make the story shine.
And though revision is a huge part of both, my focus in those revisions is very different. With middle grade, the focus is on moving the story forward—making sure I've laid the groundwork for the plot points and refining the larger story arc for each character so they help support the main story and overall theme. With picture books, a lot of my focus is on how I'm telling the story. Word choice. Structure. Rhythm. Re-readability. I can spend weeks on one word with a picture book—something that is unfathomable when writing a novel.
Finally, one huge difference is that with picture books, I need to leave room in the story for illustrations. So while the overall story I'm telling should be complete, I need to create space in the words I've used so the pictures can tell a good portion of that story. It's a completely different way of thinking about storytelling. But I love the challenge!
SY: I loved how the mystery revolved around Jane Austen. What gave you the idea to make her novel a central part of the mystery?
JSJ: When I started writing Final Word, I was struggling as an author. Creatively, I felt exhausted, and to some degree, I felt that all my efforts were to please others. Final Word was my gift to myself. I gave myself creative license to write all the things I loved. The things that made me excited.
As a huge Jane Austen fan, it was a no-brainer that I wanted to incorporate her work somehow. So when I created Jane Winterton (which I did very first), I had a blast shaping her character around a love for Jane Austen. Because most middle graders aren't familiar with Jane Austen, I balanced Jane Winterton's fandom with Hope's utter lack of knowledge, which was really fun to play with.
Fun fact: early on, it was suggested that I cut all the Jane Austen stuff because it's not very middle grade, but I loved it so much, I refused!
SY: While this mystery is going on, there is also the Winterton Spelling Bee that everyone is participating in. Which plot point came first, the spelling bee or the mystery? Was it hard to balance the story between the two?
JSJ: The first seed for this book was the idea of a mystery. I wanted to write something in the vein of The Westing Game. However, I happened to be working on a spelling bee fundraiser for my local library at the time, so before I had plotted anything, I knew I wanted to shape the story around a spelling bee. In essence, I was creating both plot points simultaneously.
Balancing those two story lines was one of my biggest challenges because they were both so BIG. I didn't want one to overshadow the other, which was hard since both needed a lot of page time, but I also didn't want them to simply feel like two different stories that happened to be in the same book—they needed to work together to lead the reader to the big finale. At one point, I entertained the idea of cutting the spelling bee, but dictionaries and the Family Bee were so interwoven into the plot; it was impossible. But let's just say I spent a lot of brainpower getting that interwovenness to shine through to the reader.
SY: The meaning of family and first impressions is a central part of the novel, and I know that Pride and Prejudice was originally titled First Impressions. Did any of Jane Austen's novels contribute to the themes and/or overall aesthetics of The Winterton Deception?
JSJ: What a great question! I actually spent a lot of time researching Jane Austen (a rabbit hole I willingly descended into) and tried to add as many Austen easter eggs as possible. There are references to multiple of her novels hidden in the aesthetics (Pride and Prejudice, Sense and Sensibility—just look at the Suite names in the chalet), but I also used a lot of tidbits from Jane Austen's life. For example, every artifact that is mentioned in the Winterton's "Jane Austen Museum," while not necessarily real, could be, based on research about her life.
Austen's body of work touches on so many universal themes, and I've read her novels so many times, that I was unquestionably influenced by them as I wrote. However, I wasn't thinking of any specific one as I plotted my book and its themes. Honestly, it doesn't surprise me that you discovered connections I hadn't deliberately intended. As an author, I'm often astonished by the unintended connections I discover in my writing. My subconscious brain is usually way ahead of the rest of me and my well-laid plans. Having discussed this with other authors, I know I'm not alone. Brains are powerful things!
SY: All of the characters experienced so much growth by the end of the novel. Was it always your intention to bring the family together, and do you have a favorite Winterton?
JSJ: Yes! From the beginning, I wanted to write a novel about forgiveness and family. In terms of writing, I wanted to explore a redemption arc, and the fun part about having such a large and eclectic cast of characters is that I was able to play with that arc in many different ways. The challenge (and joy) in writing is not so much knowing where you're going with any given story, but how you will get there.
As for a favorite Winterton, that's hard! They are all so different and fun in their own way. Emily surprised me. Jennifer had depths I never conceived of when I first created her. Boyd brought out my inner pre-teen, and Gordon's hopefulness made me feel more hopeful. Logan's uncertainty was all too real, and Jane's complexity and conflicting desires were fascinating to write. Though I spent a lot of time with Hope and loved writing an unlikable character you still rooted for, I think I'm going to say Bella. She has a tough armor of sarcastic wit, not to mention beauty and confidence. But behind that exterior is a lot of pain and someone who feels deeply. I loved exploring that.
SY: The ending had a big twist that could change everything. Did you know from the beginning of the writing process that this was the ending? Is this ending going to have an effect on the rest of the series?
JSJ: Though I considered this ending from the very beginning, I also considered a lot of other possibilities before deciding to go the direction I did. Without saying too much—because I don't want to spoil it for anyone—the twist will necessarily shape the rest of the series. Which is a very good thing since I originally wrote this book as a standalone. Lol!
SY: I am a huge fan of mysteries. What are some of your favorite mysteries, and when did you realize you wanted to write your own?
JSJ: I also love mysteries! And there are so many good ones. The Westing Game by Ellen Raskin, of course. All the John Bellairs books (like The House with a Clock in its Walls). The Winterhouse series by Ben Guterson and The Inheritance Games trilogy by Jennifer Lynn Barnes (neither of which I read until AFTER I'd written my first draft). The Howard Wallace series by Casey Lyall. The Tragically True Adventures of Kit Donovan by Patricia Bailey. The Frame-Up by Wendy McLeod MacKnight. And I better stop there or I could go on forever—though you might notice my focus on kidlit mysteries. Kidlit is my favorite!
Mysteries are really hard to write. It took a while to purposefully choose to write one because I wasn't sure if I'd be any good at it. My decision to write Final Word is the moment I finally dared admit to myself that I wanted to write a mystery. What's funny is that when I look back, there is an element of mystery in all of the novels I've written (including the ones that will never be published). I guess my subconscious was ahead of me. Again.
SY: To wrap up the interview, let's talk about the future! What are you currently working on? Is there anything you can tell us about the second book in The Winterton Deception?
JSJ: I am currently working on an early middle grade standalone. I hate to say much since I never know what might stick, but it's a story about a kid who's spent his whole life supporting his siblings in the activities they love, and now he's trying to figure out who he is, and what he loves. It's a much younger book than Final Word and is full of humor and heart.
As for book two, I really can't say much there. But I will tell you that characters who were in the background in book one get more time in the spotlight. My favorite part of writing book two was exploring the emotions and relationships that grew out of book one. More Winterton secrets and deceptions are revealed, and, of course, there's another treasure to be found and puzzle clues to solve. I'm really excited about book two and am only sad you all have to wait another year before you can read it!
Thank you so much for having me, and for asking such thoughtful questions!
Sam Yanis, Pine Reads Review Writer
---