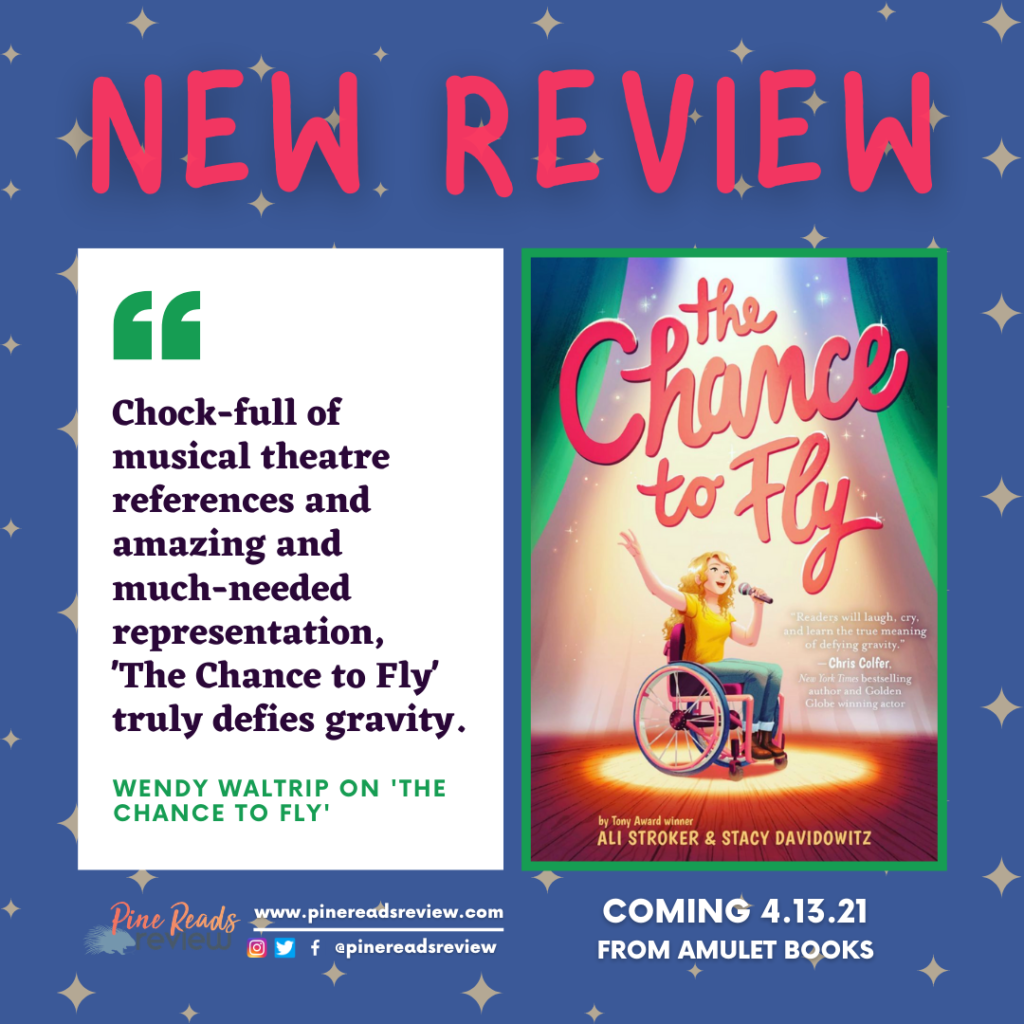 The Chance to Fly by Ali Stroker and Stacy Davidowitz
Abrams Kids; Releasing April 13, 2021; 288 pages
Content Warnings: Ableism, mentions of bullying, mentions of a car accident, mentions of animal death, fire
About the Author: "Ali Stroker made history as the first actress who uses a wheelchair to appear on Broadway in Michael Arden's revival of Spring Awakening and the first person in a wheelchair to win a Tony Award for her role in Daniel Fish's production of Oklahoma! Ali is the first wheelchair user to graduate from the NYU Tisch drama program, and she has starred, recurred, and guested in numerous network television productions, including Glee. A humanitarian and advocate, Ali's exceptional ability to improve the lives of others through the arts is captured in her motto: "Making Your Limitations Your Opportunities." This is her debut novel." (Bio taken from The Chance to Fly.)
Find Ali Stroker on the following platforms:
About the Author: "Stacy Davidowitz is a playwright, screenwriter, and author based in Manhattan. She is the author of the Camp Rolling Hills series, her plays and musicals have been produced regionally and internationally, and her most recent indie feature film is in production. Stacy also teaches theatre and creative writing in New York City public and private schools." (Bio taken from The Chance to Fly.)
Find Stacy Davidowitz on the following platforms:
---
"'Theater is the one place where we can try on different roles and show the world that there's more to us than what people might see.'"
Thirteen-year-old Natalie Beacon is absolutely obsessed with musical theatre. Except, she's never actually been in a play before (even if she does have almost every cast album memorized) or seen an actor onstage who uses a wheelchair for mobility like she does. Lucky for her, when her family relocates from California to New Jersey, Nat discovers a local kids' production of Wicked, one of her favorite shows ever, so she takes a chance, auditions…and gets in! Soon, Nat's making friends and having the time of her life. But when disaster strikes right before opening night, it looks like the show may not go on. Can Nat cast aside her fears and step into the spotlight? Or will her dreams of performing end before they've even begun?
As a huge theatre nerd, I absolutely loved this book! It was so much fun to follow along with Nat and the other cast members as they rehearsed one of my all-time favorite shows. And what fun characters! Nat is a fantastic protagonist: determined and brave, yet oh-so-real in her reactions to facing barrier after barrier. I wish I could spend an entire day talking about musical theatre and singing cast albums with her! The other characters are so well-developed and thoroughly bring the story to life. The blend of their unique personalities and the bond between them all kept me reading late into the night. Readers will be able to identify with themes of fierce friendship, discovering independence, and breaking boundaries. I can't gush about this book enough! Chock-full of musical theatre references and with amazing and much-needed representation, The Chance to Fly truly defies gravity.
The Chance to Fly releases April 13, 2021.
(Pine Reads Review would like to thank NetGalley and the publisher for providing us with an ARC in exchange for an honest review. Any quotes are taken from an advanced copy and may be subject to change upon final publication.)
PRR Assistant Director, Wendy Waltrip