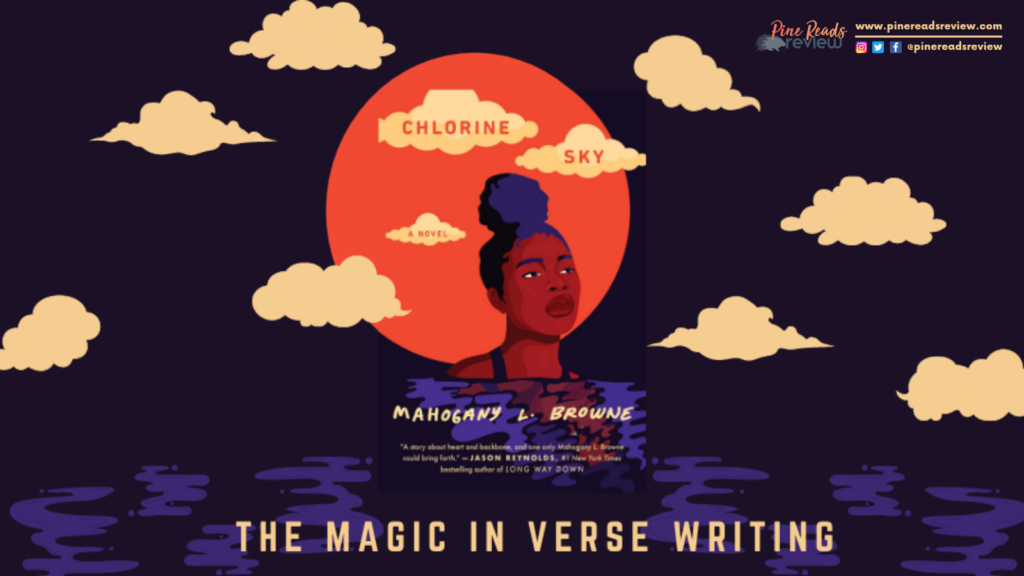 Warning: Spoilers ahead for Chlorine Sky by Mahogany L. Browne; content warnings for the novel itself include a discussion of sexual assault, colorism, absent parent, mentions of drug usage, and violence. 
"I would fight the world for you / But I can't keep fighting you" —Chlorine Sky by Mahogany L. Browne
From the moment I saw the stunning cover of Chlorine Sky, I knew I had to read it as soon as possible. After getting my hands on an early copy, I have been obsessed with it ever since. Mahogany L. Browne is a writer, organizer, and educator with several published works under her belt, including the picture book Woke Baby—illustrated by Theodore Taylor III—and Woke: A Young Poet's Call to Justice, which she co-wrote with Elizabeth Acevedo and Olivia Gatwood with illustrations by Taylor. Chlorine Sky is her first novel in verse and hopefully it is only the first in a long string of future releases. When I say I love Browne's writing, that is definitely an understatement.
I was only perhaps three lines into the first page of the book when I turned to my sister and said, "I already know this book is going to be fantastic," and you know what? It was. Browne's novel follows a girl named Sky and her journey towards self confidence. After being shunned by her best friend, Lay Li, Sky realizes all the ways she was made to see herself negatively. With this, Browne challenges larger stereotypes and insinuations that are pushed onto Black girls. It's no secret that there are not enough stories in mainstream media that focus on Black girls and boys coming of age. In under two hundred pages, Chlorine Sky approaches themes of self worth, sisterhood, colorism, misogynoir, and teen anxiety. Browne poignantly shows how girls are pitted against each other, belittled to just their appearance, and made to feel unsafe in male dominated spaces.
Chlorine Sky is no ordinary novel as it's told in verse rather than prose. Browne has such a unique voice, and I love it. Novels in verse are perhaps one of my favorite things to read because there is so much emotional depth compressed into just a few words. With lyrical and weighty writing, she succinctly captures the turmoil between these two former friends in only a few sentences, ensuring that both of their feelings are validated and more importantly heard. Much of this book deals with sisterhood, and how, when women support one another, they can be invincible. My mom always told me that even when the whole world is against you, sisters are forever; they are your best friends for life. I didn't always understand that until recently. Browne's book encourages readers to shine with inner beauty and strength. As she writes, "every child deserves to be the sun."
Another part of Chlorine Sky that holds a lot of weight is how desirability plays into how women are treated. Sky is described as a girl who wears basketball shorts practically all the time and is constantly compared to her friend Lay Li, especially when it comes to her appearance. However, she is more than just how she looks on the outside. Sky wants to join the WNBA; she wants to be someone great. My favorite thing about Sky is how she loves unconditionally, even when it comes to people who don't deserve it. She is kind and caring and represents so many girls who deserve the world. I also love the ways in which Sky's relationship with Lay Li is more nuanced than jealousy. Lay Li is not just the pretty girl; she also has depth and nuance that isn't always allowed to female characters, particularly those who fit the "popular girl" stereotype.
Writing in verse, Browne uses repetition, line breaks, distinct imagery, and textual connections between poems to draw on readers' emotions. For instance, Sky's cousin, Inga, repeatedly tells her to "not play small." This line reverberates throughout the novel as something that pushes Sky to be her authentic self unapologetically. Not only is the writing of Chlorine Sky breathtaking, but it touched me on a deeper level that left me in tears reflecting back on all the broken friendships and jaded relationships with my own sisters. I grew up with a sister similar to Sky's, who I wanted to love me, or at the very least like me, and whom I didn't confront about her meanness towards me until I was twenty-years-old. Reading about Sky's own experiences punched me in the gut and made me realize how long I'd stepped aside so others could shine. Overall, Chlorine Sky is a beautiful piece that demands we all stop playing small.
(Pine Reads Review would like to thank NetGalley and the publisher for providing us with an ARC in exchange for an honest review. Any quotes are taken from an advanced copy and may be subject to change.)
PRR Writer, Jackie Balbastro