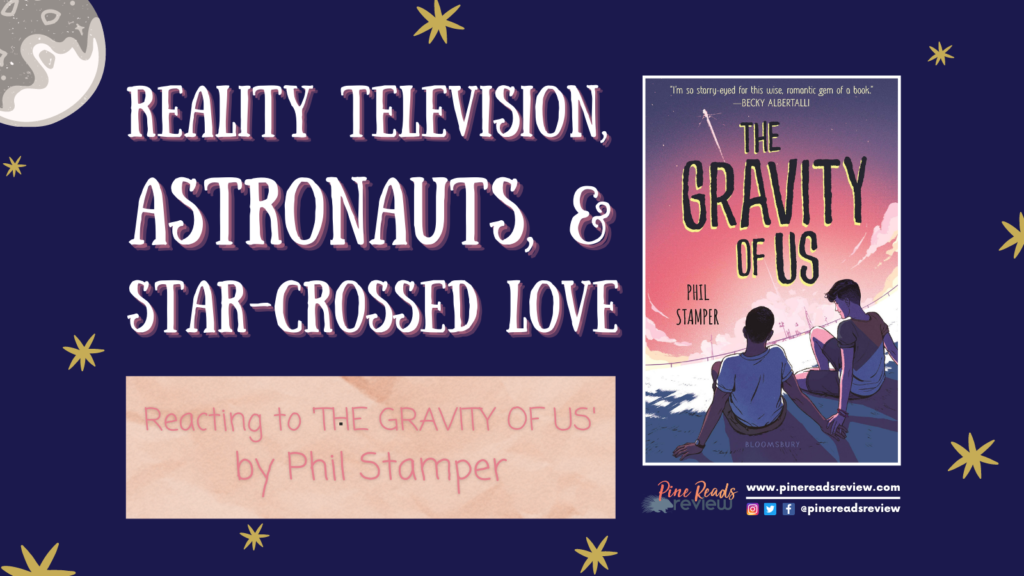 Warning: Spoilers ahead for The Gravity of Us (2020, Bloomsbury YA) by Phil Stamper, which has discussions of  death, an airplane accident, depression, and anxiety. 
Phil Stamper's YA contemporary debut The Gravity of Us sparkles with promise as an interstellar love story between two teen boys who fall in love when their parents join an upcoming and highly publicized NASA mission. After his family moves to Texas to prepare, high school senior and aspiring web journalist Cal Lewis meets the gorgeous and soft-spoken Leon, and everything changes. While Cal fights to preserve his millions of followers, StarWatch, a reality TV show focused on the lives of astronaut families, tries to keep him from filming behind the scenes. Unlike the picture-perfect glamour of the StarWatch cameras, Cal wants to show his fans what the project is really about—and maybe even more so, wants to get to know Leon off-screen.
The Gravity of Us is a wonderfully messy teen novel about a fast-paced romance and series of stressful life changes. While Cal's character is definitely dynamic and grows as a person, he isn't always a likeable protagonist, sometimes coming across as self-absorbed and pushy. There were a few moments I found hard to get through because it seemed like Cal's character was trying too hard to fit into the image of a well-dressed, ambitious, and often pretentious Brooklyn teen (who only listens to cassette tapes) placed into a "confining environment" in suburban Texas. However, these flaws made him feel real and nuanced. In many ways, reading about a teenager like Cal made me reminisce about being seventeen.
When it comes to Cal's feelings for Leon, their romance is as far from slow-burn as I've ever read. The emphasis on physical attraction between the two plays out from the second they meet, with their relationship beginning a mere few pages from Leon's appearance. There is more of an emphasis on surface-level cuteness and less time spent getting to know each other. Still, the two are placed in a unique situation that not many teens can relate to: living next to each other outside of a NASA base within a small social circle of other astronauts' kids. With their mutual attraction and close proximity, of course they're going to fall in love! It's sweet, cute, and the perfect fluffy romance to put a smile on your face, though admittedly pretty instantaneous.
Speaking of the book's pacing, one thing I did really appreciate was the balance of action. Once I started it, The Gravity of Us was pretty tough to put down. The twists and turns with StarWatch's actions, Cal and Leon's relationship, and the fate of the Mars mission are plentiful but cohesive and didn't give me whiplash. There is enough foreshadowing that most of the major shifts are predictable, but in my mind, that's a sign that the author has done a good job of creating a believable universe and storyline. There are few places where the book feels slow, except for the tender moments between Cal and Leon. Despite their relationship moving quickly, Stamper deftly writes romantic scenes where time slows down, allowing the reader to enjoy the heartfelt affection between the characters.
Overall, this novel has a unique plot line and is just the right amount of sweet and lighthearted. Heavier topics like death and mental illness are addressed tactfully. More than anything, The Gravity of Us is about change. Cal experiences changes in his home life, friends, relationship, and life goals. Starting out as the kind of person who has the rest of his life planned to a tee, he clearly never expected to be thrown in the middle of a Mars mission, or into a heart-racing romance. For anyone going through some serious change, Phil Stamper's The Gravity of Us just might be a book to help you feel less alone.
PRR Writer, Grace Kennedy