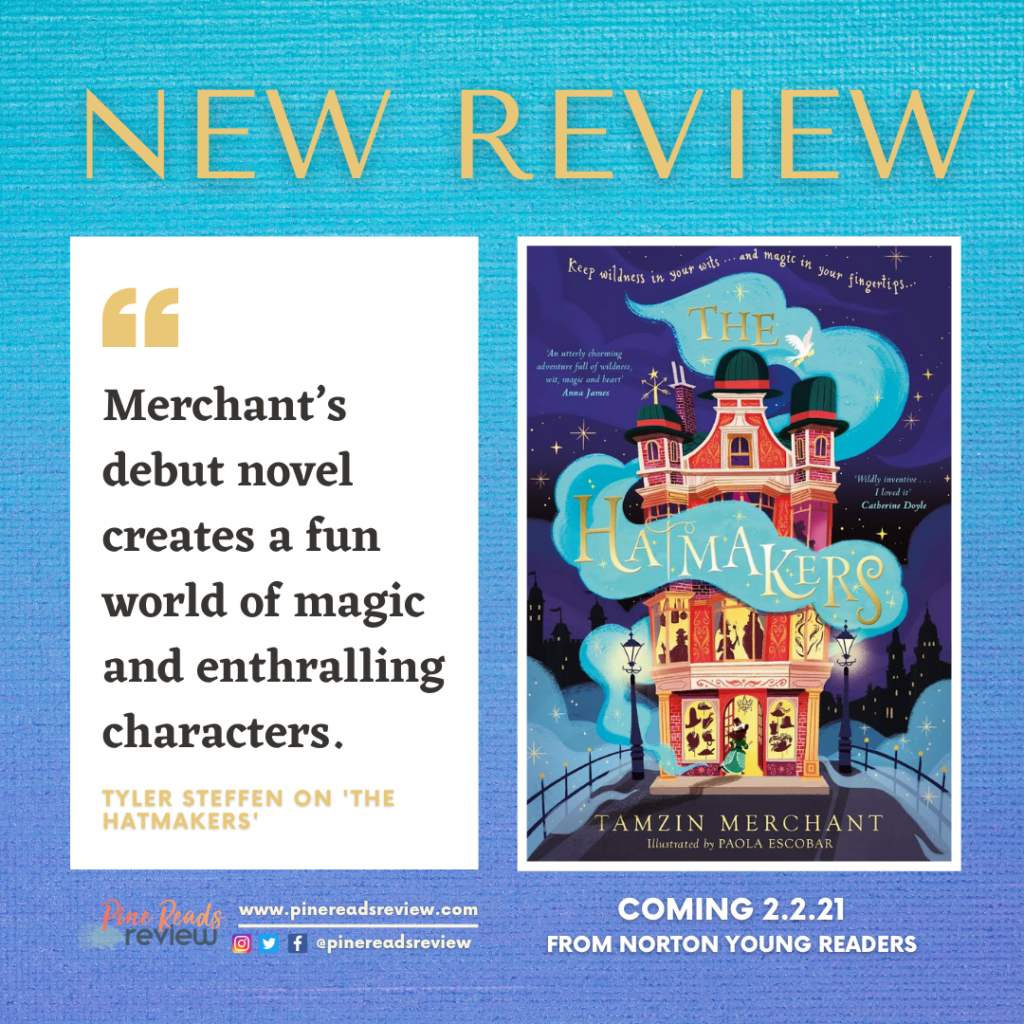 The Hatmakers written by Tamzin Merchant and illustrated by Paola Escobar
Norton Young Readers; Releases February 2, 2021; 368 pages
Content Warnings: Mild violence, referenced death of a loved one.
About the Author: "Tamzin Merchant is a British-born actress best known for her roles in Pride & Prejudice, The Tudors, Salem, and Carnival Row. The Hatmakers is her debut novel. She lives in England." (Bio from publisher's website)
Instagram: @tamzinmerchant
Twitter: @tamzinmerchant
About the Illustrator: "Paola Escobar is a Colombian graphic designer and illustrator. Her portfolio is incredibly versatile, and she has worked for a variety of publishers worldwide including SM Spain, Planeta, Norma, Fleurus. In the UK her clients include Oxford University Press, Penguin Random House, Walker, Scholastic UK, Laurence King, Little Brown Book Group, HarperCollins and Chicken House. Over the coming years she also has a variety of projects coming out with US publishers Little Bee Books, Versify, Zonderkidz, HarperCollins US, Schwartz and Wade and Simon & Schuster. In addition to publishing, she has worked across a broad range of printed and digital magazines. She currently works as a freelance illustrator and lives very happily in Bogota with her husband and dog Flora." (Bio from Pickled Ink)

Instagram: @paoesco8ar
Twitter: @paolaesco8ar
---

"All night long the words lost at sea, lost at sea, lost at sea whispered to her in the storm-tossed dreams and an albatross keened and curled in the strange sky. In the morning, she woke with an idea. What is lost can be found."
After Cordelia Hatmaker's father is shipwrecked before reaching his destination, her Aunt and Uncle have no hope that they will ever see him again, but Cordelia truly believes that he will return. While her Aunt and Uncle work alongside other rival Maker families—rare individuals who weave magic into boots, hats, cloaks, and the likes—Cordelia is determined to do anything she can to find her father, even if it goes against her family's wishes. But when someone threatens to destroy the Makers' objects and war with France looms, Cordelia must join forces with her friends to determine who is threatening the safety of the entire Kingdom.
Tamzin Merchant's debut novel creates a fun world of magic and enthralling characters. The main character, Cordelia Hatmaker, stands out because of the optimism and bravery she displays throughout the novel. She never loses hope that she will find her father, and while she faces obstacles on her journey, her hopefulness allows her to summon the strength she needs to fight for her family. The Hatmakers' close bond and shared appreciation for the delicate art of hatmaking highlights the importance of family and tradition. Yet, Cordelia's secret friendship with a Bootmaker–a rival Maker family–illustrates that blood does not define your loyalty or friendships and that you are successful when you work as a team. Overall, it is Cordelia's fierce personality that makes her a joy to read in this novel. She chooses to follow her heart and become the person she desires to be, despite opposition she may face from her family and the world. Anyone who is a fan of being swept away by a magical world will love this story!
The Hatmakers releases on February 2, 2021.
(Pine Reads Review would like to thank NetGalley and the publisher for providing us with an ARC in exchange for an honest review. Any quotes are taken from an advanced copy and may be subject to change.)
PRR Writer, Tyler Steffen