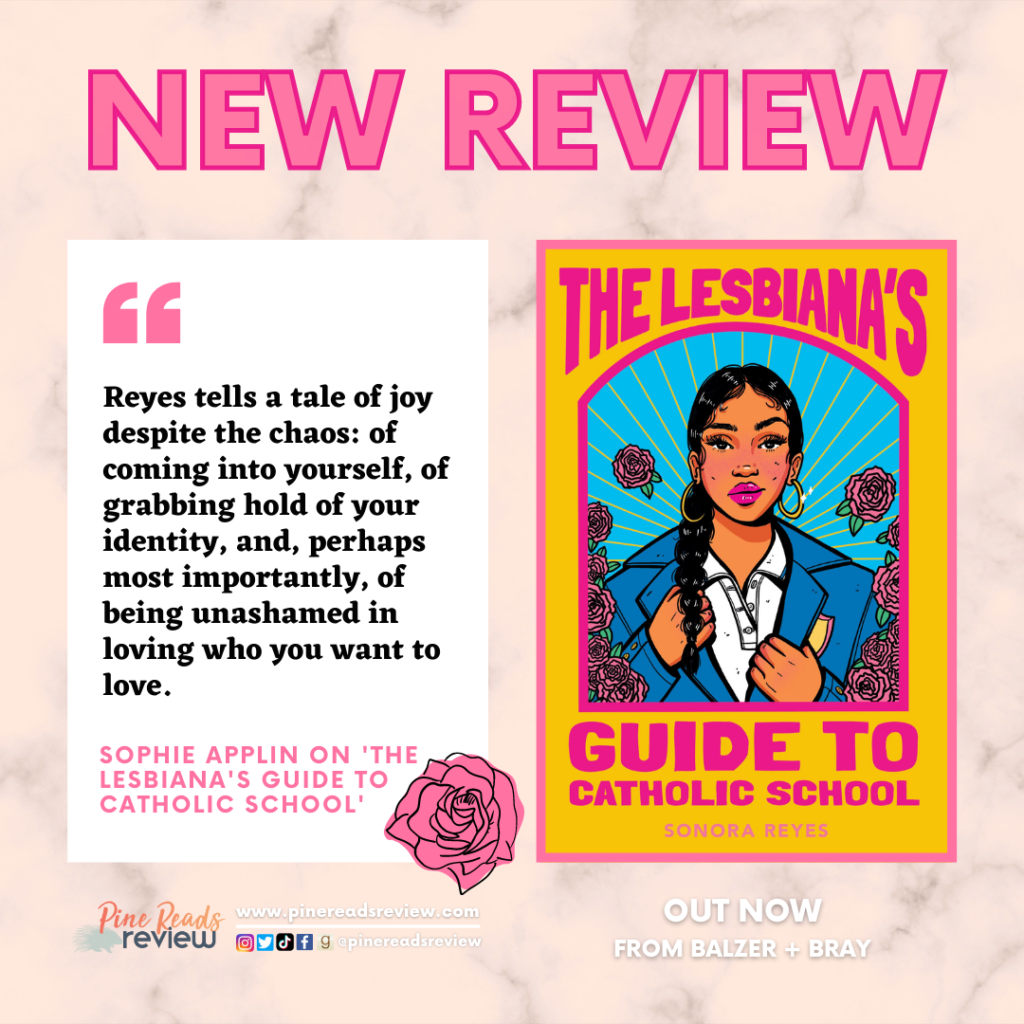 The Lesbiana's Guide to Catholic School by Sonora Reyes
Out now from Balzer + Bray (An Imprint of HarperCollins Publishers)
About the author: "Born and raised in Arizona, Sonora Reyes is the author of the forthcoming contemporary young adult novel: THE LESBIANA'S GUIDE TO CATHOLIC SCHOOL. They write fiction full of queer and Latinx characters in a variety of genres, with current projects in both kidlit and adult categories. Sonora is also the creator and host of the Twitter chat #QPOCChat, a monthly community-building chat for queer writers of color. Sonora currently lives in Arizona in a multi-generational family home with a small pack of dogs who run the place. Outside of writing, Sonora loves dancing, singing karaoke, and playing with their baby nephew." (Bio taken from author's website).
Find Sonora Reyes on the following platforms:
---
"I don't want to apologize about who I am, or how I look, or what I feel." 
Yamilet Flores is not doing so great. After being outed by her former best friend, she decides to switch schools and attend a Catholic school with her brother, Cesar. This time, Yamilet will be straight; she'll fit in, even though she's the only gay, Mexican-American girl at an overwhelmingly white high school. The only problem? Bo, an adorable, intelligent girl who is out and proud. Written in the simultaneously snarky and witty voice only a whip-smart teenage girl can possess, Reyes captures the incredible and heartbreaking experience of falling in love and being who you truly are in a world full of people who want to keep you down.
What Reyes manages to accomplish in The Lesbiana's Guide to Catholic School is real and raw: high school is miserable. But when you're made to feel different because of your skin color and sexuality, it's downright hellish. Yami must navigate the trials and tribulations of her life. From a seemingly unsupportive family, to disgusting discrimination at school, Yami does not have it easy. It would be hard for anyone to handle this with grace—much less a teenager—but somehow Yami manages do so.
Yet Reyes doesn't just zero-in on all of Yamilet's hardships. There are very poignant discussions of racism, homophobia and class issues, but that's not the focus of Yami's story. Instead, Reyes tells a tale of joy despite the chaos: of coming into yourself, of grabbing hold of your identity, and, perhaps most importantly, of being unashamed in loving who you want to love. Yamilet and Bo prove that the sky is the limit—over, and over again. Their romance is the type of fairytale that all of us wished to have in high school, and maybe even beyond. To see two queer kids fall into such a sweet love story is a beautiful thing.
Reyes truly poured their heart out in this book. The Lesbiana's Guide To Catholic School is, if nothing else, a story of triumph. Reyes proves there's a happy ending out there waiting for everyone. 
PRR Writer, Sophie Applin
---