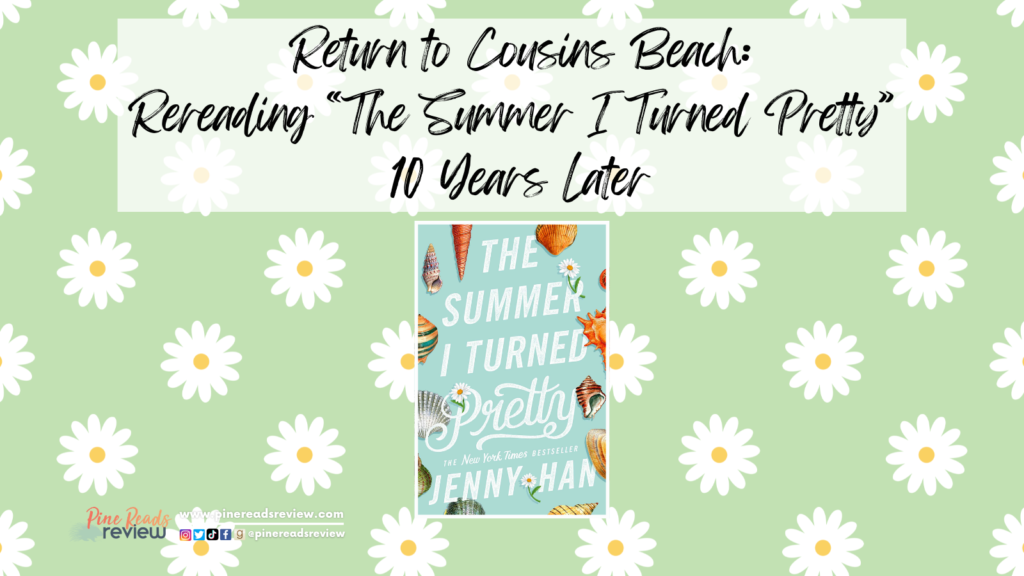 Many book-lovers know Jenny Han from best-selling To All the Boys I've Loved Before novels. Prior to writing Lara Jean's story, Han wrote a three-book series about another girl: Isabel "Belly" Conklin. Belly is the heroine of the The Summer I Turned Pretty, a YA contemporary romance. The first book, The Summer I Turned Pretty, was published in 2009 by Simon & Schuster Books for Young Readers. The second book, It's Not Summer Without You, and the final installment, We'll Always Have Summer, released in 2010 and 2011.
So why am I revisiting Cousins Beach (the setting of Belly's story)? Well, if you happened to miss the announcement, Amazon Prime Video is releasing a TV adaptation of the first book TOMORROW– June 17th! Having read the trilogy in middle school, I was elated to learn about the show. My excitement was amplified when Jenny Han and Taylor Swift promoted the teaser trailer which featured the song "This Love (Taylor's Version)". You can't go wrong when pairing Taylor Swift and YA contemporary romance!
In preparation for the series' release on Prime Video, I decided to reread the trilogy as a now college student. Keep reading to hear my thoughts on the first book, and know that I'm impatiently waiting to binge the show this weekend!
---
A brief summary: The Summer I Turned Pretty follows Belly Conklin as she goes on her family's annual summer vacation to Cousins Beach. Belly, her mom, and her brother stay with Susannah Fisher (her mom's best friend) and the Fisher boys, Conrad and Jeremiah. Belly has grown up with the Fishers and been in love with Conrad for years. Nothing's ever come of her crush, but Belly's no longer permanently seen as Steven's little sister. Dynamics change, new romances emerge, and this summer changes everything.
---
***Spoilers ahead for The Summer I Turned Pretty trilogy!***
Rereading this book put me in the best nostalgic, summer mood. In the first few pages I was already smelling the salt air and itching to brush sand off my legs. All of the joys and heartbreak that Belly experiences crashed into me like a tidal wave (cheesy beach simile but I can't help it!). As I re-read, I found myself drawn to three main components of this book: Belly's arc, The Love Triangle, and the bond between family.
As a no-longer-15-year-old-girl, one thing I can appreciate about Belly's character is that she feels like a 15-year-old girl! She can be pouty and feels stuck in the 'kid sister' role. She has a first love that makes her excited, frustrated, and awkward. She gets wrapped up in boy-drama and easily glorifies parents that she doesn't have. Belly is definitely immature at times, but that's because all 15-year-olds are! Throughout the book, Belly gains an awareness both of herself and those around her. Her world shifts from worrying about boys and getting tan to the return of Susannah's cancer and dealing with grief. It's heartbreaking, but it's real. Belly's arc in the first book also sets her up for continued growth through the rest of the series; mainly in dealing with Susannah's death, turning teenage romance into an adult relationship, and handling all the emotions that come with growing up.
As for The Love Triangle, I generally am not the biggest fan of the trope. However, I remember being so invested in the Belly/Conrad/Jeremiah triangle when I first read the series. After re-reading the first book, I understood why. Conrad has the whole protective and brooding vibe, and Jeremiah is the sweetheart best friend. Belly can bring out Conrad's vulnerability, and she has a foundation of trust with Jeremiah. The first book does well in establishing characters who have their own complements and challenges as couples. It makes a lot of sense how Belly nearly marries Jeremiah and then finally ends up with Conrad in the third book. The last note I have about the romance is on the age gap between Belly and Conrad. The difference isn't shocking, but is significant given that the couple gets together when Belly is in the middle of high school and Conrad is starting college. The characters are just in very different stages of life (and maturity), y'know? With all that said, I am still a Belly/Conrad shipper at heart!
Finally, I have to talk about the other type of love in this book: family. I really loved the sibling dynamics with Belly/Steven and Conrad/Jeremiah. There's a fun balance of snark and banter with outright affection and wordless acts of sibling love. I also enjoyed the characters of Susannah and Laurel (Belly's mom) a lot. I love that we get a supportive, years-long friendship between two adult women. The parental relationship that we see through Belly and Laurel was also heartwarming and humbling. Belly discovers that her perception of Laurel isn't always accurate, and she learns how to better appreciate her mom. Similarly, Susannah's relationship with Conrad and Jeremiah showed how much hurt a family can endure by trying to protect one another. The three Fishers tried so hard to be strong on their own, when they really needed to be open with each other. The Summer I Turned Pretty may be a romance, but it really is fueled by the love of family.
Looking to the TV series, the first full trailer shows some pretty major plot changes. While plot changes always get die-hard book fans ready to throw down, I have full faith in this adaptation. The trailer shows great chemistry between our ensemble of actors, and Jenny Han herself is a showrunner and executive producer. The series won't be a play by play retelling, nor should it be! The books are lovely and reflect an era of YA contemporary literature. Now, the show can bring our favorite characters to a new audience in a new period of YA storytelling. And, with the recent news that we are already confirmed for SEASON TWO… the future looks bright for on-screen Belly!
PRR Writer, Erika Brittain
---