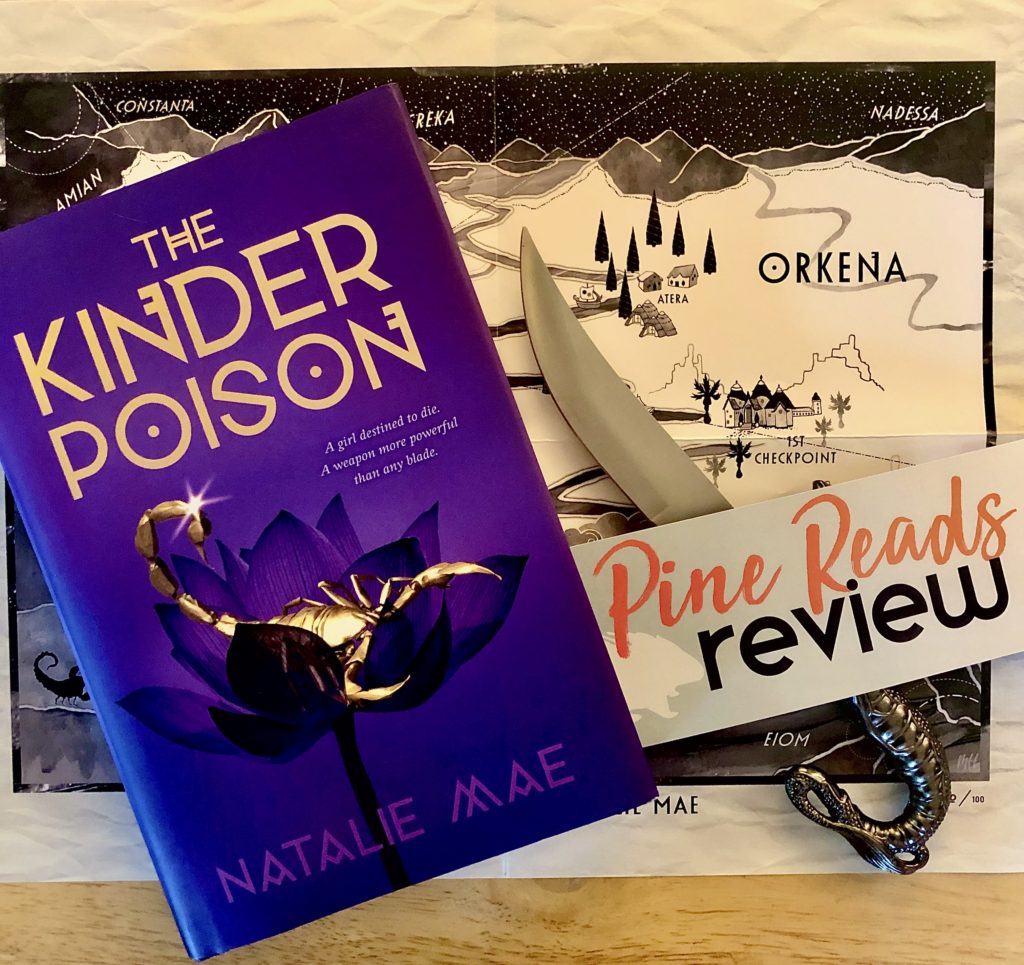 The Kinder Poison by Natalie Mae
Razorbill, 2020, 402 pages
Trigger Warnings: Violence, alcoholism, murder
About the Author: "Natalie Mae is an ex-programmer, dessert enthusiast, and author of young adult novels. She has also been a freelance editor and Pitch Wars mentor, and feels it notable to mention she once held a job where she had to feed spiders. Her work has been acclaimed by People Magazine, School Library Journal, Kirkus Reviews, USA Today, YASLA and HuffPost. She now writes full-time at home with a bag of dark chocolates in one hand and a leopard cat on her lap. She is most definitely not checking Instagram right now." (Bio taken from the author's website.)
Instagram: @bynataliemae
Twitter: @bynataliemae
Website: https://nataliemaebooks.com
Hashtags: #thekinderpoison #nataliemae
"All good stories start with bad decisions."
After living in the tiny village of Atera all her life, Zahru longs to travel the world, have sensational adventures, and bring amazing stories of her exploits back to her family. But everything Zahru has known changes when the ailing ruler of her kingdom invokes an ancient, thrilling race across the desert for his heirs to compete for the throne. The first heir to complete the race and take the life of a human sacrifice will gain enough magic to become a god. In an attempt to experience one tiny taste of adventure (and sample the legendary chocolate), Zahru sneaks into the palace, but that small mistake might become fatal when she finds herself caught in the middle of a deadly feud between the heirs and is chosen as the human sacrifice. As sand flies and swords clash, Zahru must embrace the impossible and find a way to overcome those who are desperately fighting to kill her if she wants to survive.
This is one of the best books that I have ever read. Natalie Mae has crafted a phenomenal fantasy world that envelops you in the magic, intrigue, and blistering desert sun from the very first sentence and won't free you until you have followed it through a maze of twists and turns and are deposited on the other side, feverishly waiting for the sequel to be released. Zahru's voice is very relatable, and I enjoyed spending the journey with her by my side. The push-and-pull romance was maddeningly enticing with surprises around every corner, and the book had such a riveting plot that by the time I reached the ending, I was completely sated and simultaneously longing for more. This book is perfect for any fan of magic, adventure, and death-defying races against the clock.
PRR Writer, Wendy Waltrip
Pick up your own copy today!