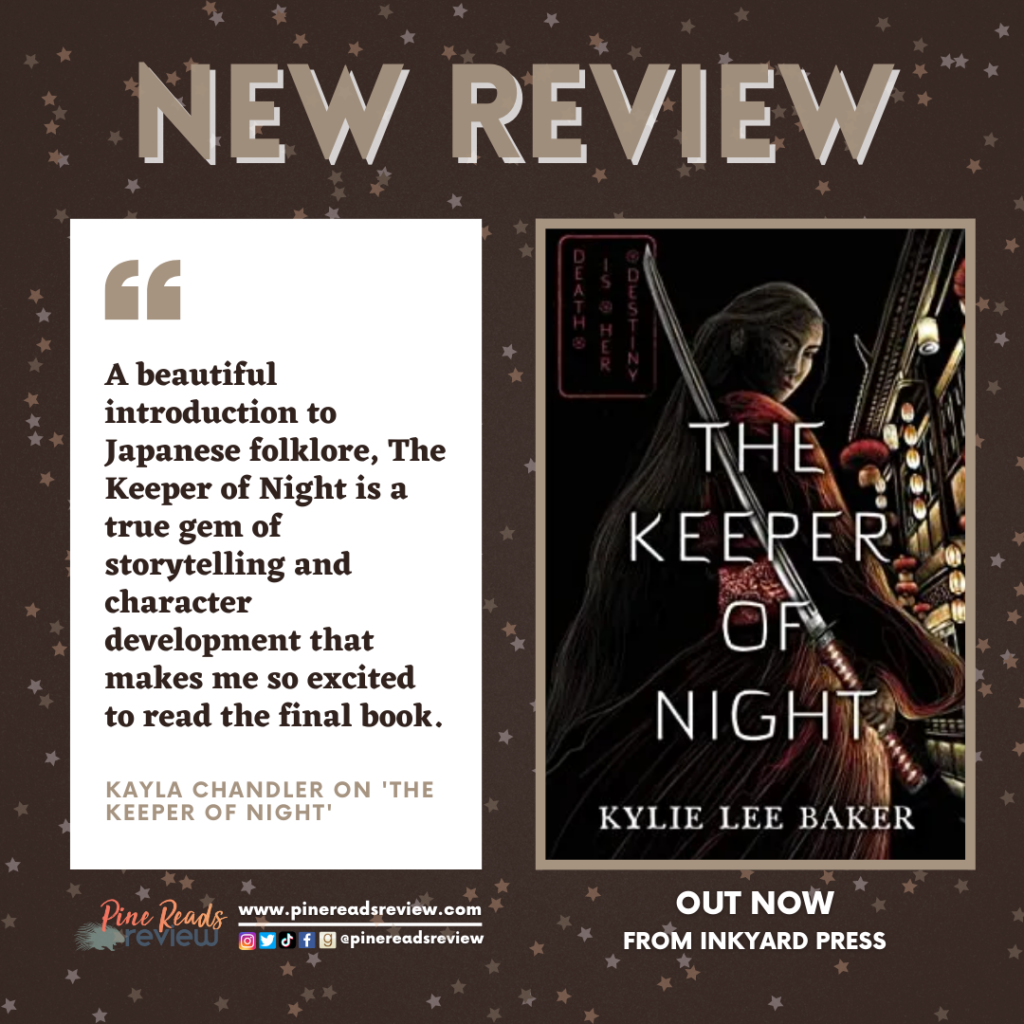 The Keeper of Night by Kylie Lee Baker
Out Now from Inkyard Press; 400 pages
Content Warnings: Racism, descriptions of blood and gore, death, bullying
About the Author: "Kylie Lee Baker grew up in Boston and has since lived in Atlanta, Salamanca, and Seoul. Her work is informed by her heritage (Japanese, Chinese, & Irish) as well as her experiences living abroad as both a student and teacher. She has a BA in creative writing and Spanish from Emory University and is pursuing a master of library and information science degree at Simmons University. In her free time, she plays the cello, watches horror movies, and bakes too many cookies. The Keeper of Night is her debut novel." (Bio taken from author's website.)
Find Kylie Lee Baker on the following platforms:
---
"Here I was, in a foreign land, kneeling before the woman who had built Japan herself, who had created Death for these people and kept the souls of all the dead in her belly."
Ren of London, a Reaper who serves the British God of Death, desires nothing more than acceptance in a world where her illuminated skin, black hair, and half-Japanese ancestry set her apart from all others. Her younger brother, Neven, is the singular bright spot in her one hundred years of loneliness. When the time comes for Ren to escape to the Japanese land of Death, Yomi, Neven is beside her the entire way. While on an impossible assignment from the Japanese Goddess of Death to kill three Yōkai demons, Ren explores what it means to be Shinigami. Along the way, she finds herself entangled with a witty ex-Shinigami, Hiro, who helps her discover just how far she's willing to go to be fully accepted in the realm of Death.
Kylie Lee Baker's debut novel is a gripping whirlwind of Japanese monster folklore and death stories. At its core, The Keeper of Night is about a woman's search for acceptance and identity in a world where both the mortal and undying realms seek to suppress her. Ren is such a strongly defined character, and I was constantly entertained by her internal monologue. Through her unyielding determination, she is finally able to move beyond the preconceived ideas of what kind of death dealer she should be. In addition to genuinely engaging characters, this book is by far one of the most descriptively rich books I have ever read. Every location and monster were so detailed that I was given a completely clear image of the Japanese legends that I hadn't encountered before this story. Kylie Lee Baker's writing kept me reading chapter after chapter; it was worth binging. A beautiful introduction to Japanese folklore, The Keeper of Night is a true gem of storytelling and character development that makes me so excited to read the final book.
PRR Writer, Kayla Chandler