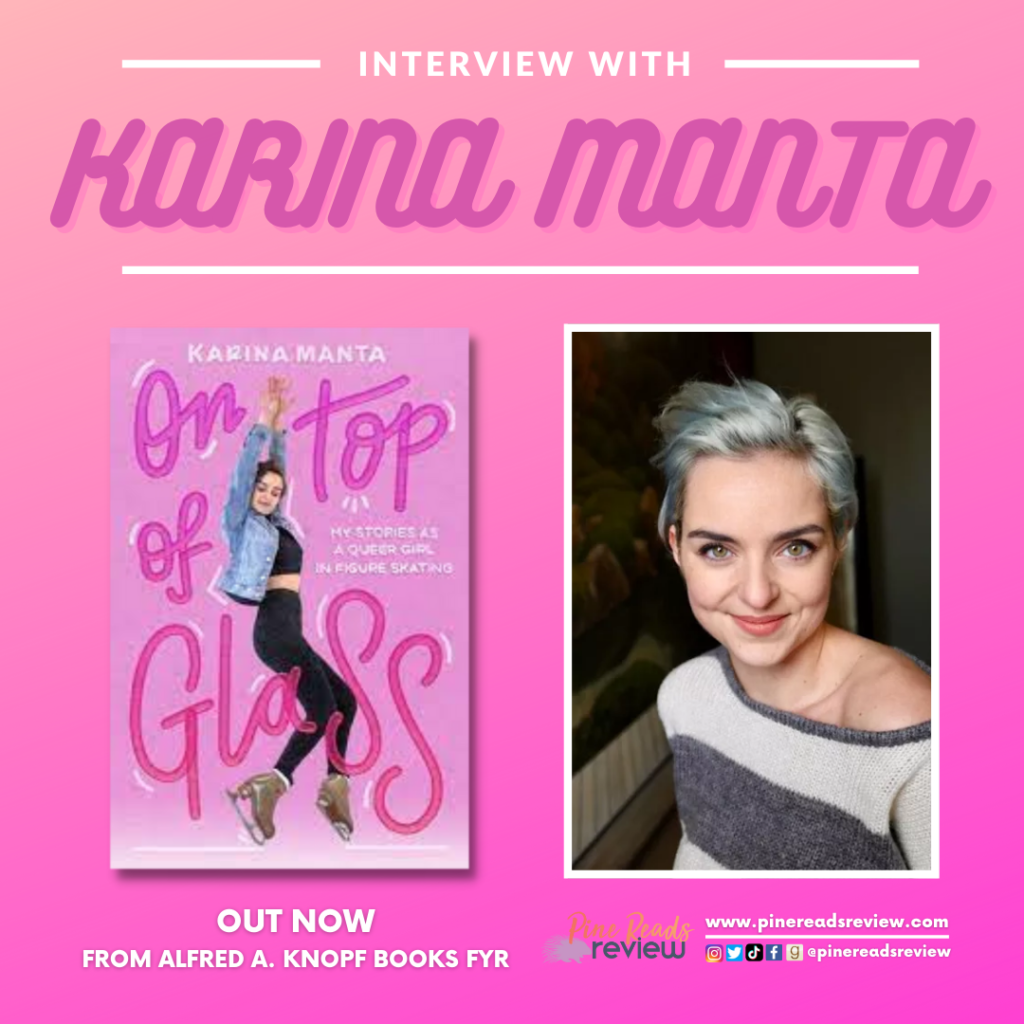 About the author: "Karina Manta was born in Olympia, Washington, but she grew up in the sunshine of Chandler, Arizona. Despite being raised in the desert, she fell in love with figure skating and spent several years competing as a member of Team USA. Since leaving the competitive skating world, she has had jobs touring with Cirque Du Soleil and performing on British reality television. She currently enjoys eating ice cream, engaging with creative approaches to activism, and being bisexual." (Bio taken from author's website.)
Find Karina Manta on the following platforms:
---
A huge thank you to Karina Manta for taking time to do an interview with us at Pine Reads! Her debut YA memoir, On Top of Glass: My Stories as a Queer Girl in Figure Skating, is out now from Knopf Books FYR. Also, be sure to check out our review of On Top of Glass here!
---
Erika Brittain: First of all, congratulations on your debut book! On Top of Glass: My Stories as a Queer Girl in Figure Skating is out now and is incredible. Thank you for being so open about your life, and thank you for the abundant warmth that you offer readers in the pages of this book. How does it feel to be a published author?
Karina Manta: Oh my gosh, thanks for your kind words! It's just a dream come true to see the book out in the world. Every single time I see the book on a shelf or in someone's hands, I get butterflies. I can't believe my stories get to be a part of people's lives. It's such a gift.
EB: I saw on your Instagram that you also recorded the audiobook for On Top of Glass— which is exciting! What was the recording process like? Any fun stories to share?
KM: Recording the audiobook was so much fun! I went into the experience pretty nervous—I think I gravitated towards being a writer because I'm kind of shy when I'm talking—but the team involved was really encouraging, and it was the first time I got to approach my own book as a reader. In the editing phase, it can be easy to stay in a critical mindset. Every time I looked at the pages, I was looking for ways to make them better, but once I started recording the audiobook, I knew there couldn't be any more changes, so I just got to enjoy what was there. (I also stood up during the entire recording process. I don't know if it's because I'm used to performing with my whole body on the ice rink, but I didn't feel like I could get into character while sitting down. The recording took about three days, so I was exhausted by the end! I absolutely gained a newfound respect for voice actors.)
EB: OK, onto the book! I have to ask, what inspired you to write a memoir at this stage in your life? What felt right about this genre, or this moment, to share your story?
KM: I always feel a bit strange when I tell people that I've written a memoir in my twenties. I generally feel like I still have so much to learn and so much living ahead of me. I definitely didn't write from a place of believing that I have anything truly figured out. I've just always loved coming-of-age stories, and I think I'm still close enough to my teenage years that I can remember that part of my life pretty vividly. When I was in creative writing classes, I was told by some of my professors that my writing sounded youthful, and I didn't want to run away from that. I'm 25! I don't want to sound like I'm pretending to be an older, wiser academic. Some of my favorite books in the world are books that were written by young women—The Opposite of Loneliness by Marina Keegan and Know My Name by Chanel Miller—and I'm really grateful for the way their writing taught me to value my own style and voice.
EB: (Also, for those who haven't read On Top of Glass yet, I heard someone say that all hot people love the book…)
KM: Haha! I've also heard this rumor!
EB: You start your memoir with a very controversial confession for book lovers: you like to spoil the ending of a book before reading *gasp*. So tell me, what was the biggest plot twist that you've spoiled for yourself?
KM: I angered a lot of my friends because I used to read the episode summaries before watching Game of Thrones. I spoiled pretty much every plot twist in that show for myself, but that was the only way I could enjoy it! I'm really not built for suspense.
EB: Now, I couldn't go much further without acknowledging that you are an Arizona girl. It was so fun to read about your life growing up in Arizona, particularly in the city of Chandler. If you could give a non-Arizonan a spoiler about our state, what would you say?
KM: This is such a fun question! This is probably a silly answer, but I think the frozen yogurt in Arizona tastes better than anywhere else on the planet. It's probably because of the hot weather. Ever since I moved away, there's always a few times a year when I crave the idea of visiting a strip-mall froyo place and sitting outside with all of my friends. For me, that's the quintessential Chandler experience.
EB: On a more serious note, a large part of your memoir focuses on your experiences with anxiety, having an eating disorder, and the pressures of being a young woman in a competitive sport. How did you choose which stories to include in your book? What was that process like?
KM: When I was first brainstorming ideas of a book, I kept coming back to a unifying theme of restraint. Most of my adolescence was defined by restraint. A lot my internal conflict as a teenager revolved around an effort to mitigate my desires—from dieting, to avoiding queerness, to experiencing anxiety. At the end of the day, I was uncomfortable with the idea of being a human being who needed. I needed food, and I needed love, and I needed help, but I didn't want to be someone who required any of those things. I didn't want to be fragile. But I hope readers walk away feeling like needing is precisely what makes us alive. It's the most natural thing I can think of now.
Restraint was a unifying theme in terms of conflict, but as far as choosing what other stories to write about, I really wanted to depict a lot of joy in my book. I like writing about moments of happiness and moments of belonging, so I tried to include as many of those as possible. Memoirs sometimes have a reputation for being tragic, but I like to think happy stories can be just as compelling as sad ones. In order to choose stories for the more joyful chapters, I enjoyed picking out the fun tropes of teenage movies—the prom scene, the first kiss, the make-over—and then putting my own (usually queer) spin on the experiences.
EB: For writers who want to integrate their personal struggles and experiences into their work, what advice would you give them on how to be candid while still protecting their own mental and emotional health?
KM: I would strongly recommend setting boundaries and not writing in a very public way about anything that feels unsafe to share. I understand the benefit of working through difficult experiences with art, but in my own writing, I tend to stick with topics that I've already done a significant amount of emotional work on already. Publishing is such a vulnerable experience regardless of what the content of your work is, so I think it's important to take precaution with mental health matters.
There's a really wonderful essay called "Against Catharsis: Writing is Not Therapy" by T Kira Māhealani Madden. I think people often imagine writing a memoir to be a therapeutic experience—and it can be—but I ultimately, I try to remember that the things I write are more for my audience than myself. If I had started writing my book in hopes that it would heal me from all my emotional wounds, I probably would have ended up disappointed. By keeping the audience in mind—the emotions I want to invoke in them, the experiences I want to conjure for them—I gain a lot of clarity in deciding how I want to portray certain emotionally vulnerable narratives.
EB: Another prominent aspect of your memoir is the idea of falling in love with yourself. You discuss your journey with self-love, from learning to love your body to embracing your sexuality. Looking to the future of young adult media, what do you think YA authors and creators can do to promote being kind to yourself during teenage years and young adulthood?
KM: This is such a great question! When I was growing up, I think there was a bit of a trend in YA books to romanticize difficult experiences. I talk a bit about this in my own book, but as a teenager, I read a lot of eating disorder books, and so many of them seemed to offer instructions to the reader on how to exacerbate an eating disorder. I'm not blaming those writers for my experiences, but I hope in the future, we see less romanticization of pain. I think when all the interesting characters in stories are shown to lead extremely difficult lives, it can be easy to believe that pain is what makes a person interesting (at least, that's what I thought when I was 15!) But I'm just such a firm believer that happiness is interesting! I'd really like to see stories that don't center around a big issue or a major tragedy. I want to see more stories that explore the quiet ways that being a teenager is really hard. And I'd like to see more stories that model and romanticize self-kindness! I think watching characters treat themselves with compassion can be a vital step in learning how to do the same for yourself.
EB: Similarly, as a professional skater and queer woman, what would you like to see more of in terms of ice dancing and figure skating representation in young adult media?
KM: Figure skating has a long way to go in terms of inclusivity, but I actually think YA media is pushing the sport in the right direction. A fellow kid-lit writer and skater, A.J. Sass wrote a book called Ana on the Edge about a non-binary skater who explores her identity within the sport, and it's a really stunning book. It makes me feel hopeful about the future and the ways that both the skating and kid lit worlds can expand.
Otherwise, I'd love to see more representation in skating and on the page for the Latinx community. I didn't see many Latinx skaters growing up, and it's still really rare to find Latinx skaters on the international circuit. Similarly, Penguin Random House recently released a survey of diversity among its authors and creators, and Latinx creators were the most underrepresented group represented in the survey (although, notably, the survey did not include data for indigenous creators). It breaks my heart to know that both of my career fields still have a lot of barriers. I feel really passionate about using my place in both industries to try to make space for future Latinx artists and try to eliminate the barriers for future generations.
EB: To wrap things up, I want to ask some questions about your AMAZING career! You're currently figure skating for Dancing on Ice. For readers who might not know what that is, could you describe what this experience is like? What's been the best part so far?
KM: Dancing on Ice is a television series in the UK. It's a similar format to Dancing with the Stars. Twelve professional skaters teach twelve celebrities how to skate, and everyone competes each week. I'm so grateful to be on the show. It's been an absolutely incredible experience. I think the best part is just getting to watch someone gain confidence in a new skill. The show has taught me that it's never too late to learn anything you've always wanted to learn.
EB: For fans who aspire to be a professional/competitive ice dancer or figure skater, what is something that they should know about the industry? Maybe something that isn't talked about enough?
KM: I would tell all aspiring skaters that there are so many avenues to explore within the sport. When I was competing, I was so focused on international competition and the dream of going to the Olympics, but I actually enjoy other facets of the sport more than I ever enjoyed competing. There are lots of professional opportunities, and there are rinks that put on community shows, and there are a million ways to enjoy the sport outside of the Olympics.
EB: And lastly, are there any future writing projects in view? I personally hope that you continue to publish books. You have an amazing ability to share stories and create connections!
KM: That's so kind of you to say! Thank you! I definitely hope to write more books someday. Right now, I've given myself some time to rest, so I don't have any official projects in the works, but I'm still writing for fun. I've been working on a lot of poems this year. I recently took a fiction class online, so I'm hoping to start exploring that as well. We'll see where it all goes!
---
PRR Writer, Erika Brittain