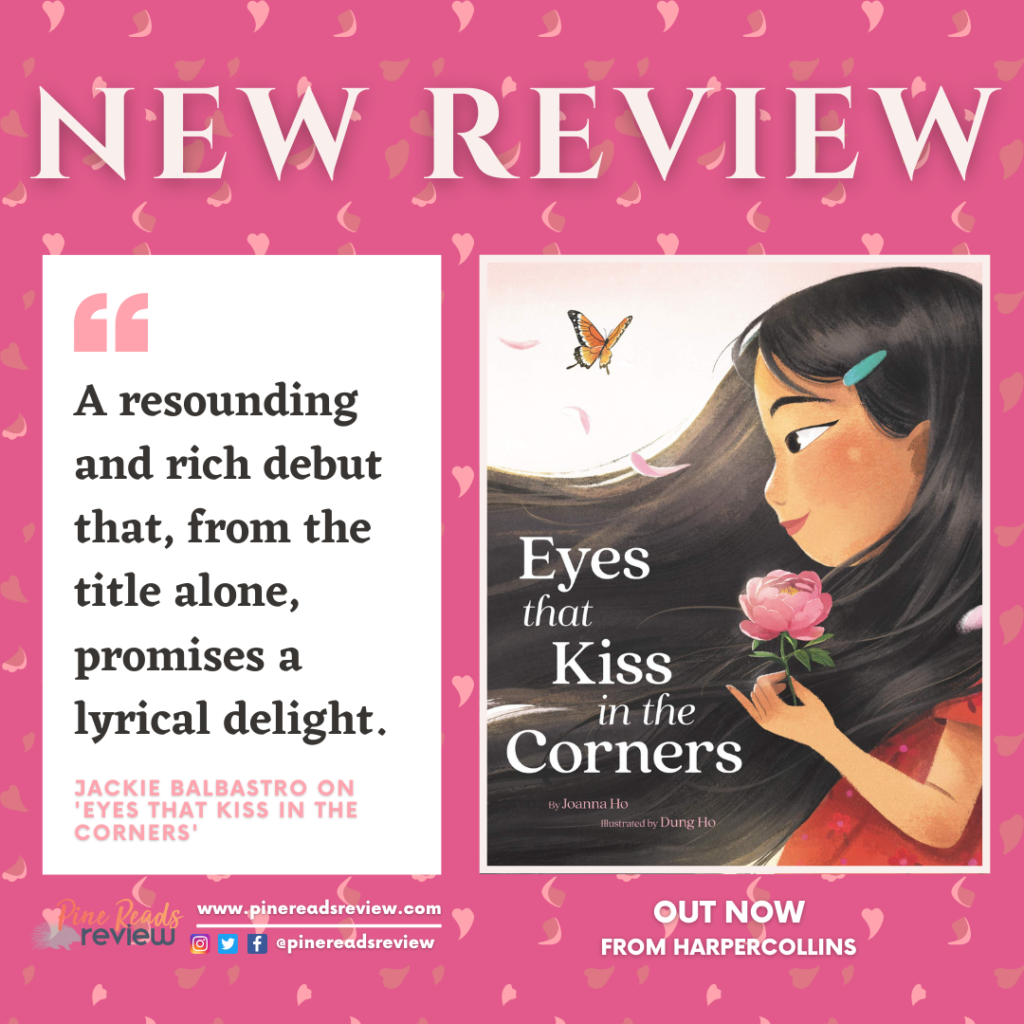 Eyes That Kiss in the Corners by Joanna Ho 
Illustrated by Dung Ho
HarperCollins, 2021, 40 Pages
About the Author: "Joanna Ho is the author of Eyes that Kiss in the Corners (Jan 5, 2021), Playing at the Border: A Story of Yo-Yo Ma (Fall 2021), The Silence that Binds Us (2022) and One Day (2023). She is a writer and educator with a passion for anti-bias, anti-racism and equity work. She holds a BA in psychology from the University of Pennsylvania, and a master's from the Principal Leadership Institute at Berkeley. She has been an English teacher, a dean, the designer of an alternative-to-prison program, and a professional development mastermind. She is currently the vice principal of a high school in the Bay Area, where she survives on homemade chocolate chip cookies, outdoor adventures, and dance parties with her kids. Keep your eyes open for more books to come!" (Bio taken from the author's website.)
Instagram: @joannahowrites
Twitter: @JoannaHoWrites
Website: https://www.joannahowrites.com/
About the Illustrator: "Dung (pronounced Zung) Ho was born and raised in Hue imperial City, Vietnam, where she studied graphic design at the Hue Arts University. She finds inspiration in nature—the beauty of plants, flowers, and leaves. She also loves to draw interesting characters with unique personalities. Now she lives in Ho Chi Minh City, Vietnam, where she continues to learn and develop her art, something she loves doing. When she's not drawing, she loves spending time cooking (eating), watching movies and tending to her plants. Visit her at www.behance.net/hanhdung" (Bio taken from jacket copy.)
Instagram: @dunghanhho
Website: https://www.behance.net/Hanhdung 
---
"My eyes crinkle into crescent moons and sparkle like the stars. Gold flecks dance and twirl while stories whirl in their oolong pools, carrying tales of the past and hope for the future."
One day a little girl realizes that she doesn't really look like everyone else. Her eyes are a different shape, they kiss in the corners—just like her grandmother's, sister's, and mother's do. She notices how they glow like warm tea, carry stories and crinkle into crescent moons. As she connects her features to the women in her life, she is empowered by their shared love and gains a greater sense of appreciation for her own beauty.
Joanna Ho's Eyes That Kiss in the Corners is a resounding and rich debut that, from the title alone, promises a lyrical delight. The story is a lovely portrayal of how, when children are given mirrors of their own identity, they can find the divine beauty that emanates from them. Ho's writing is so ethereal that I just melted into each and every word. The intergenerational connection made my heart so warm, drawing me to appreciate the characters individual moments. The book opens with beautiful marigold-colored end pages that hint at the stunning floral imagery that continues throughout. The colors popped so wonderfully across two-page spreads as Dung Ho frames the illustrations so that they focus on the close-knit home of this women-centric story. Dazzling, precious, and—just like our protagonist herself—"a revolution," Eyes That Kiss in the Corners is sure to resonate with readers everywhere. 
PRR Writer, Jackie Balbastro
Pick up your copy today!