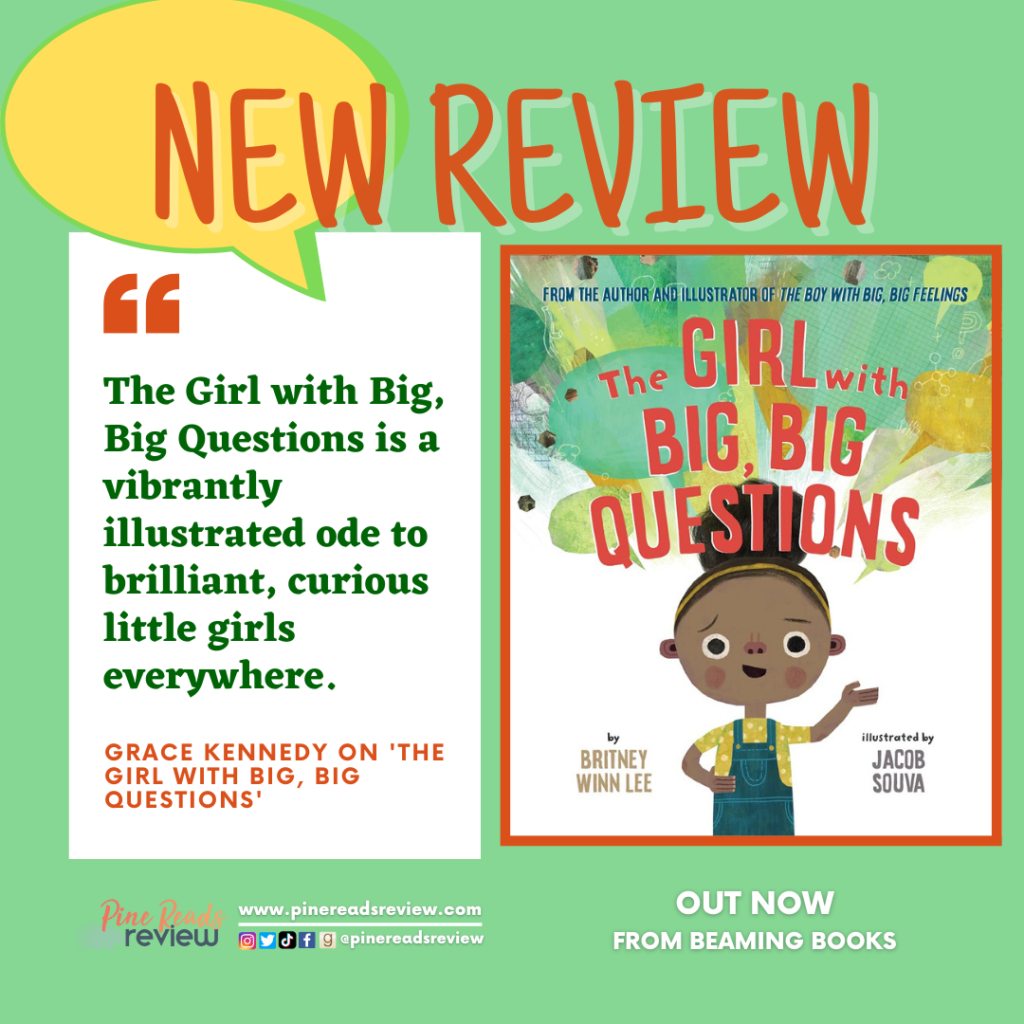 The Girl with Big, Big Questions written by Britney Winn Lee and illustrated by Jacob Souva
Out Now from Beaming Books; 32 pages
About the Author: "Britney Winn Lee is the author of Rally: Communal Prayers for Lovers of Justice and Jesus and The Boy With Big, Big Feelings. She is the part-time editor for Red Letter Christians and the full-time director of a community arts program in Shreveport, Louisiana where she lives with her husband and son. Britney writes to build bridges and make space, bringing a little Southern hospitality to complex kiddos, social justice movements, and the spiritually-homesick. She is represented by Lisa Jackson at Alive Literary Agency." (Bio taken from author's website)
Find Britney Winn Lee on the following platforms:
About the Illustrator: "Jacob Souva has a beautiful wife, two amazing sons and resides in a small countryside community in upstate New York. He loves to make kids laugh and think with his illustrations. Jacob sketches constantly and finishes his work digitally, placing a lot of emphasis on simple shapes, color and lots and lots of texture.
Jacob has illustrated several picture books including The Boy with Big, Big Feelings, Pedro's Pan, and Butterflies are Pretty Gross." (Bio taken from illustrator's Goodreads page)
Find Jacob Souva on the following platforms:
---
"From the moment she opened her eyes for the day to the time she was tucked into bed, she'd ask and ask and ask and ask every question that popped in her head."
One little girl can ask a lot of big questions—like why does lightning come before thunder or how do planes stay in the sky? Her insatiable curiosity about everything she doesn't know, big and small, drives her to ask tons of questions to nearly everyone she meets. When the little girl finds out that some people get tired of hearing her questions, she stops asking them so much. But when she suddenly discovers a crisis in her community, the little girl has a lot more big, big questions to ask. Now, she finds out that asking the right questions and learning new things can make a big difference!
The Girl with Big, Big Questions is a vibrantly illustrated ode to brilliant, curious little girls everywhere. This book takes a close look at what it's like when a young girl has more questions than anyone would expect. At first, she's put down for being so curious. But as the book progresses, the little girl finds ways to share her curiosity with others. I loved how her innate sense of wonder ended up being a way to help others, but she still also enjoyed learning for learning's sake. Jacob Souva's bright illustrations do a marvelous job of depicting the wide imagination and problem solving going on in our protagonist's mind. It's been common for so long to tell children—especially girls—to be quiet and learn exactly what they need to know silently. But Britney Winn Lee's beautifully diverse book does the amazing thing of not only focusing on how an inquisitive nature can cause growth for one person, but also for a larger community. This is the perfect book for any young thinker who can't seem to shake their hunger to learn!
PRR Assistant Director, Grace Kennedy