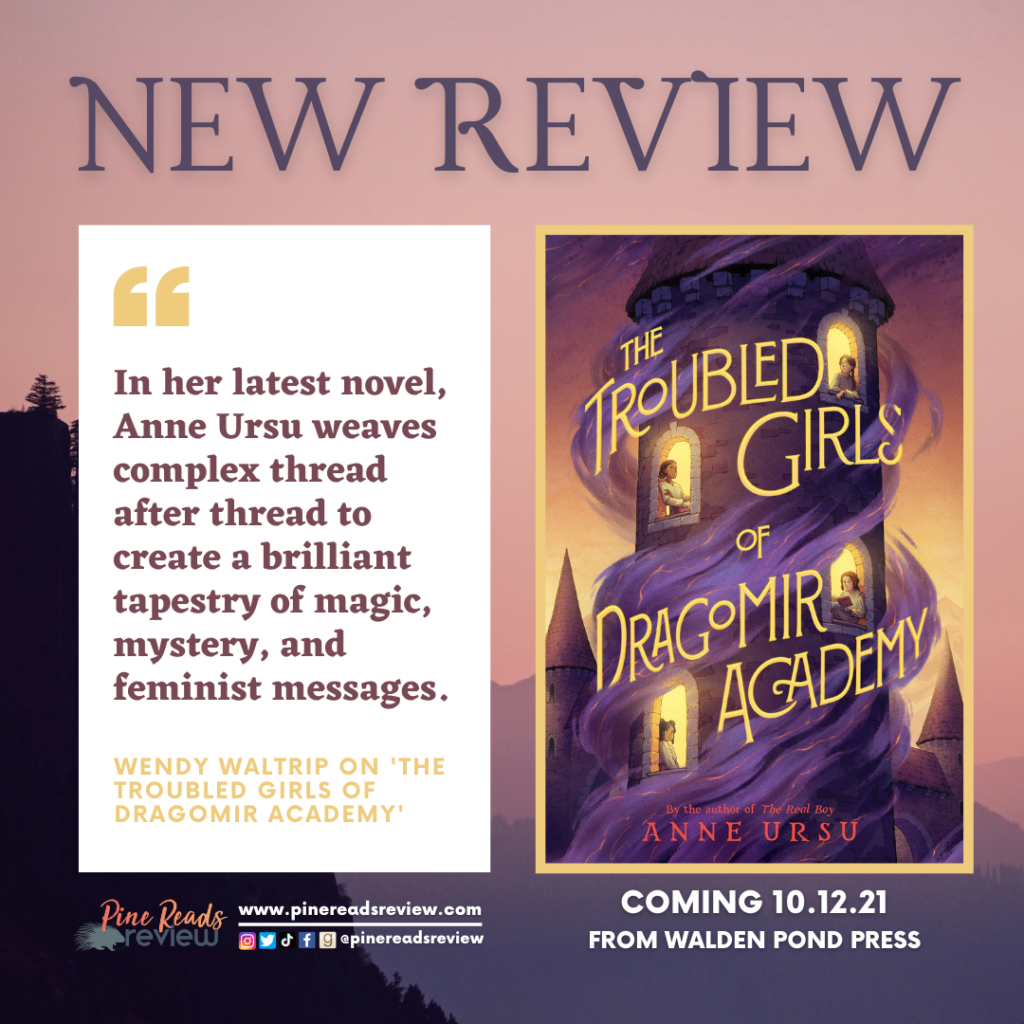 The Troubled Girls of Dragomir Academy by Anne Ursu
Coming October 12, 2021 from Walden Pond Press; 432 pages
Content Warnings: Loss of a loved one, misogyny, parental abuse, gas lighting, sexism, mass death, emotional manipulation
About the Author: "Anne Ursu is the author of acclaimed novels The Lost Girl, Breadcrumbs, and The Real Boy, which was longlisted for the National Book Award. The recipient of the McKnight Fellowship in Children's Literature, Anne is also a member of the faculty at Hamline University's MFA in Writing for Children and Young Adults. She lives in Minneapolis with her family and an ever-growing number of cats." (Bio taken from author's website)
Find Anne Ursu on the following platforms:
---
"They were the troubled girls of Dragomir Academy—breaking, but never broken—and they had stories to tell."
Marya Lupu is used to not being noticed. Instead, most people notice her older brother Luka who seems destined to become a sorcerer. In the kingdom of Illyria, every young boy has the potential to wield magic and help defend the kingdom against a terrible force known as the Dread. Everyone in the Lupus' small village expects Luka to be tested for magic. But what they don't expect is Marya to make a disastrous mistake during Luka's testing, nor for her to receive a letter from the king ordering her to attend a place called Dragomir Academy—a school for troubled girls. Marya is whisked away to the other side of the kingdom and told that if she learns how to behave well, she can one day serve her kingdom by working for one of its sorcerers. Except not everything is as it seems at Dragomir Academy, and Marya and the other girls soon begin to discover significant secrets about the school, sorcerers, and even the Dread that could change everything in Illyria—but for better or worse?
In her latest novel, Anne Ursu weaves complex thread after thread to create a brilliant tapestry of magic, mystery, and feminist messages. While I enjoyed the magical elements, the characters—especially Marya—and the phenomenal world-building are really what drive this story. Marya is a wonderful heroine: brave, persistent, and relatable in her struggle to fit into a world that doesn't have a place for her. The other girls are also extraordinarily fun to read about, especially as we discover what makes each of them unique. As Marya searches harder and harder for answers, themes of overcoming obstacles, fighting for what's right, and never giving up shine through. If you feel like reading about some kick-butt girls who tear down the patriarchy, then definitely pick up this magical middle-grade novel!
The Troubled Girls of Dragomir Academy releases October 12, 2021.
(Pine Reads Review would like to thank NetGalley and the publisher for providing us with an ARC in exchange for an honest review. Any quotes are taken from an advanced copy and may be subject to change upon final publication.)
PRR Assistant Director, Wendy Waltrip