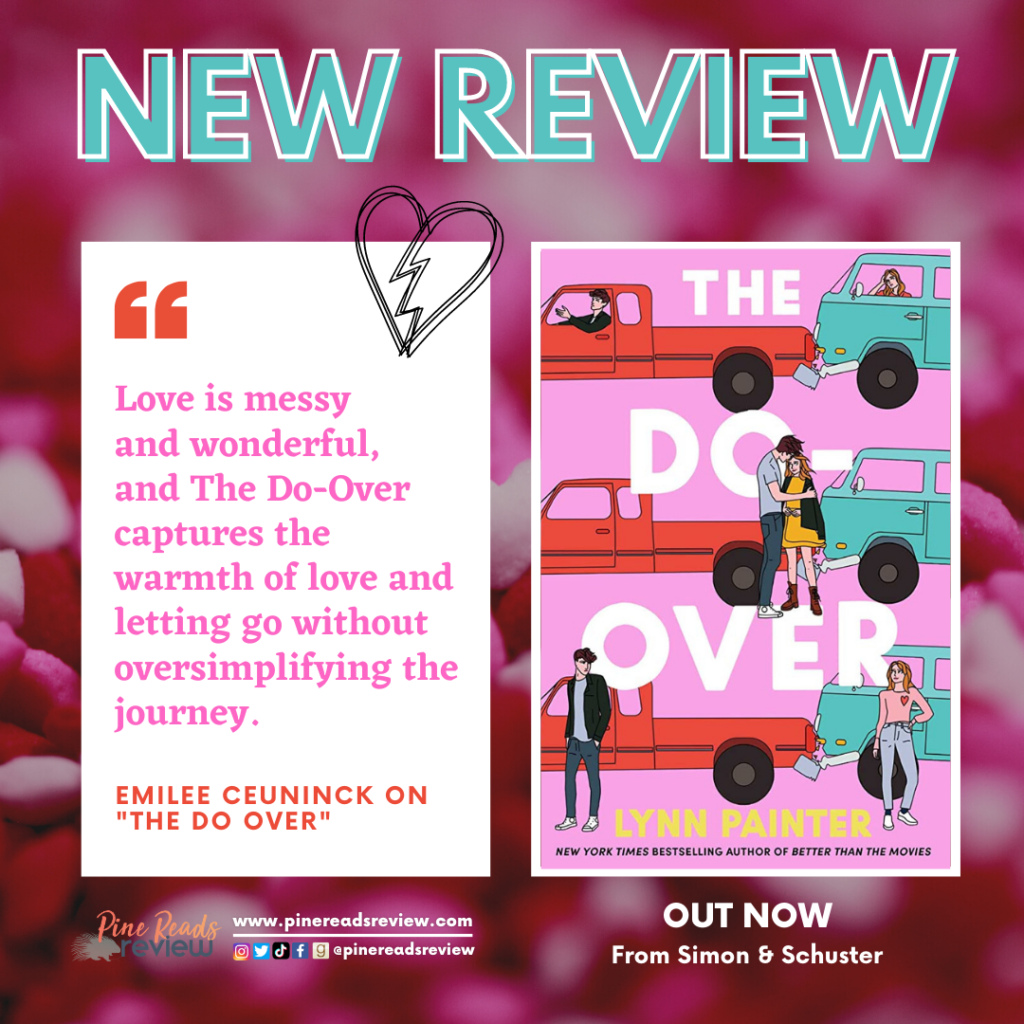 The Do-Over by Lynn Painter
Out now from Simon & Schuster Books for Young Readers; 304 pages
About the Author: "Lynn Painter writes romantic comedies for both teens and adults. She is the author of Better Than the Movies, Mr. Wrong Number, The Do-Over, and Betting on You, as well as being a regular contributor to the Omaha World-Herald. She lives in Nebraska with her husband and pack of wild children, and when she isn't reading or writing, odds are good she's guzzling energy drinks and watching rom-coms" (Bio taken from the publisher's website).
Find Lynn Painter on the following platforms:
---
"I mean, yes, we hadn't known each other long, but I felt like I knew more about him than so many people who were important parts of my life. I felt like he knew me. And I rarely felt that from anyone."
After witnessing her parent's sporadic relationship collapse, Emilie has learned to guard her heart by only dating boys who pass her pros-and-cons excel sheet. However, when her carefully-crafted perfect Valentine's Day with her checklist-filling boyfriend, Josh, implodes—everything from a car accident, an unfortunate essay contest miscount, and a cheating boyfriend—Emilie is blindsided when she wakes up in her own bed after staying the night at her grandma's…and it is Valentine's Day again! Emilie decides to use her do-over to fix everything, but is it in the way she thinks? Emilie is in for a surprise when she continually finds herself literally crashing into her sullen lab partner Nick every morning and quickly finds herself warming up to his lopsided grin.
Albeit predictable, The Do-Over is a refreshing take on finding both yourself and love. I enjoyed Emilie's transformation from the rigid, perfect girl to being herself: someone who makes mistakes, lives not merely to please others, and learns what love is along the way. I also appreciated watching Nick's walls come down and seeing his support for Emilie to be herself while she discovers that life and love are about more than ticking off boxes.
However, I would have preferred a natural progression of Emilie's personality rather than the bizarre, mainly unrelated confessions included at the start of every chapter. The confessions appeared to be a last-minute addition to add depth to Emilie's character, but I found them to be ineffective and unnecessary. I also was disappointed that Emilie's rarely-seen friends, Chris and Rox, only fulfill a secondary character inventory: achingly beautiful, blindly loyal, and diverse in an unincorporated manner. I would have liked to see more moments from their friendship rather than just arranging who would drive who home. Painter does include an interesting character in Emilie's grandmother, Max, who significantly contributes to the plot in her few encounters by unconditionally supporting Emilie, unlike the unredeemed divorced parents who made Emilie feel invisible.
The Do-Over is an excellent Valentine's Day read for finding yourself and realizing that maybe the pieces never quite fit and it is time to throw out the checklist. While formulaic, a twist leaves readers curious to continue. Love is messy and wonderful, and The Do-Over captures the warmth of love and letting go without oversimplifying the journey.
PRR Writer and Editor, Emilee Ceuninck
---