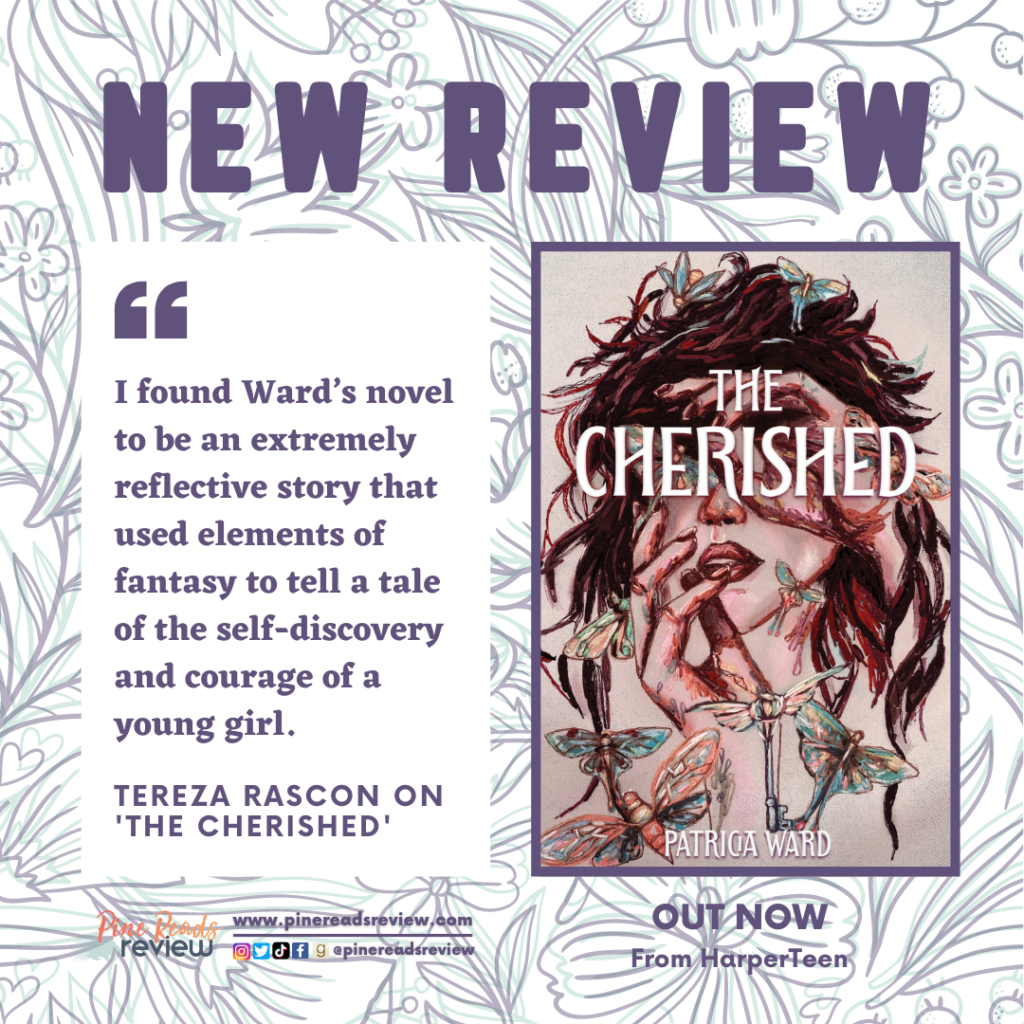 The Cherished by Patricia Ward

Out now from HarperTeen; 336 pages
Content Warnings: Depictions of mental illness, parental emotional neglect, racism, homophobia, trauma

About the Author: "Patricia Ward was born and raised in Beirut, Lebanon, moving to the United States when she was eighteen. She is the author of The Bullet Collection (Graywolf Press, 2003) and Skinner Luce (Talos Press, 2016). Ward is also a book artist specializing in miniature books and dioramas. She lives with her family in Vermont. The Cherished is her first young adult novel, and you can find her at www.patriciasarrafianward.com" (Bio from HarperTeen Publishing Page).

Find Patricia Ward on the following platforms: 
---
"There will come a time when what must be done, must be done. You remember these words from me, and you remember them well: You have no choice."
Jo has always felt out of place in her life. Her family history is a complicated one, the maternal side of her family is documented back to the Civil War Era while her paternal side's a mystery. The memories she has of her absent paternal grandmother are shrouded in confusion, and those of her father revolve around tales of fairies and spiraling delusions. One day, she receives a letter that states her grandmother has left her farmhouse and land to Jo, but there's a catch. The letter is filled with strange demands, and when she meets the tenets of the house, their behavior is cryptic. There is a dark secret that surrounds the house, especially in the old shack. What Jo discovers will drastically change the course of her life.
Patricia Ward's debut young adult novel, The Cherished, is a spine-tingling slow-burn horror mystery that puts its readers in the shoes of its main character Jo. Written in the third person, readers are thrown into the complicated life of Jo and her desperate search for answers. Ward approaches the incorporation of fairy lore in a refreshing way; for she highlighted the darker aspects of fairies that I feel the media overlooks. I loved how this story always kept me guessing and theorizing about the secrets of the house and the Lavoie family. Ward also did a fantastic job describing the farmland setting in a way that was not only visually pleasing but also combined the fantastical with reality.
Overall, I found Ward's novel to be an extremely reflective story that used elements of fantasy to tell a tale of the self-discovery and courage of a young girl. I highly recommend that readers read this book if you're a fan of The Haunting of Hill House or The Spiderwick Chronicles.
(Pine Reads Review would like to thank SparkPoint Studio for sending us a copy of the book in exchange for an honest review. Any quotes are taken from an advanced copy and may be subject to change before final publication.)
PRR Writer, Tereza Rascon
---