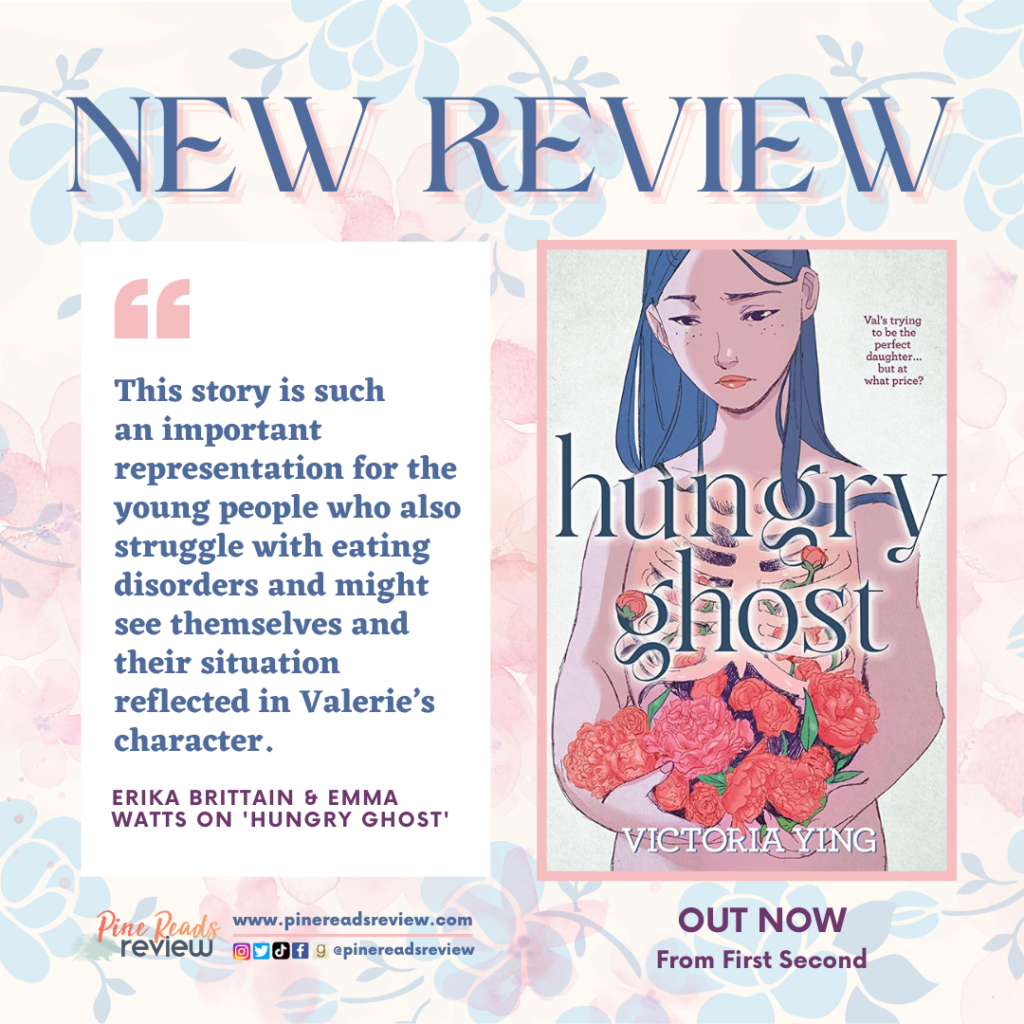 Hungry Ghost by Victoria Ying 
Out Now from First Second; 208 pages
Content Warning: Depiction of eating disorders, purging, fatphobia, death of a parent, toxic parent-child relationship
About the Author: "Victoria Ying is a critically acclaimed author and artist living in Los Angeles. She started her career in the arts by falling in love with comic books, this eventually turned into a career working in animation and graphic novels. She loves Japanese curry, putting things in her shopping cart online and taking them out again, and hanging out with her husband and furry friends. Her film credits include Tangled, Wreck-It Ralph, Frozen, Paperman, Big Hero 6, and Moana. She is the author and illustrator of her own series, City of Secrets and City of Illusion, through Penguin/Viking and the illustrator of the DC series Diana Princess of the Amazons. Her upcoming graphic novel projects her YA debut, Hungry Ghost, and the Marvel/Scholastic Shang-Chi and the Secret of Immortality" (Bio from author's website).
Find Victoria Ying on the following platforms:
---
"My version of being good is being good to myself."
Valerie's mother insists Valerie stays thin. Thin is healthy. In order to meet her mother's standards, Valerie has started to make herself throw up her food, count her calories, and limit meals. Soon, Valerie's behaviors start to impact her relationships and daily life, and a family tragedy causes her to spiral even further. Through it all, Valerie feels like she must keep being a good daughter, and she has to stay thin. After crossing a line with her best friend, Valerie has a difficult realization: what she's doing to maintain her low weight isn't healthy. She's sick and she needs help.
Victoria Ying's first young adult graphic novel is brimming with emotion. Watching Valerie struggle with her eating disorder throughout the story was difficult, but it was also realistic without being extremely graphic. This story is such an important representation for young people who also struggle with eating disorders and might see themselves and their situation reflected in Valerie's character. While Valerie's eating disorder is the forefront issue in the story, Hungry Ghost also shines a light on Taiwanese-American culture and complicated familial relationships. Valerie's eating disorder and her relationship with her family's culture influence her character. As far as familial relationships, Valerie's mother is the source of Valerie's hatred of food and obsession with being thin, but her mother is also seen with a certain kind of sympathy. She is just trying to care for her daughter the best way she knows how. Valerie also goes through her own journeys with grief in her eating disorder recovery; mourning both the physical loss of a parent and the happiness that she has been unable to feel for years. One of the most heartwarming parts of this novel is Valerie's support system. Her friend Jordan and her aunt Nikki bring warmth and happiness to even the darkest moments of both the narrative and Valerie's life—showing that even in the worst of times, the people who love you can help make things just a little bit better. Hungry Ghost is a beautifully written and illustrated story about love, forgiveness, and growth. We so highly recommend this graphic novel, and look forward to more projects from Victoria Ying!
(Pine Reads Review would like to thank Books Forward for sending us an ARC in exchange for an honest review. Any quotes are taken from an advanced copy and may be subject to change before final publication.)
PRR Assistant Directors, Erika Brittain & Emma Watts
---