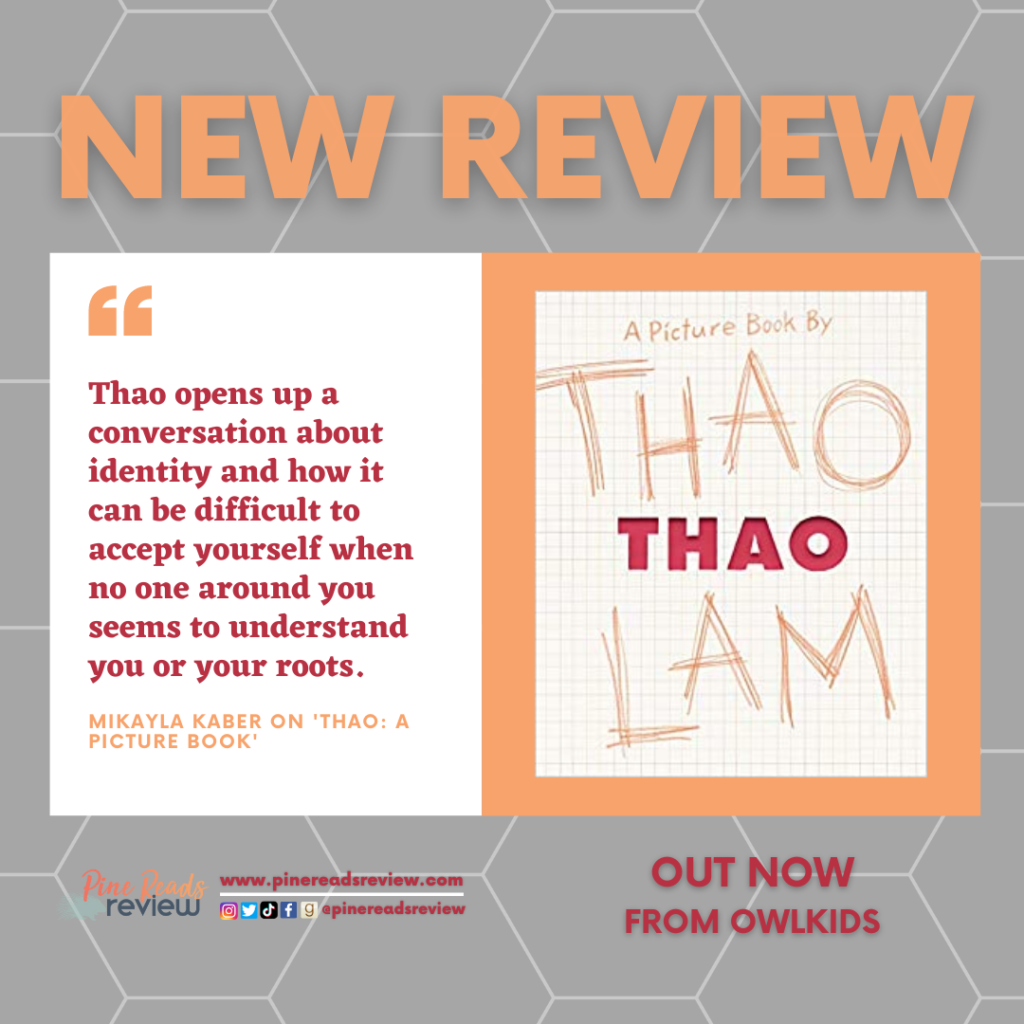 Thao: A Picture Book written and illustrated by Thao Lam
Out Now from Owlkids; 32 pages
About the Author: "Thao Lam has been creating pictures for as long as she can remember. For her, drawing has always felt as natural as breathing. She has an insatiable love for coloured and textured papers, which she uses to create her exuberant collages. Passionate about children's books, Thao is especially interested in visual storytelling. She draws inspiration from the stories she hears, from the beauty in everyday things, and from the work of the many illustrators she admires. As an art buyer for an educational publishing company, she has the opportunity to work with thousands of different artists from all around the world." (Bio taken from author's website.)
Find Thao Lam on the following platforms: 
---
"It helps if you take out the H when you say it. But remember to put it back when you spell it.
Thao
Hong
Lam"
This story of young Thao Lam depicts her as an outcast because of her name and shows her struggle to fit in among the "Toms" and "Melissas" of the world. It shows her as she gets called various names, like "Towel," "Toe," or even "Tail." Thao eventually tries to change her name to Jennifer to fit in with everyone else's easier-to-pronounce names. Thao tells the story of a girl who is trying to find her place in the world.
Thao's journey throughout the book intricately weaves bits of humor and joy into an ultimately vulnerable tale that shows the difficulties of being young and finding out how one fits into the world. Thao opens up a conversation about identity and how it can be difficult to accept yourself when no one around you seems to understand you or your roots. The beauty of this story is that Thao realizes she doesn't need to be Jennifer to fit in, or be important. She just needs to be herself and embrace her own name and identity.
Along with the incredibly relatable storyline, Lam marries this story with jaw-dropping illustrations that portray the difficulties she is facing. The collage-style artwork shows how all the other students look in comparison to the cutout photograph of young Thao. The intricately designed illustrations portray how alienated Thao feels. They are colorful and engaging for any young reader. This story is classic and vulnerable at its core. Thao Lam has told a story that will stand the test of time, and surely warm your heart.
PRR Assistant Director, Mikayla Kaber