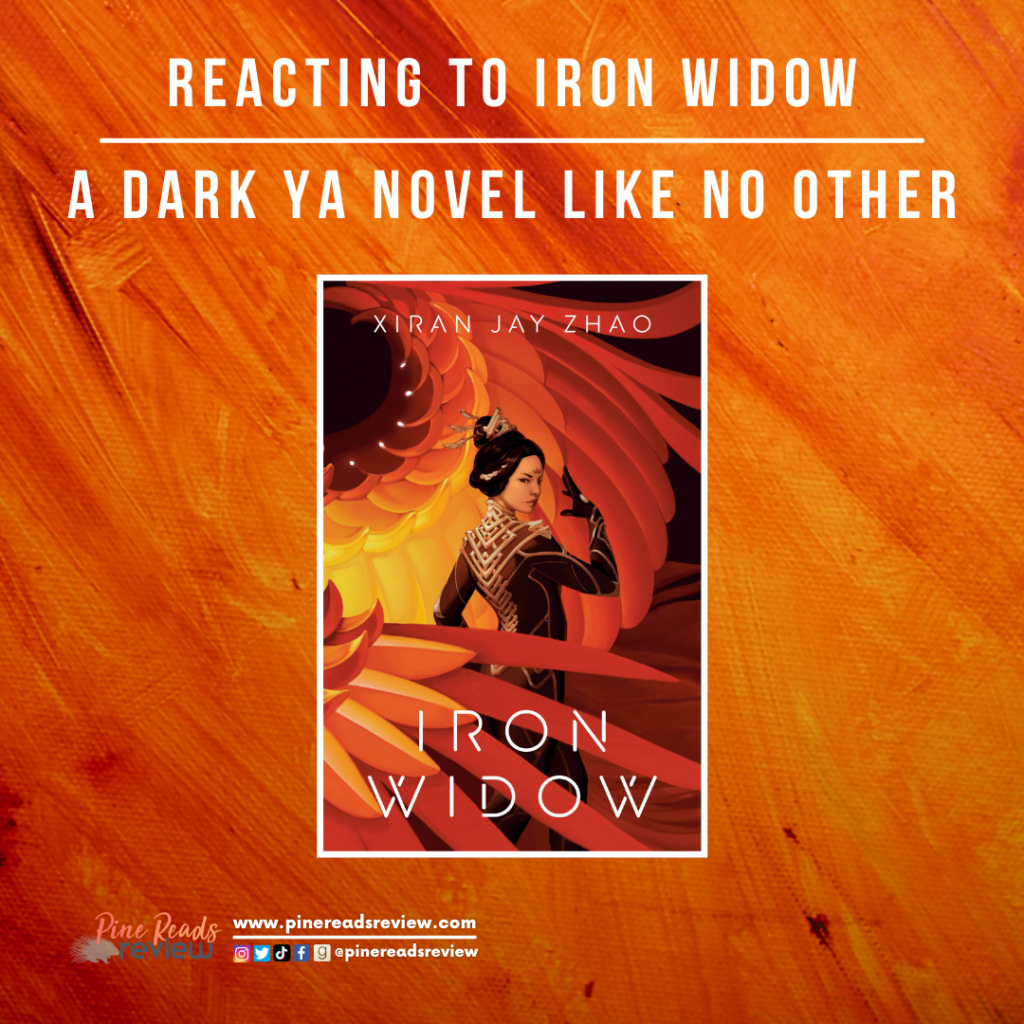 Content Warnings: Misogyny, murder, mentions of sexual violence, foot-binding, sexual scenes, strong language, domestic violence, toxic parenting, alcohol addicition, torture, suicide ideation
WARNING: Major spoilers ahead for Iron Widow by Xiran Jay Zhao!
---
"'You've been living a dream for long enough!' I yell at the cameras between bursts of maniacal laughter, raising my arms. 'Welcome to your nightmare!'"
In a techno, dystopian world mirroring the cultures of ancient China and the women's equality of The Handmaid's Tale, looming alien creatures known as Hunduns terrorize the people of Huaxia. Boys and girls team up in psychically linked mecha suits known as Chrysalises in order to fight these beasts in a blaze of glory—one that almost always ends in the physical death of the female concubine-pilot. When 18 year-old Wu Zetian offers herself up as a concubine-pilot, no one expects her to be capable of killing her male co-pilot in an act of vengeance for her sister's death years earlier. More notably, no one could expect that she would be mentally strong enough to survive such an encounter at all. Her defeat of her sister's powerful killer earns her the rare title of an Iron Widow, a female pilot capable of reversing the usual tale.
Fueled by a desire to crush her society's misogynistic systems and defeat the endless cycle of female sacrifices, Zetian teams up with the powerful—but hated—pilot Li Shimin to understand the true reason behind the brutalities—at any cost.
In the briefest words possible, Xiran Jay Zhao's debut novel has made me think harder than any YA novel I've read in a very long time. From its onset, Iron Widow presents a bleak but captivating open world of aliens, invaders, warrior culture, female oppression, Attack-on-Titan-style horrors of war and mystery, and a complex polyamorous love triangle—all fueled by a bitter, firecracker protagonist. In other words, there is pretty much everything going on in this fast-paced, captivating novel.
Zetian is hard to read for much of the novel. I was fascinated with her relatively gray morality. Sure, she has noble-ish purposes in mind for most of the book: she's driven to hunt her sister's killer in the name of justice; she wants to end the system of concubine-pilots, which forces girls into enlisting for near-certain death; and she's still motivated to attack the Hunduns in order to preserve the interests of everyone she knows. But don't be fooled—while Zetian is written to be a protagonist, she is never a hero.
---
"I am exactly the kind of ice-blooded, rotten-hearted girl he fears I am. And I am fine with that."
Zetian seems to think of herself in clouded, ash-colored words. Though she grows to love at least two characters, she does not believe in the existence of completely good or unselfish people. Early on, we see that she has complicated relationships with her family, and that she understandably resents them for their abusive and misogynistic treatment of her. This coldness towards her family manifests into a lack of caring about her own life as she pursues vengeance in a way that was very difficult to read. Zetian is a cynical character, but I think that her bitterness makes her softer moments more tender to read.
My one issue with the core of Zetian's fierce character is that we don't see how she is able to break free from the illusions of the patriarchy. Her mother and grandmother have reinforced patriarchal ideals onto her for the entirety of her life. Zetian also does not have many outside resources, like group education or female friends. She learned to read and write from her upper-class, secret-friend-turned-secret-lover, Yizhi, who showed her an unusual amount of kindness and respect. But besides that, it is difficult to understand how Zetian could so strongly reject the idea that she was born to be subservient to men in such an isolated existence. She is driven towards being so hardcore and ruthless—understandably so, because of the pointless death of her sister—but avenging her sister is just the beginning of Zetian's path towards destructuring the very fabric of the world she was forced into.
---
"The pain can't surprise me because it has never left.
A lightning strike of it shoots up my legs with every step I take."
Bodily autonomy is a heavy and crucial part of the feminist overtones in Xiran Jay Zhao's Iron Widow. We repeatedly see how having bound feet weighs on Zetian physically and emotionally. With a constant reminder of how she is meant to be reliant on men, Zetian shies away heavily from having to rely on anyone. Even when she has strong feelings for Yizhi, she is still suspicious and embittered: "As long as I do not give in to my emotions, I cannot lose any game that might be being played."
Sexual autonomy is also an important theme in this society filled with concubines, forced marriage, and several allusions to sexual assault. Feeling ashamed for having sexual desires as a woman has been reinforced in Zetian since she was a child. She deals with that shame alongside her relationships heavily in the novel.
The polyamorous relationship and bi representation among the three main protagonists is a particularly unique dynamic. It's different, but honestly a nice change to see. Yizhi explains it best when saying that: "Love can be infinite, as much as your heart can open." In a book centered around liberation, Zetian freeing herself from having to pick one or the other just makes sense.
I could write thousands of words about the intricacies of this devastating piece, but my most significant thought is that any and all YA fantasy fans should read it. Iron Widow is one of the darkest YA stories I've read since earlier books like Marie Lu's The Young Elites or Kendare Blake's Three Dark Crowns, so keep that in mind before diving in. But make no mistake: Xiran Jay Zhao's shockingly bold debut is a fiercely feminist dystopian read that's not to be missed.
Iron Widow releases September 21, 2021.
(Pine Reads Review would like to thank NetGalley and the publisher for providing us with an ARC in exchange for an honest review. Any quotes are taken from an advanced copy and may be subject to change upon final publication.)
PRR Assistant Director, Grace Kennedy