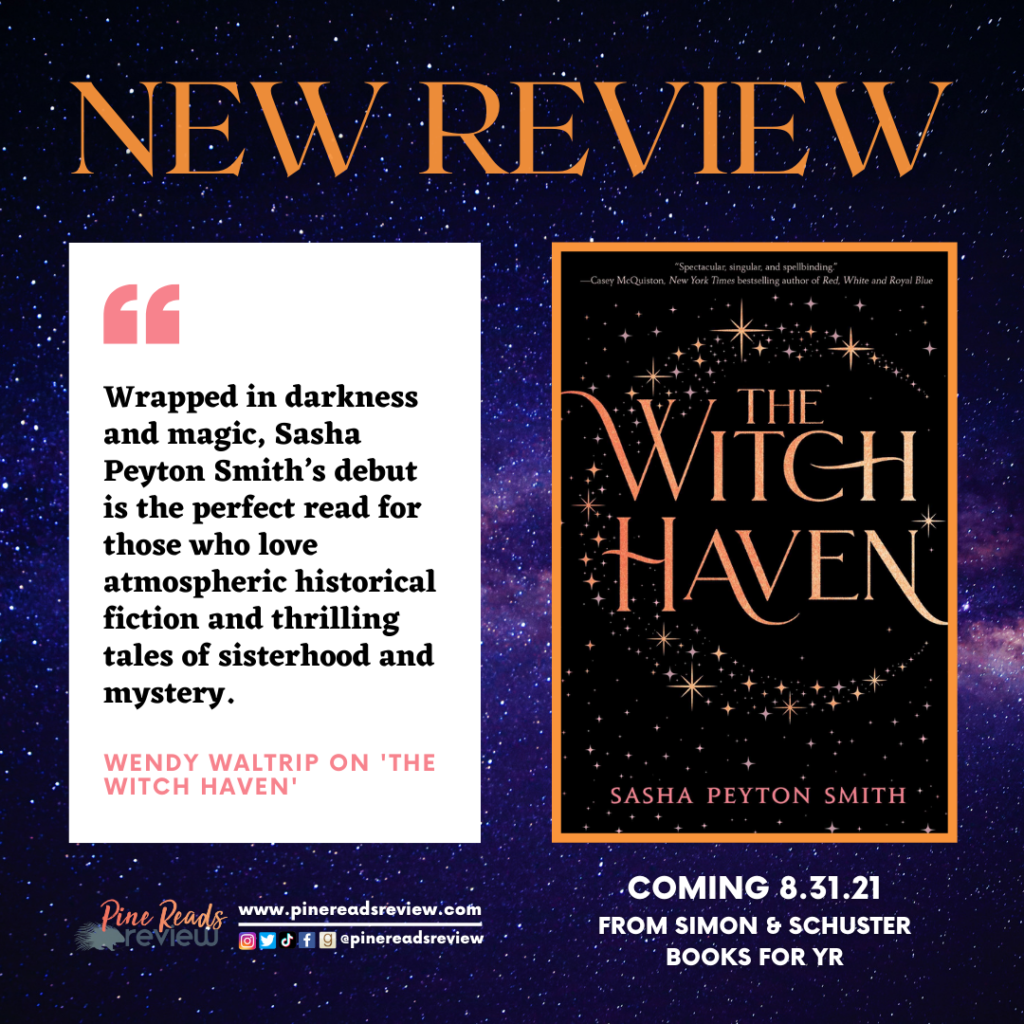 The Witch Haven by Sasha Peyton Smith
Coming August 31, 2021 from Simon & Schuster Books for Young Readers; 448 pages
Content Warnings: Murder, blood, death of a loved one, graphic descriptions, attempted sexual assault, violence, underage drinking, mutilation of corpses, mentioned parental abuse, moderately strong language, absentee parents, mentions of cultural assimilation school, forced institutionalization, racism, sexism
About the Author: "Sasha Peyton Smith grew up in the mountains of Utah surrounded by siblings, books, and one very old cat. She attended the University of Utah and the George Washington University where she studied biology and public health. She is not a witch, though she does own a lot of crystals and always knows what phase the moon is in. She currently lives in Washington DC." (Bio taken from author's website.)
Find Sasha Peyton Smith on the following platforms:
---
"To be a witch is to have power in a world where women have none."
It's been six months since seventeen-year-old Frances Hallowell's brother was murdered, and Frances is finally accepting her new reality working as a seamstress in a sweat shop in 1911 New York City. But when she's attacked by the shop's owner and he ends up dead at her feet with her scissors in his neck, everything changes. Frances is whisked away to Haxahaven Academy, a school for witches that poses as a tuberculosis sanitarium. At first, Frances is captivated by the magic she finds there, but she soon realizes that she longs for more. When she meets Finn, an entrancing boy who appears to her in her dreams and offers to teach her more about magic, Frances begins digging deeper into the mystery of her brother's death. But there are darker forces at work than Frances realizes, and it soon becomes clear that she must choose what matters more: her fellow witches, justice for her brother, or her growing feelings for Finn.
Wrapped in darkness and magic, Sasha Peyton Smith's debut is the perfect read for those who love atmospheric historical fiction and thrilling tales of sisterhood and mystery. One of my favorite elements of this beautifully-written novel was the setting. I haven't read many books set in early twentieth century New York City, and I loved how Smith expertly brought the time and place to life. I especially liked how Smith tackled the sexist standards of the time and also included Native American representation through Frances's friend Lena, along with discussions of some of the injustices Lena has faced. The characters are so skillfully developed, and the pacing of the story is fantastic. However, as much as I loved most of The Witch Haven, I would be remiss if I didn't mention the disappointing ending. With such a strong beginning and middle, I was surprised when the end erupted into chaos with many blood-spattered pages and twists so shocking that they practically gave me whiplash. Still, I enjoyed this spellbinding story and would recommend it to those who delight in the darker side of magic.
The Witch Haven releases August 31, 2021.
(Pine Reads Review would like to thank NetGalley and the publisher for providing us with an ARC in exchange for an honest review. Any quotes are taken from an advanced copy and may be subject to change upon final publication.)
PRR Assistant Director, Wendy Waltrip