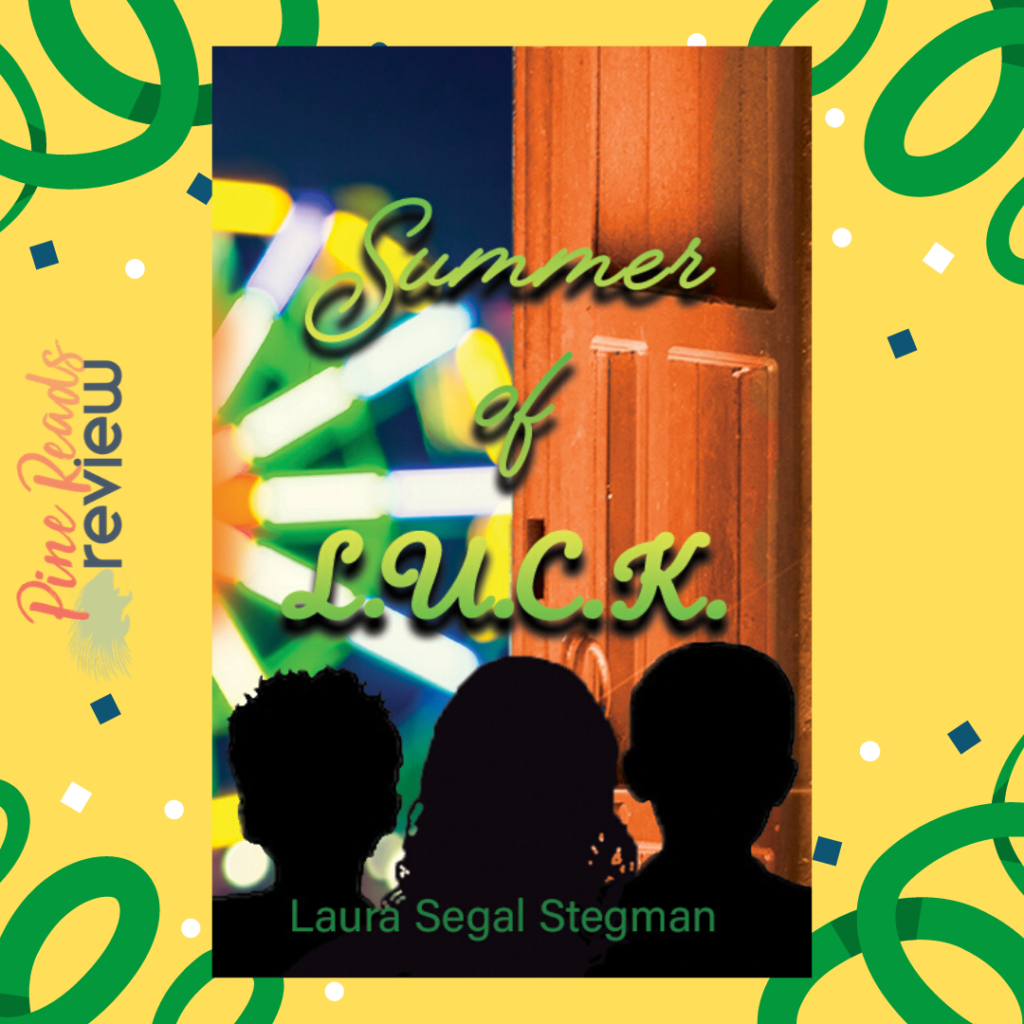 Summer of L.U.C.K. by Laura Segal Stegman
INtense Publications, Releases on September 15th 2020, 267 pages
Trigger Warnings: parental emotional abuse, death of a loved one (off-page), bullying
About the Author: "Laura Segal Stegman grew up in Southern California with parents who valued reading, and she remains spellbound by middle grade fiction. Some of her favorites, then and now, are The Diamond in the Window, Ellen Tebbits, All of A Kind Family, Wonder, A Patron Saint for Junior Bridesmaids, Harry Potter and the Sorcerer's Stone and You Go First. As a writer, Laura's non-fiction credits include collaboration on the travel book Only in New York, and her feature stories have appeared in the Los Angeles Times, Los Angeles Magazine, Westways Magazine and Christian Science Monitor, among others. A long-time publicist, she owns Laura Segal Stegman Public Relations, LLC, which has represented a wide-ranging client list of businesses, arts organizations and non-profit events over the years. She is a Phi Beta Kappa graduate of UC Irvine and lives with her husband in West Los Angeles and part-time in New York City. She loves reading, L.A. Dodgers baseball, classical music and theater. Summer of L.U.C.K. is her debut novel." (Bio provided by the author.)
Website: www.laurastegman.com
Twitter: @LauraStegman
Instagram: laura_stegman
"Far away, inside a seemingly abandoned warehouse near Michigan's Camp Inch, a dusty carousel calliope creaked slowly back to life."
Darby has a stutter and is under constant scrutiny from her mother because of it. Justin hasn't spoken since his father's death. Naz is just trying to adapt to his new life in the U.S. after moving from Morocco. After discovering the remnants of a haunted carnival near their summer camp, these three young heroes are brought together for the adventure of a lifetime. Recruited by the ghost of Leroy Usher, the carnival's former owner, they must convince his family to reopen the once lively fairground so that he may pass on. Connected by strange calliope music, sudden telepathy, and the unbreakable bond of friendship, Darby, Justin, and Naz embark on a journey unlike any other, and may just help one another grow along the way.
From debut author Laura Segal Stegman comes Summer of L.U.C.K., a magical middle-grade adventure about the power of self-acceptance. As a tight-knit trio of youngsters, Darby, Justin, and Naz are the best friends everyone hopes for and the heroes anyone can root for. Their genuine support of one another in times of both joy and trouble cements their developing friendship as the story's heartfelt core. With a rustic sleep-away camp and a magical carnival in play, Stegman deploys a charming, nostalgic tone through these two quintessential childhood settings, making Summer of L.U.C.K. a light, fun-filled read sprinkled with whimsy, humor, and heart.
Summer of L.U.C.K. releases on September 15th, 2020.
(Pine Reads Review would like to thank the author and publisher for providing us with an ARC in exchange for an honest review. Any quotes are taken from an advanced copy and may be subject to change upon final publication.)
PRR Writer, Hannah Miller